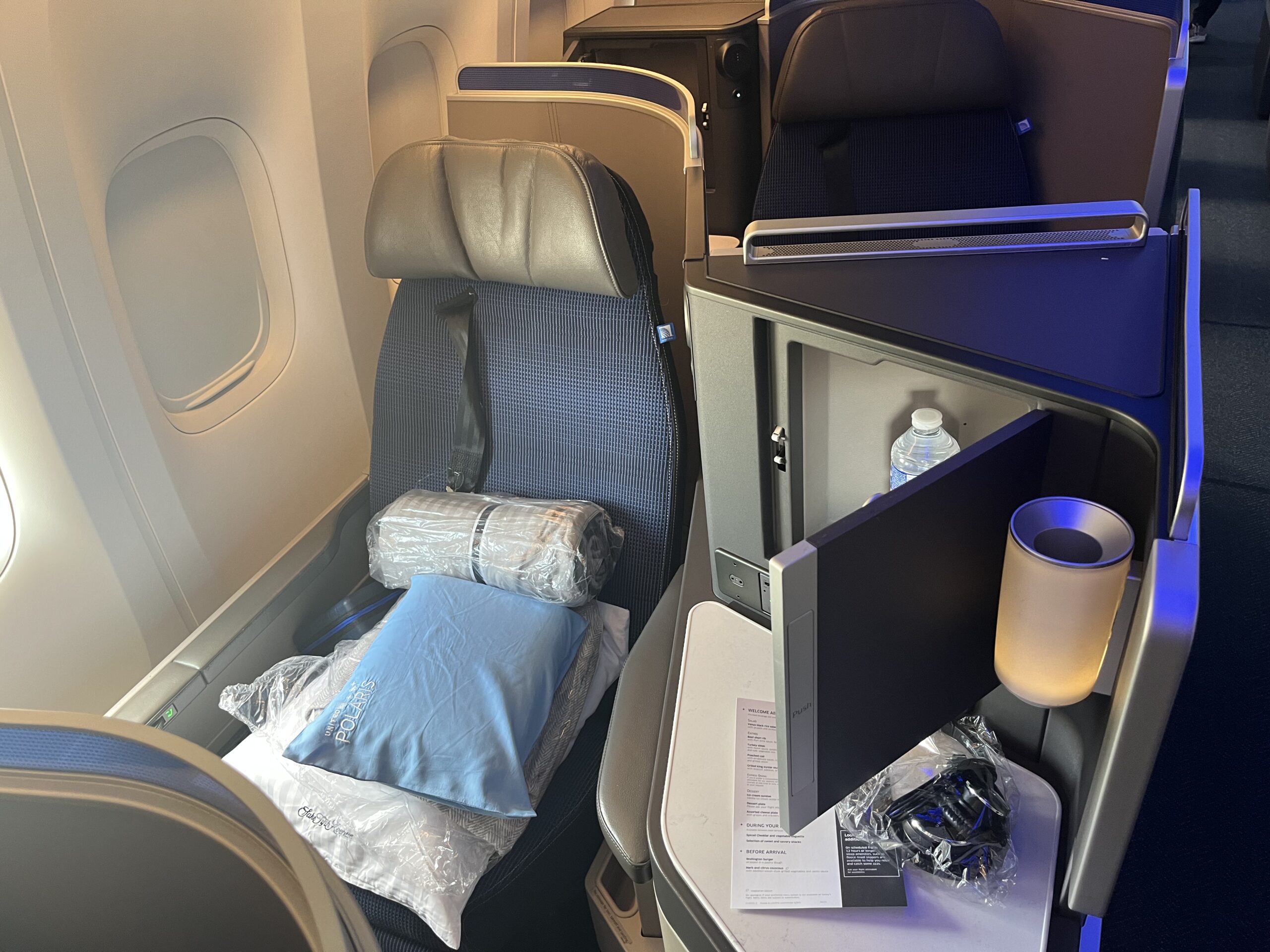 United 777-300ER Polaris Business Class Review
United 777-300ER Polaris business class is something I've wanted to fly for a while. A long while. I've flown United Business before, twice on aircraft with their Polaris seat. But never long-haul Polaris business and definitely not on their flagship aircraft. So obviously I've been eager for this experience. 
I finally made it happen this past winter, booking United Polaris business from Frankfurt to San Francisco as my return flight after eight days in Europe. It turned out to be an excellent ride home. Yet there are a couple gaps that United should really address. Let's jump into the review. 
Booking Details
I booked my United ticket from Frankfurt to San Francisco for just 45,000 Turkish Miles & Smiles. This is one of the cheapest ways to fly business class between Europe and the U.S. The Frankfurt Airport taxes and fees are rather high, though, costing me $132.31, after converting to U.S. dollars from euros.
One huge upside was that the ticket was available online. And for only the second time, booking through the Turkish Airlines website worked flawlessly.
I input the Turkish Record locator into the United website, which allowed me to select a seat easily. My desire was for a window seat near the back of the cabin, which is exactly what I was able to choose. 
Here are my full flight itinerary details:
Airline: United
Aircraft: Boeing 777-300ER
Cabin: Business
Origin: Frankfurt (FRA)
Destination: San Francisco (SFO)
Flight date: February 28, 2023
Seat: 17L (true window)
Airport and Lounge Experience
I was able to check in online, unlike other recent international trips. This surprised me. The United app allowed me to scan my passport and input all the needed info. At the end, I received a mobile boarding pass.
Arriving at 9:00 AM for a 12:50 PM departure may have been overkill. But Frankfurt Airport is large, and it was my first time departing it. My only previous time here was a brief connection.
United departs from Concourse Z at Terminal 1. The check-in desk is roughly in the middle of the main hall, roughly desk 520. I didn't need to check in or drop bags, so I just headed toward Concourse Z security. There is dedicated business and first class security after passport control. This line was less than one quarter the length.
Getting manhandled by a passive-aggressive secondary screening agent was an unexpected part of the United Polaris experience. My belt passes through U.S. metal detectors without issue, so I never take it off. But this is likely why I was flagged for a pat down after using the Frankfurt screening machine. On to less uncomfortable things. 
A United Polaris ticket grants you access Lufthansa Senator Business Lounges. Since I'd arrived so early, I enjoyed the Frankfurt Concourse Z Lufthansa Lounge for a couple hours. It was quite busy when I arrived but cleared out around noon.
The lounge offers a great variety of seating, self-serve food and beverages, including a decent bar, semi-private call booths, "desk" areas, showers, luggage lockers, and a number of other amenities. I'd planned to review this as well. Instead, I just grabbed a cup of coffee and caught up on other work. It wasn't worth wandering around given how busy the lounge initially was.
Boarding and General Impressions
I arrived at the gate right at the pre-boarding announcement. The gate staff could have been much clearer about where to line up. As pre-boarding was announced, a lot of business customers tried to enter the gate. Some non-business customers followed suit. I watched multiple people be turned away by gate staff. This just ended with a number of people standing around in front of the queues.
The Group 1 line grew rather long, but boarding was efficient. Staff did a final passport check before we boarded using the automated entry gates.
But then the bane of my airport travels hit. There was no jet bridge in sight. We had to hoof it down two flights of stairs to ground level and board a bus. Although there were two United 777-300ERs parked at Concourse Z gates, neither was the one headed to San Francisco.
Instead, we stuffed ourselves onto the bus and enjoyed a five-minute ride to our aircraft parked at a remote stand. This boarding process is the worst. It's crazy airlines use it for an aircraft as large as the 777. Not the way I wanted to start my United 777-300ER Polaris business class experience. 
So, the United 777 Polaris cabin was a welcome sight. This would be home for the next 11 hours. The airport experience may have been poor overall (aside from my time in the Lufthansa Lounge), so hopefully things will only get better from here. 
I was essentially left to myself. No pre-departure beverages were offered. Considering United has pulled this off as part of their domestic transcontinental Business service, this is a miss. But the staff had other issues to attend to. 
Boarding was actually a bit of a madhouse in the Polaris cabin. I just sat back and watched, glad to be insulated from the aisle. A family of three was trying to switch seats so they weren't separated from their child. The flight attendants managed to work something out eventually, even though the cabin was quite full. The rest of the plane wasn't. 
Remarkably, we made it out on time. The plane was off the ground by 12:55 PM, just 5 minutes after scheduled departure. The upside (and only upside) of being bussed to the plane was our extremely short taxi time.
United Polaris Business Class Seat
The seat is exactly how I remember it from my previous transcontinental business class flights on both the 767 and 777. Both times I chose a forward-facing window seat. I picked the same this trip — seat 17L near the back of the cabin.
These are the most private, as the side table and seat shell buffer you from the aisle. Flying alone, I wouldn't pick anything else.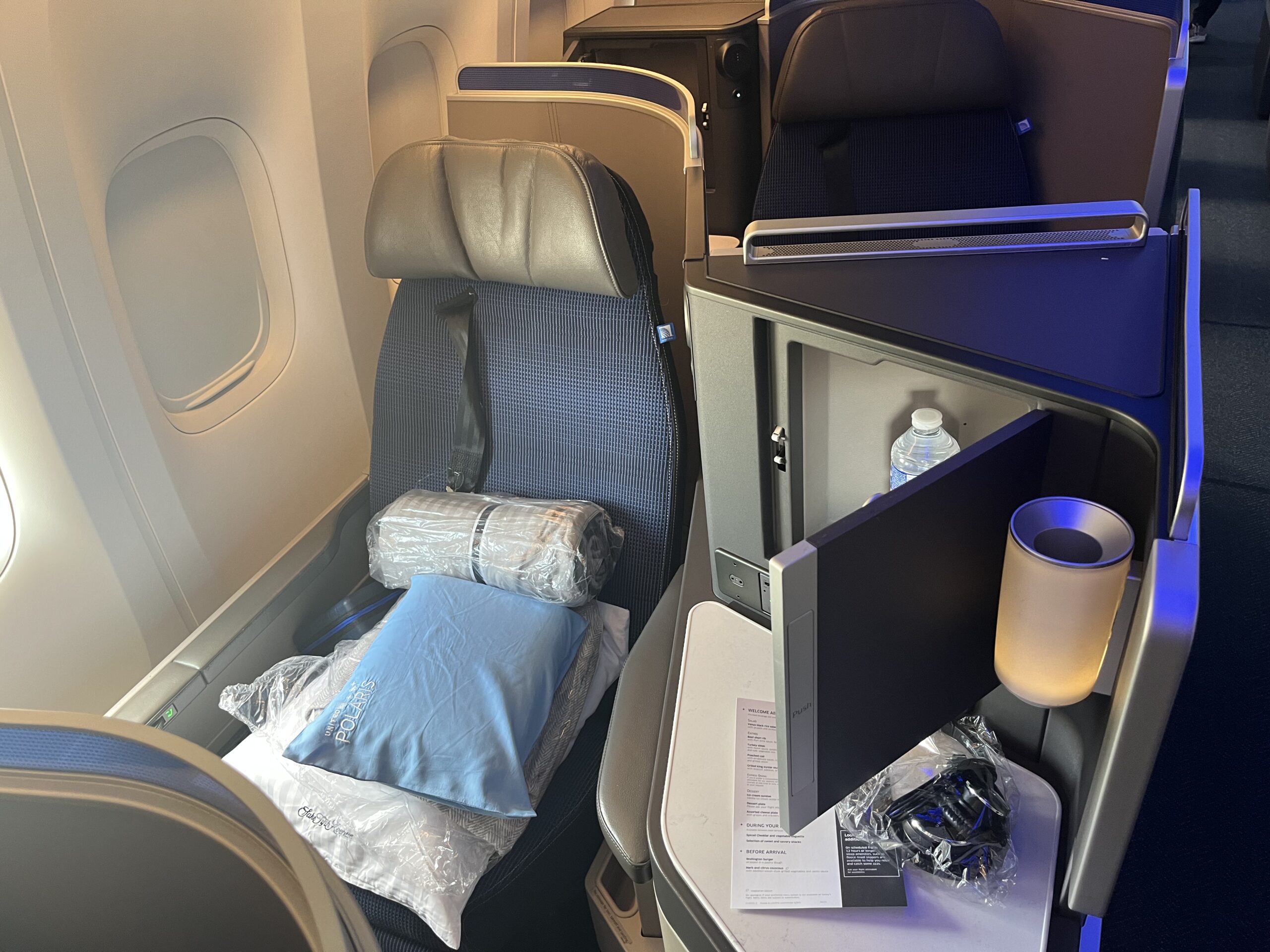 If you're flying with a spouse or friend, there are pairs of seats in the middle that would be ideal. If you're traveling with more than one other person, especially children, you'll need to give seat choice a bit more thought. Depending on how old your kids are and how many you have, I'd likely pick pairs of seats, adding one or more adjacent window seats as needed. Aisle seats across from each other may work in a pinch. 
I immediately noticed that my seat had not been cleaned well. I'm not a stickler about normal wear and tear. But that wasn't the issue. There was grime stuck on the armrest and on the button that lets it move up and down. 
While the cleanliness was an issue on this flight, I like the Polaris seat configuration. It's private, has a good aesthetic, and offers all you need for a comfortable flight. Storage is a bit minimal, but it has enough to keep you from needing to get up to access the overhead bin constantly. I also like the tray table design of the seat, sliding out from under the IFE screen.
The IFE screen is crisp, but United could do much better in terms of their business class headphone quality. The ones they provide are not noise canceling. And the connection is an issue–at least it was at my seat. I had difficulty hearing movie dialog after plugging them in, finally figuring out that if I unplug them slightly, they function better. They were still touchy throughout the flight. 
In lie-flat mode, the bed is comfortable, if on the firm side. This is my personal preference anyway. The footwell is relatively narrow, but tall enough to accommodate to not feel constrained. I didn't try to sleep much on this flight since it was a daytime route. I try to stay awake as much as possible when headed westbound. United Polaris pros include quality bedding and a gel pillow.
Service and Catering
The United 777-300ER Polaris Business Class menu is simple compared to some other airlines. You're provided a single card with choices of entrée and dessert. The starter is simply provided. On my flight, it was a prawn salad. Obviously, it'd be an issue if you have allergies. If you have any special needs at all, I'd strongly recommend you order a special meal flying Polaris. No beverage list is provided alongside the menu. 
The fight attendants came around about 15 minutes after boarding was completed, taking entrée orders. Most people wanted requested the beef as their first choice. Since I was near the back of the cabin, I had to select the cod as a backup. 
In-flight service started with a hot towel. Drinks were served next, about 30 minutes after takeoff. Surprisingly, at least to me, United Polaris serves actual champagne. I like most sparkling wine and thought what they stocked was good.  The flight attendant topped off the champagne before the starter arrived.
Food started arriving about 75 minutes after takeoff. I enjoyed the prawn salad. It's been a long time since I'd had black rice, and I found the salad flavorful. The short rib was tender, and I enjoyed the polenta. The flavors were good, but presentation could be better.
I received the last of the beef entrée. The guy behind me was not so lucky. He was stuck with his second choice.
I have to say, an ice cream sundae in the sky was the highlight. This is an iconic part of flying United Polaris. I followed dessert with a glass of port, half of which ended up on the floor. Have to do my best to contribute to the stains, wear, and tear. 
Honestly, I was mortified. I think this is the first time I've spilled wine while flying.
United 777-300ER Polaris business class dinner service falls well short of other business class experiences. I liked the food, but this could have been a solid economy class meal. 
Sadly, the quality dropped further with the lunch service. It was served about an hour before arrival. I was already skeptical of the choice between a beef Wellington cheeseburger and vegetable couscous. I hope the couscous was better than the beef. It was tasty enough. But not what I expected flying business class. 
Flight and Arrival Experience
Back to spilling my glass of port. This is the first time in ages that I've used the flight attendant call button. After throwing the napkins I had over the spill, I waited. And waited. It took quite a while for the FA to show up, which surprised me in the business cabin.
We'd made it past the British Isles by the time I wrapped up dinner. As a daytime flight, I ended up watching a movie and reading for much of it. One 90-minute nap was enough to get me through the rest of the day. Unlike many flights, the cabin was never fully darkened.
You can buy Wi-Fi on long-haul United flights. With a good IFE selection and no need to work, I was not about to spend $27 for full flight access.
You can go grab a self-serve cheese plate and crackers as a snack. 
Even though the cleanliness could be better, I do want to note that the flight attendants did an excellent job with the lavatories. They kept these sparkling clean. 
As we neared San Francisco, the purser came by and thanked everyone for flying United.
Once on the ground, I passed through customs and made it back for my connecting flight with plenty of time thanks to Global Entry. I could have been a nerve-wracking connection.
United 777-300ER Polaris Business Class Review: Final Thoughts
Overall, I enjoyed my first flight in Polaris flight, but a couple things left a stain on the experience. United could do better in terms of their catering–they fall short of most other business class experiences I've had. The seat cleanliness needs to be addressed as well.
On the upside, the Polaris hard product is comfortable. I prefer the seat design to reverse herringbone products. The bedding offered is excellent–it's nice to actually count on some sleep.
I'm gutted that United drastically increased their award prices to Europe, which affects this route. Booking this Saver award flight using Turkish Miles & Smiles was an excellent value, and I encourage you to look into the program if you haven't.
Disclosure: Miles to Memories has partnered with CardRatings for our coverage of credit card products. Miles to Memories and CardRatings may receive a commission from card issuers.
---
New Card - Capital One Venture X Business 150K!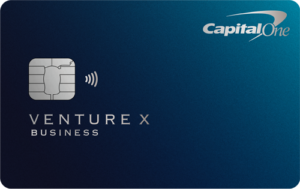 Capital One Venture X Business
earns 2X miles on everyday purchases plus up to 10X in bonus categories. You also get access to Capital One lounges plus an annual travel credit & anniversary bonus. Right now you earn
bonus_miles_full.
---
Opinions, reviews, analyses & recommendations are the author's alone, and have not been reviewed, endorsed or approved by any of these entities.