Why Don't Casino Ticket Machines Pay Out Coins?
Most everyone knows that as soon as you enter the casino floor you are already behind the eight ball. That is because everything you see is tilted towards the casino, they have the advantage – always. Every single game, bet and option located on that casino floor is a losing proposition. The rules are such that it makes it this way no matter what system or scheme you have cooked up in your head. Sure, you can win here and there, but over the long run the casinos know they have you. Just by you entering the building they have already won. In order to guarantee that they do some shady things like 6/5 blackjack tables and adding a third zero to roulette wheels. These seem like minor changes but they give the casinos a nice bump in home team odds. But none of those are exactly under the radar. The biggest under the radar one would be the answer to the question, why don't casino ticket machines pay out coins?
What Are Ticket Cashing Machines?
If you have ever played slots then you know the machines I am talking about. They are the one stop shop for many gamblers. These machines act as an ATM machine and also as a way to cash out your slot tickets. These became very popular as casinos moved away from traditional coin machines (who else misses the clanking coin sound after cashing out a big win?) and went to a paper ticket system. They added these machines to the gaming floors to help lighten the load at the cashier cage and improve the player experience.
That was all good & well and the ticket in ticket out (TITO) machines worked perfectly. There was no difference between cashing out with them or with an actual person at the cashier's cage. The machines were actually preferred most of the time because they were plentiful on the casino floor which meant the lines where much shorter than at the cage.
The TITO Machine Not Paying Out Coins Origins
Everything changed a few years back when the national coin shortage happened. Casinos stopped having the machines spit out coins for your ticket. They would give you the dollars on your cash out but the machines were programed to spit out a new ticket for the coin amount. This is where the scam comes into play. Think about how many of those tickets are tossed away, lost, put back into slots with some more real money to use it up or just overall lost into the ether.  Who profits from these things? One thing is for sure, it isn't the player!
Is this the biggest scam in the casinos that no one really talks about? @milestomemories @MtM_Vegas pic.twitter.com/K3haEGqZVV

— Mark Ostermann (@DetroitMark) May 29, 2022
Above is a video of what happens during the process. A big thanks to Tim Greer for filming this for me.
Things had started to get back to normal and the machines were spitting out coins again and then the pandemic hit. That was all the excuse the house needed to tilt the odds even more in their favor. They claimed that coins would no longer be dispensed because of covid protocols. The truth of the matter is they save money by doing it. They can profit from tickets tossed or the additional gaming they bring and they don't have to spend the time or money refilling the coin hoppers. Win / win for the casino.
We talked about this on this week's MtM Vegas show and had some people chime in with some great comments about all of this.
ReTrigger Me 
Regarding ATMs not dispensing coins when redeeming TITOs – every place I play… MGMs, Cosmo, Wynn… there's an option to donate the cents/balance to a charity. And, Ive read elsewhere, the casinos must report TITO variance, uncashed amounts, and they can't just keep it – 75% goes to the State. If you get a bunch of little "cents" tickets from cashing multiple TITOs at the ATM, reload all tickets into one slot and cash out again. I just donate mine to charity on the ATM.
This is correct.
Nevada passed a law in 2011
, the government couldn't be left out of the free money train, that they get 75% of unreturned cashed out funds. These funds were from people losing tickets, not thinking it was worth cashing out or having them expire. It tallied $35 million over a 5 year period even BEFORE they stopped paying out coins at the TITO machines. The remaining 25% does stay with the casinos so they are still profiting here. You can also see in the video that you can choose to donate the funds to charity as well.
Derek Allyn
I really hate those videos about how Vegas steals your money. Nearly everything people complain about are things that you as the customer still have power over. Don't blame the casino for your lack of awareness or intelligence. The one exception is the rounding of tickets. That one annoys me. I usually just add it to a random machine and walk away.
I like Derek's approach to just add it to a game and leave it for the next person. Kind of like paying it forward. That may help their play last another pull and you just never know. I would prefer that than let the government and casinos digging their hands into my pockets even more.
Risk of Ruin Pod
makes a great point on MGM vs Caesars etc. Not all of these casinos treat their ticket scam the same. You can always leave the ticket on top of the cash out terminal and allow the next person to add it to theirs I guess.
Caesars is actually worse. At least you can put that ticket back in a machine. Caesars prints a ticket that can only go to the cage. I.e. they make it harder for you to give it to someone else on your way out the door.

— Risk of Ruin Podcast (@halfkelly) May 29, 2022
How To Get Paid The Full Ticket Amount & Avoid This Scam
There is a way to avoid this mess all together. I mean the casinos can't just refuse to pay out cents on their games can they? If you go to the casino cage and cash out your tickets there they will give you the full amount of your ticket. The issue is that this line can be very long sometimes and people would rather leave those two quarters behind versus waiting, and I can't blame them there.
MTM Vegas
Here is our episode discussing this and other perceived casino scams which has a lot of great comments (as it does every week). Thanks to everyone that watches our weekly
MtM Vegas
show!
Why Don't Casino Ticket Machines Pay Out Coins – Final Thoughts
Hopefully this articles answers the question, why don't casino ticket machines pay out coins. It is the most under the radar scam the casinos (and government) have running right now. They already have the house advantage in every game you play and now they are taxing the uninformed even a bit more.
If the casino cage line is too long, where you will get paid the full voucher amount cents included, then you can donate the coins to charity or stick it in a random machine for the next gambler to use (unless you are at a Caesars property that is). Just don't throw it away or think it is worthless. That is only giving the government and casinos free profit that adds up to millions every single year.
Disclosure: Miles to Memories has partnered with CardRatings for our coverage of credit card products. Miles to Memories and CardRatings may receive a commission from card issuers.
---
New Card - Capital One Venture X Business 150K!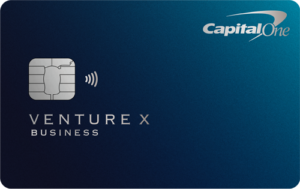 Capital One Venture X Business
earns 2X miles on everyday purchases plus up to 10X in bonus categories. You also get access to Capital One lounges plus an annual travel credit & anniversary bonus. Right now you earn
bonus_miles_full.
---
Opinions, reviews, analyses & recommendations are the author's alone, and have not been reviewed, endorsed or approved by any of these entities.