The Best Star Alliance Award Search Websites & Tools
These are the best sites and tools to use for your Star Alliance award search. If you're looking to find award seats that are actually available to book with Star Alliance member airlines, here are the most useful options. Regardless of what points and miles you're using to book the tickets, these are the best sites and tools for your Star Alliance award search.

Star Alliance Member Airlines
There are 26 member airlines in Star Alliance. Regardless of what points & miles you have or your personal preferences of which airline you want to fly on, we're focusing on the process of an award search with Star Alliance members. Not all websites are created equally when talking about finding seats for award redemptions.
Star Alliance Award Search – Best Options
Since some programs are clunky and cumbersome, we'll highlight the best options for a Star Alliance award search. We'll also talk about what's good and bad in option. Before we know how to search, it's important to know what results to expect. Airlines won't offer up all of their seats for free. Additionally, they'll only offer so many "saver" (the cheapest) award seats, and only so many of these become available to partners. In other words, the airline you want to fly with keeps some seats for itself and only sells some seats at the cheapest price. These "saver" seats made available to partners are the ones you'll find when searching online. This is why you can find a seat available for sale in cash but can't find it when searching for an award via a partner.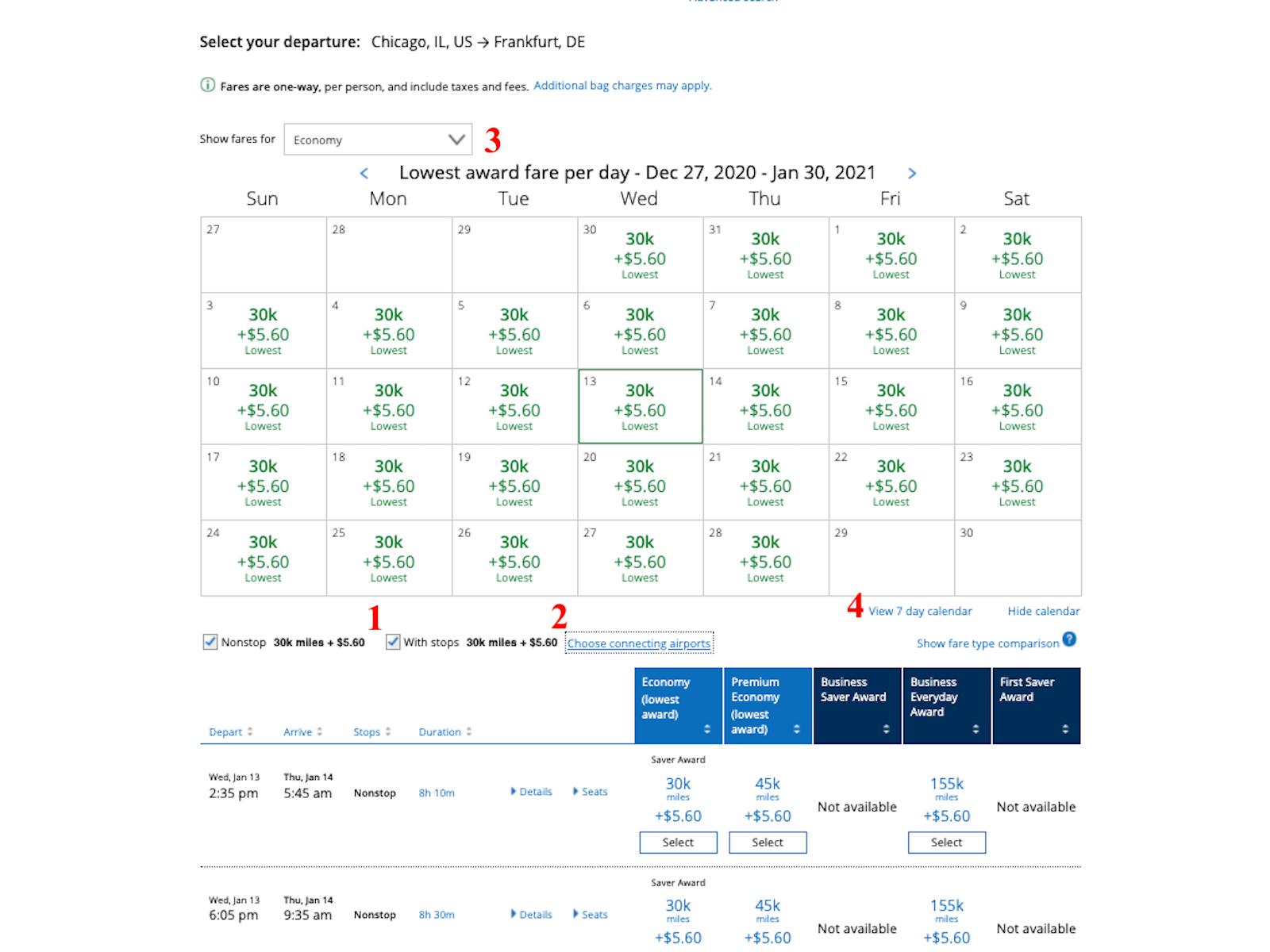 United MileagePlus
The search features on United's MileagePlus program have features you just don't get elsewhere. Looking at the image above, I've marked 4 features that are really useful.
Turn off/on direct flights or flights with connections, also showing any price differences in these options.
Connecting airports. I love this option. You can sort out any airports you don't want to pass through, which can eliminate airlines you don't want, airports that have bad delays for passport control, etc. This is also handy for countries you can't pass through right now due to COVID-19.
Class of service. You can view this 30-day calendar based on different classes.
Change to a 7-day calendar if you want a more detailed view.
Positives: You don't have to be logged in to search. You don't need to have any miles to perform a search. Multiple filters.
Negatives: Doesn't show Singapore Airlines seats. Sometimes shows seats available that really aren't available (phantom seats).
Air Canada Aeroplan
The Aeroplan program from Air Canada will change massively on November 8, 2020. We've detailed the upcoming changes in this article. Aeroplan has several good features, but there are also some things that could be improved. Above is the initial search screen, which has the following 3 key features:
Compare to AirCanada.com for cash prices. This is "on" by default, and I hate this feature. It will open the cash price results in another window for Air Canada's own flights, which you probably don't care about. Turn this off.
Flexible dates feature. This is "off" by default. Make sure to turn this on if you want to see more than just 1 day. Otherwise, you'll have to do a new search for other dates.
Cabin class you want to search for. Notice that economy/premium economy are together in the first choice, and business/first class are together in option 2.
These are your search results, with the following features:
4. Filter for the class of service you want.
5. Mixed cabin bookings. An example of "mixed cabin" is the first flight is economy and the next flight is business class. Note that you'll pay the full price of business class, regardless.
6. Sort options — flight duration, price, take-off times, and landing times.
7. Details of the mixed cabin bookings. The first flight is "first class" domestic, and the flight across the ocean is in economy.
Positives: View all airline partners reliably with rare instances of phantom seats. Handles multi-city bookings better than United. Decent features if you remember to turn them on.
Negatives: Multiple cabin types grouped together to sort through on the same page. Default settings are the worst options. Must be logged in to use search features. Offers mixed cabin options that make no sense (in my example above, flying 2 hours in business then 7 hours in economy while paying for business class is a waste of points).
Star Alliance Award Search – Runner Up
The runner up in this "best of" competition for Star Alliance award search engines is ANA Mileage Club. All Nippon Airlines of Japan is known as the most reliable, never showing phantom seats. However, it's far from ideal, and that's why it's merely the runner up.
ANA
Using ANA has some positives and negatives, so let's look at what the award search tool offers.
Round-trip or open-jaw bookings. Notice that you cannot search for one-way bookings. "Open jaw" is when you fly A –> B and then fly home C –> A, not from B.
Multiple cities / mixed classes. You can use these features to create more complicated itineraries, such as an ANA "around the world" ticket.
Flexible dates. You cannot view more than +/- 3 days, but it's better than fixed date searches.
Class of travel, separated individually.
Positives: Known as the most reliable, not showing phantom seats. Separates class of travel for only showing what you want to see. Flexible dates, though not as much as others offer. Good at complex bookings.
Negatives: It's not user-friendly for beginners. You cannot search for one-way flights (but get around this by just picking any random date and ignoring the results for the return flight).
Things To Keep In Mind
Search the flights and book them–easy, right? Sure. But there are some important things to keep in mind that will help you avoid huge headaches when doing an award search.
Phantom Seats
I've mentioned this several times. That's because it's pretty important. Imagine searching, finding a seat you want, and transferring all of your Membership Rewards or Ultimate Rewards to that airline to make the booking. On the last page, you get an error. Turns out the seat doesn't exist. You can't send your points back, and they're now stuck in that award program.
Aside from using ANA, which is considered the most reliable member airline for a Star Alliance award search, you can create a free account at ExpertFlyer.com. On the left side, in the red box I indicated, you can create a seat alert. This will show you seats open on the flight you specify. This will not only confirm open seats, other features will let you get an alert if a seat you want becomes available (ex: moving to a window seat, first class becomes available later on, etc.). I used ExpertFlyer to confirm that seats really are available for the Lufthansa first class flights I saw on Aeroplan and ANA.
Always confirm that seats are really available before transferring points. You can call ("Hi, before I transfer my points, can you confirm that seats are available?") the airline program you plan to book with. You can also run another search with ANA or ExpertFlyer. It's worth the extra 2 minutes to not move points that you can't get back.
The Search Tool Matters, Not Other Things
We're talking about Star Alliance award searches here, and it leverages their alliance partnerships. Maybe you plan to fly on LOT Polish airline. Perhaps you're flying on Singapore Airlines. However, the airline you're flying on and the points you have might not be the same thing. What we care about is the easiest option for finding the flights, even if that's not how you're going to book the flights. Personally, I always start with United, even if I'm going to book with Singapore Airlines later on.
A Special Note About Airlines "Hiding" Seats From Partners
I mentioned above that only "saver" seats will be available to partners. And even then not all seats are released to partners. Airlines (some more than others) tend to keep seats available for themselves and their own programs. Here are a few examples of when you'll need to just search with the airline you want to fly on.
United Airlines
United shows extra seats inside its program to people who hold a United credit card. Simply holding the United Explorer Card will show additional flights to you when searching United's site for United-operated flights.
Singapore Airlines
Notorious for not releasing any first class awards to any partners, Singapore Airlines only lets you book awards for first class within its own program. Searching on partners won't find anything.
Lufthansa
One of the most commonly drooled-over bookings in this hobby, Lufthansa first class isn't made available to partner bookings until 2 weeks out. You can book via their own program any time, but they only share first class seats to partners 2 weeks in advance.
Final Thoughts
I hope this helps you efficiently work on your Star Alliance award search, regardless of destination or number of people. We looked at the best websites and programs to use for getting started, highlighting their pros and cons. We also talked about phantom award seats and how to make sure that seat really is available before transferring points that you can't get back. Lastly, we talked about some quirks where airlines don't share all of their seats with their partners. Now you should be able to find and book award flights on Star Alliance partners more easily, since you've found the seat and are ready to book it via the program that will charge you the least points/miles.