This post may contain affiliate links - Advertiser Disclosure. As an Amazon Associate, we earn from qualifying purchases.
Disclosure: Miles to Memories has partnered with CardRatings for our coverage of credit card products. Miles to Memories and CardRatings may receive a commission from card issuers. Opinions, reviews, analyses & recommendations are the author's alone, and have not been reviewed, endorsed or approved by any of these entities. Links in this post may provide us with a commission.

Alaska Trip Report Part 2: Gold Panning, Mountain Trams, Glacier Trails & A Swanky Resort
Last week I posted our the first part of my Alaska trip report.  I spent 4 days in one of the most beautiful places on this Earth and there was so much packed into it that I couldn't fit it into one post. During the first two days we had glacier hikes, boat tours, king crab legs and amazing scenery. Over the next two days we panned for gold, took a tram to a mountain top, visited Alaska's most unique city and hit one of the best breweries I have ever been to.  So let's dig into the details!
Alaska Trip Itinerary
Here is the overview itinerary for our 4 day trip to Alaska.
Night One – Staying in Anchorage after a late flight.
1st Day / 2nd Night – We drove to and stayed in Seward hitting Exit Glacier along the way.
2nd Day / 3rd Night – We stayed another night in Seward and did a 6 hour marine boat tour.
3rd Day / 4th Night – We headed to Whittier, Girdwood and Alyeska and did another glacier hike and found some gold!
4th day / 5th Night – We took a tram to the top of the mountain and headed back to Anchorage for our early morning flight.
Alaska Trip Report Part 2: Day 3
Originally I had planned to go to Homer on day 3.  We were going to wake up and make the long track there.  We would be staying at the Quality Inn in Kenai, which is about halfway between Homer and Anchorage. We would then need to get up and drive a long drive back to Anchorage the next day.  That was a lot of effort for a small fishing village, no matter how beautiful it may be.
That is when my travel hacking skills kicked in.  My friend Dave had gushed about the Girdwood area and my other friend Mike had talk about the glacier trail in Whittier so I made the audible.  Since I had booked the hotel with points I was able to cancel it without penalty.  I then looked up the Alyeska Resort, which was going for a pretty penny but I decided to splurge with my Citi Premier bonus that I could cash out at 1 cent a point.  And away we went!
Gold Panning At Adventure Sixty North
When we were eating dinner at Salmon Bake the night before we saw a gold panning sign next door.  I promised Connor we would hit it on the way out of town if he tried some crab legs, he is not a fan of seafood.  He did the deed so I booked a gold panning class for early the next morning when we got back to the hotel.  The cost was $30 per person and you were guaranteed to find gold.
We are both fans of the Gold Rush shows and were pretty excited to give it a try.  There are other options in Alaska where you go out to a river and dig it out etc. and try it "for real".  This was on of the places where you get a bag of dirt and pan it. You are guaranteed to find some minerals and gold in every bag, they preload them.  It is actual river dirt so you may find more than what they place in the bags themselves.
The set up can accommodate large groups of people, there are a ton of tables, but we were the only two there.  It was a pretty cool experience because of that.  Our guide gave us a history of gold panning and showed us what we should be looking for.  He then showed us how to do the panning motion and let us get to work.
The entire process probably took 45 minutes and was a lot of fun.  We even found some gold to bring home!
Summit Lake Lodge
After stowing our gold haul we were a little famished and started looking for a lunch spot.  That is when I remembered the Summit Lake Lodge on the way to Seward, located in Moose Pass, Alaska.
Unfortunately the main dining area wasn't open when we were the but the snack shop restaurant was.  They have pretzels, pizza and ice cream etc. Nothing major but the views were hard to beat.
This could be a great place to stay for a night or two for your travels.  I would consider checking it out if I ever went back.  Some of the cabins open up right to the lake and mountain.
Heading To Whittier
Once our bellies were full we hopped back in the car and turned our sights back towards the greater Anchorage greater.  On the way we made sure to hit up Whittier and the Portage Pass trail. My buddy had said it was a shorter hike and had a cool view so we were figuring something similar to Exit Glacier, boy were we wrong.
Going to Whittier is an experience worth trying in and of itself.  To get to the small town you need to drive through a mountain.  That doesn't seem all that unique until you see that it is a one way road plus the railroad's entryway. Because of that the tunnel is only open going one way at a time. It goes into town for 15 minutes, then sits idle for 15 minutes and then cars can leave town for 15 minutes.  This goes on all day. The drive is pretty unique too, you feel like you are driving through the train tunnel in Mario Kart Nintendo 64 as a short cut 🤣.
Once we got through the tunnel the weather was completely different on the other side of the mountain.  We left mostly clear skies and entered a rainy fog. That was kind of cool to see as well, two completely different climates just a tunnel apart.
I'll go over the interesting aspects of this unique town in a separate post.
Portage Pass Trail
When I say this trail is completely different from Exit Glacier I mean that in every way possible.  The road leading in looks like it got bombed out, the potholes are so huge. There is no welcome center etc. you just leave your car parked at the end of the road.  Then you start the hike, which is pretty much a gravel path straight uphill.  We were there in early June so there was still snow and ice we had to walk across at times. My son fell on his butt more than once 😃.
We kept wondering when we were going to make it to the top and hoping we could get above the fog. It felt like forever and the fog never dissipated. When we finally reached the top we couldn't see anything.  I didn't even know which way to look.  We were essentially standing in a cloud, which was actually kind of cool.  I got my favorite picture from the trip up there.  My son was standing by a small pool of water while I was walking around the perimeter of the cliff and I snapped this photo.
Girdwood Brewing
After coming down the trail we drove around the town of Whittier for a bit until the tunnel opened.  They give you a pamphlet with the running times etc. so you aren't stuck sitting there for 30 minutes waiting unless you want to.
We headed back out from the fog and towards the town of Girdwood and our accommodations for the night.  Girdwood is 45 minutes outside of Anchorage and worth a visit for sure.  The town is cute and quaint.  Most of the restaurants were not yet open for the season unfortunately, but it looked like it could be a fun little downtown when up and running.
One thing that was open was Girdwood Brewing so we hit that on the way to our hotel.  Man was this place a highlight of the trip.  It is nestled in between two mountains, is really cool inside, and out, and had some awesome beer.  My son even sampled their homemade root beer, cheers!
I spent way too much money on their cool swag and had some much needed beers after our hike through the cloud.  They also had a food truck out back and it seems like a regular thing. Our hotel, Hotel Alyeska, was just a few miles down the road so we headed there to check in after.
Hotel Alyeska
If you wanna do Alaska bougie then look no further.  No seriously, look no further cause there are not a ton of options, at least for bougie hotels. This place kind of reminds you of The Shining hotel pulling up.  Big, beautiful and nestled in the mountains.  It is a ski resort during the winter and has everything you could ever want. The cost was not cheap, coming in right around $400 for the night.
We checked into the hotel at 6PM and that was a mistake on my part.  The weather was clear that day and it was going to be rainy the following day.  Alyeska has a cool tram you can take to the top of the mountain to check out the views and it even has a restaurant and bar at the top to check out.  I had wanted to hit it that evening while it was clear out but I didn't check the time the tram stopped…which was 6PM.
A stupid move on my part not to check ahead of time but you live and learn. People not staying at the resort can ride the tram as well, you just need to buy a ticket.  Be sure to save the ride for a sunny day, it is well worth the stop on your way out of Anchorage.
The lobby of the hotel is really nice and the rooms felt like old school luxury but nothing over the top.  We ran into the issue of more restaurants closed early or not open at all in the hotel.  The only two options were open and both offered stuff my son had no interest in.  We headed downtown but the only restaurant open had a 45 minute wait so we ordered pizza from a place 10 minutes outside of town.
Alyeska has a lot of shops, restaurants (when open), a spa and public areas to explore. The grounds are beautiful as well and they have a ton of hiking trails in the summer.  Had I planned this out better I would have gotten to the hotel much earlier and taken advantage of the property fully.  Learn from my mistakes if you stay here. After grabbing some food we headed to the pretty pool area.
Alaska Trip Report Part 2: Day 4
Day 3 was jammed packed!  By day 4 we were pretty beat so it was good that we had planned on an easy day.  We slept in a little and then hit a few spots on the way back to Anchorage.
Alyeska Tram
After checking out of the hotel we went over and rode the first tram of the day up to the top of the mountain.  Unfortunately we couldn't see as much at the top as we would have been able to the day before but it was still worth the cost ($35 for me and $18 for my son).
After getting off the tram the top we grabbed some lunch from the restaurant there and I enjoyed a Girdwood Brewery beer while looking down the mountain at the resort.  There are a few other areas with look out spots and of course the ski slopes.  There is also an expensive restaurant at the top but we were unable to get a peek at it, and the reviews are not super great.
Here are some pics from my buddy Rick at Travel on Point(s) of what it looks like when it is clear out, pretty stunning.
Beluga Point Site
We saw this road side stopping point on the way to Seward on day 1, but it was so early into the journey that we didn't stop.  I made a point to hit it on the way back to town though.  There is a sign to not enter the area from the railroad company but there were people over there so we joined in.  I think the sign is mainly to keep people off the tracks so I don't think anyone really cares.  Just be careful crossing over the tracks.
The views here are pretty great and there are little trails here and there through the rocks to get different views.  The sand is unique too, like rock silt versus sand.  The gold panning expert told me that Alaska doesn't have normal dirt like we are used to.  It is all silt, sand and gravel.  You noticed the difference around this area for sure.  We hung out for 20-30 minutes but it was super windy so we got back on the road.
Hyatt Place
I used a free night certificate to stay at the Hyatt Place in midtown Anchorage for the night.  I figured midtown would mean some stuff around it that we could walk around to etc. That was not the case, it was just on a busier road.  It was right next to an Office Depot however, which I found amusing.
I used the free night certificate even though it was only a category 3 just to burn what I had.  It was also going for $300+ a night so I was getting decent value if you look at it that way.  It was a newer Hyatt Place and pretty nice.  We hit the pool for a bit and then headed out for a very early dinner.
Moose's Tooth
With our super early flights, and the issues we had with getting food the entire trip, we headed to the very popular Moose's Tooth at 3:30PM to eat.  This was on a weekday as well. I figured getting in quickly shouldn't be a problem, nope a 45 minute wait.  You can walk up to the bar and grab a beer while you sit outside and wait for your table though.  I still found it crazy that it was that busy during the day so plan on that if you check out this popular spot.
The beers brewed there were pretty good and pizza was decent.  I thought Seward Brewery had better pizza for what it is worth.  The cheesy bread was really good though.  I am glad we checked it out, and it is a cool place, but be prepared to wait.
Alaska Trip Report Part 2 Final Thoughts
Day 3 of our trip was probably the busiest day in Alaska and day 4 was probably the most relaxed day we had so they worked well together.  We got a lot accomplished over the 4 days in the Anchorage area.  My favorite things were probably Alyeska Resort, Girdwood Brewing and the glacier boat tour.
The constant fight to find food was somewhat exhausting and partly why we ended up getting pizza so often.  If I returned I would probably go to a grocery store on day one and grab some items we can easily turn into meals on the go.  Plus there are a ton of turn off and check out this beautiful nature spots to enjoy your snack or food during your travels.  There are not a lot of other options to get food during your drives anyway.
On the podcast I said that Alaska isn't a place I would be falling over myself to return to.  The nature is beautiful but I prefer nature with other fun options as well.  A place like Vancouver or St. John's, Newfoundland checks those boxes better for me.  But if you love nature, hiking and fishing etc. you will love your time in Alaska.  And I am glad I got to check it out and experience it with my son. We made some amazing memories and had a lot of laughs along the way. Plus, Girdwood Brewing is a top 3 brewery for me so I may have to go back just to grab some pints there!
Disclosure: Miles to Memories has partnered with CardRatings for our coverage of credit card products. Miles to Memories and CardRatings may receive a commission from card issuers.
---
New Card - Capital One Venture X Business 150K!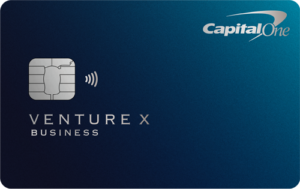 Capital One Venture X Business
earns 2X miles on everyday purchases plus up to 10X in bonus categories. You also get access to Capital One lounges plus an annual travel credit & anniversary bonus. Right now you earn
bonus_miles_full.
---
Opinions, reviews, analyses & recommendations are the author's alone, and have not been reviewed, endorsed or approved by any of these entities.