Disclosure: Miles to Memories has partnered with CardRatings for our coverage of credit card products. Miles to Memories and CardRatings may receive a commission from card issuers. Opinions, reviews, analyses & recommendations are the author's alone, and have not been reviewed, endorsed or approved by any of these entities. Links in this post may provide us with a commission.

Ranking the Delta Skymiles Increased Offers According to Value
These Offers May Have Changed
Delta and American Express launched increased offers on their co-branded cards a few weeks back.  Those offers are coming to an end on April 1st. I figured I would rank the cards according to the value offered from the welcome offers. I will also add in some commentary of other things to consider when choosing which card is best for you.
Ranking the Delta Welcome Offers According to Value
These Offers May Have Changed
These rankings are based on a 1.25 cent per point valuation for Delta Skymiles. Remember that all of these cards come with Amex's standard once per lifetime welcome offer language.
I will do these rankings from least to most valuable:
Coming in with the least value offer is the Delta Reserve personal card. I ranked this one slightly lower than the business version even though the offers are the same. That is solely because it counts towards Chase 5/24 and the business version doesn't.
---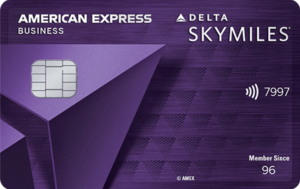 ---
The last four cards offer the same value in terms of welcome offer once taking the annual fee into account.  Because of that I have to make the decision based on other factors. I am placing the personal gold card as next because it counts towards Chase 5/24 status and doesn't offer the perks of the Platinum cards.
---
The business version of the gold card gets a slight bump just because it is a business card.  If you are over Chase 5/24 then I would put the personal gold card above this since I think the earning structure is more rewarding.
---
This is the first time I didn't rank the business card as better than the personal card.  That is because I think the personal version of the platinum card has a pretty good all around earning structure.  Although the business version is great for big spenders going for the MQM status boost.  Since it earns 1.5X on non bonus spend that is $5,000 or more per purchase.
---
Other Considerations
It is not always all about the Benjamins yo 😉! Sometimes the perks and status are what truly matters.  If you need the MQMs to reach the next tier of status with Delta or you just want lounge access then the personal Delta Reserve Business or Delta Reserve Personal cards are your best bet.  You may lose $300 on the front end but reaching status easier and chilling in Delta lounges may be worth more than that to you.
Or you may want to keep your annual fees low and avoid them in year one.  That would make one of the Gold cards your best option.
I personally think the Platinum Delta Skymiles card offers the best combination of welcome offer, spending structure and a chance at earning status quicker. Your criteria may be different though so be sure to weigh it on your own scale and decide based on your needs.
Final Thoughts
People like to bash Skymiles, even when they are offering value to Europe, but these offers from American Express are compelling.  Getting over $750 on any credit card is a pretty good offer.
Which one do you think is best?  Let me know in the comments.