Hotel Review: Sheraton Princess Kaiulani in Waikiki, Hawaii
My wife and I recently spent three nights at the Sheraton Princess Kaiulani in Waikiki, the famous beach area between Honolulu and Diamond Head. We booked this trip last-minute and wound up here almost as a 'lack of other options'. How did it go? How does the hotel compare to other more famous properties nearby? Let's take a look.
Booking
We booked this property using Marriott free night awards. I had three awards capped at 35,000 points each, and we visited during 'peak' pricing. Given that we booked just 3 days in advance and couldn't book more expensive properties, our options in Waikiki were this property (Sheraton Princess Kaiulani) or a nearby Marriott Courtyard (on Kuhio Ave.)
The main selling point of the Sheraton Princess Kaiulani is that it sits directly across the street from beach-front properties on the other side of Kalakaua Ave. While the Westin Moana Surfrider across the street was charging 50,000 points or more per night, we were able to book the Sheraton Princess Kaiulani for 30,000 points per night. We stayed for 3 nights.
We booked a standard room with two double, which was the only type available for points bookings. This room priced at $185 per night during our visit. The room we were upgraded to priced at $210 per night during our stay.
Considering a price of $185 and a points price of 30,000 points, that's a redemption value of 0.62¢ per point. That's just under our average valuation for what points are worth.
We also paid $38.92 per day as a resort fee (price after tax). Unfortunately, Marriott doesn't waive resort fees for elite members or when booking an award stay.
Location
As mentioned, the Sheraton Princess Kaiulani is in Waikiki and sits directly across Kalakaua Avenue (the main shopping street) from the famous Westin Moana Surfrider and from Waikiki Beach itself. The hotel has two entrances. In the pictures above, you see the entrance from Kalakaua Ave. via some stairs and a path to the pool area. This entrance is for pedestrians only.
There's also the main entrance, around the corner on Ka'iulani Ave. This is where cars arrive, and there is pedestrian access, as well.
Being just across the street from public beach access makes for a good location. The price is significantly cheaper than the beachfront properties, but the views are obviously not as good. More on that later.
Check-In
After reading Jim's article about visiting Oahu without a rental car, we followed suit. We arrived at the Sheraton Princess Kaiulani in a van from Hawaii 23 and entered at the valet/lobby area along Ka'iulani ave.
Since we arrived in a van and clearly didn't need valet parking — and since the employees saw me rolling my suitcase up the wheelchair ramp without looking for assistance — they just ignored us. We followed the sign directing us past the koi pond to the reception / check-in area.
The lobby is big and spacious. However, I will say that the layout could use some re-thinking.
The lobby is large and spacious. I like the look of it. However, anyone coming in with rolling bags was directed up the ramp toward the left side of the lobby.
This left side of the reception desk is meant to be just for Marriott Bonvoy elite members. However, the sign stating this is super small. And nearly all people entering the hotel are directed toward this side. I often noticed employees on the right side (less traffic) doing nothing and not calling for people from the line on the left side.
Our turn
Once we finally got through the line to check in, the process was a bit slow. We needed to log into the government website and show that our status said 'exempt from quarantine'. Then the woman explained our daily breakfast options from my Titanium Elite status. After that, I asked if there were any upgrades available, and she disappeared for a while. Since we had booked a standard double room (the only thing available for our last-minute booking), they had given us a partial ocean view double room in the computer prior to arrival. No upgrades with king beds were available.
The check-in process was a bit long, and we accepted just to finish up and go to the room. The woman was nice, but the process could've been more efficient.
Welcome Information & Resort Fee
Sifting through the welcome information later on, here's what we learned about the resort fee and our benefits from my Titanium Elite Status.
Free daily breakfast – you get a pre-packaged box or a breakfast sandwich at the bar, plus a choice of a can of juice, coffee, or tea. The vouchers for these are to be "treated like cash" and won't be replaced if you lose one.
If you want a plated breakfast – you can use your voucher as $18 of credit at the restaurant.
Parking – $42 per day (glad we didn't have a rental car!)
Free microwave to use
On-site laundromat available – do it yourself
Fitness center is 24/7 – reservations required
Free use of a GoPro on one day during you stay
Ability to charge meals at restaurants from Westin Moana Surfrider, Sheraton Waikiki & Royal Hawaiian to your room bill
We also got some papers showing the menus for the restaurant.
The guest room also had welcome information about clean stay policies.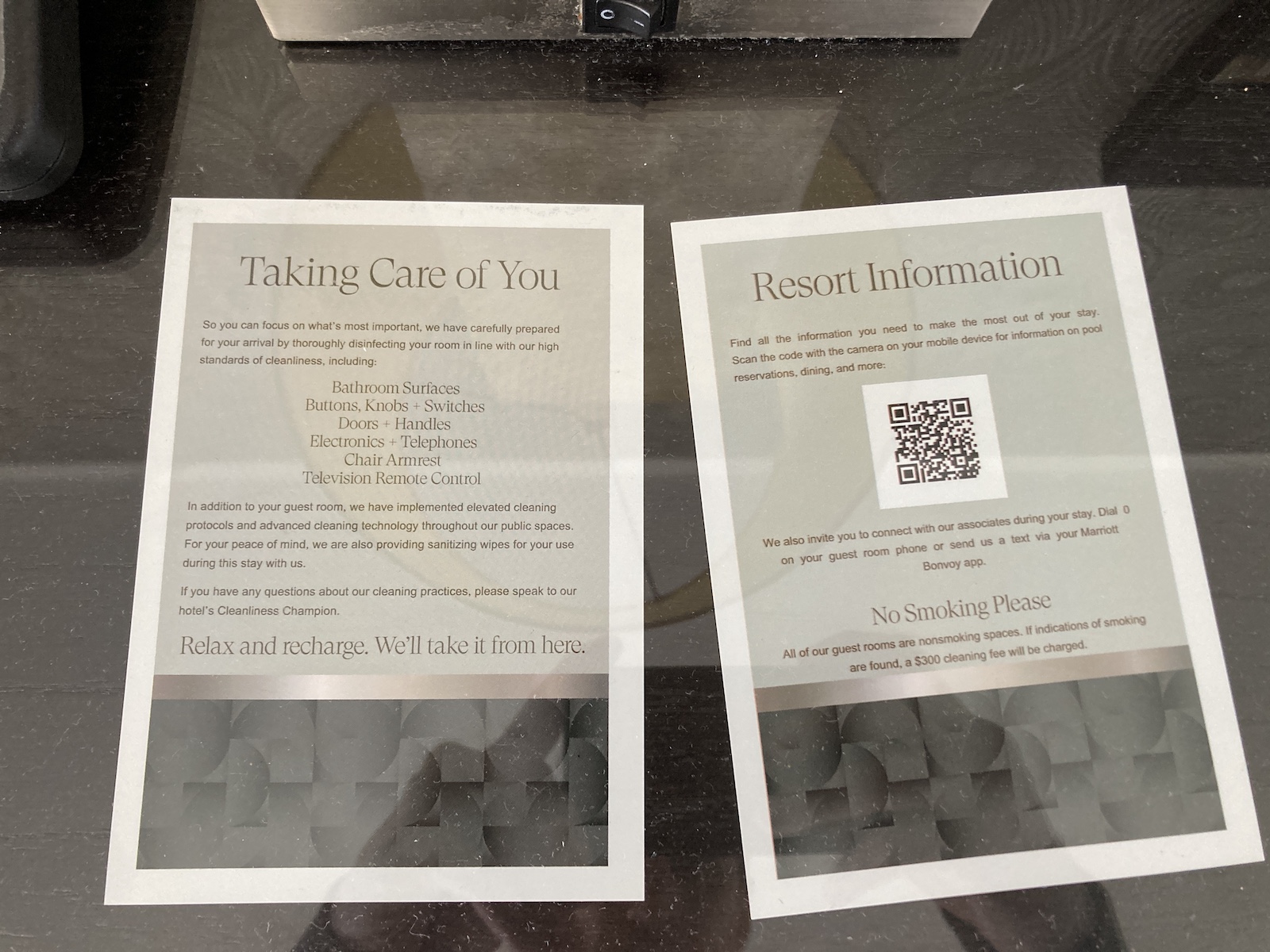 We also got towel cards. One card gets you a towel. If you lose the towel, you can't get your card back. That means you won't get another towel tomorrow.
More about that resort fee…
Notice that the resort fee includes the internet throughout the building. I get that guaranteed at every property due to being a Marriott Bonvoy member. It's in the terms. There's a great post on One Mile At A Time about the fact Marriott is required to offer you something else, since they can't charge you a resort fee for a perk you get for free.
That completely went over the heads of the employees at the Sheraton Princess Kaiulani. When I tried to ask for my replacement perk, they told me I had more perks than just wifi. "Yes, but I am paying for 5 perks and only getting 4, since one of them is already free for me. What other perk can I get?" Blank stares.
It was a lost cause.
Ground Floor Facilities
The hotel has a lot of facilities on the ground floor. Let me cover those here.
Lobby Area
There is ample seating around the lobby. This area, up 3 steps and against the wall, has space for watching TV, drinking (it's close to the bar), and printing out your boarding passes.
Games Area
Back behind the restaurant and past the elevators to our room, there is a recreation area.
You can sit, play foosball, or check out equipment to play table tennis. This is behind the far side of the restaurant.
Splash Bar
The Splash Bar sits alongside the walkway into the lobby and is between the restaurant, sitting area, and pool. More than just a bar, there's nightly live music (typically someone playing a guitar & singing) and some meal options.
The Splash Bar area is divided into what I will call the "bar area" and the "restaurant area". That matters later.
Currently, you cannot access the restaurant side for dine in without showing proof of vaccination.
Pool
I wouldn't consider the pool large or impressive. However, it was busy nearly all the time. And the lounge chairs filled up fast. The pool sits in the area near the restaurant and the two entrances to the property.
Activities Signs
There are several television screens in the lobby advertising the weekly activities and events. Some require registration in advance, but they are all included in the resort fee.
Water Station
This is the last item I want to cover from the ground floor. Rather than giving daily bottled water, the Sheraton Princess Kaiulani provides reusable water bottles as part of the resort fee. There is a water station located off the lobby, near the elevators to the tower we stayed in. You get some bottled water for the first day and then use this or your room's tap water going forward.
Parking
For those with a car, parking is around the corner in this garage that's also used by the Westin Moana Surfrider.
Parking costs $42+tax per day.
Our Room in the Sheraton Princess Kaiulani Ainahau Tower
I mentioned from the check-in section that there were no suites or oceanfront upgrades available at check-in. However, we were upgraded from the Princess Wing to the taller Ainahau Tower, giving us a partial ocean view room.
While there are 4 elevators in this tower, only 3 were working. And we almost always had to wait for a 2nd or 3rd elevator to arrive before we could get into the elevator. Getting into the first one (due to lack of line) was uncommon.
The interiors of the elevator had tapestries on the wall saying things like "Good morning". I've seen this at other hotels in Hawaii, as well.
However, I will point out that I noticed the employees forgetting to change these twice during our stay. I saw "good morning" at 3pm one day and saw "good afternoon" at 7:30am another day.
We stayed on the 27th floor of the Ainahau Tower. The interior decorations on our floor were minimal, at best. However, it wasn't ugly.
Strangely, there's no directional sign when coming out of the elevator. You have to guess where your room is.
We found our room directly across from the ice and vending, which made quite a bit of noise sometimes.
We had guest room 2751.
Guest Room
The room keys are standard with just the Sheraton logo / blank white on the back.
We had a double room with a partial ocean view. The room itself was good, though we found the bathroom very cramped.
The two beds were comfortable, and there is a dresser in between with a lamp, clock, phone, and multiple charging points for your devices.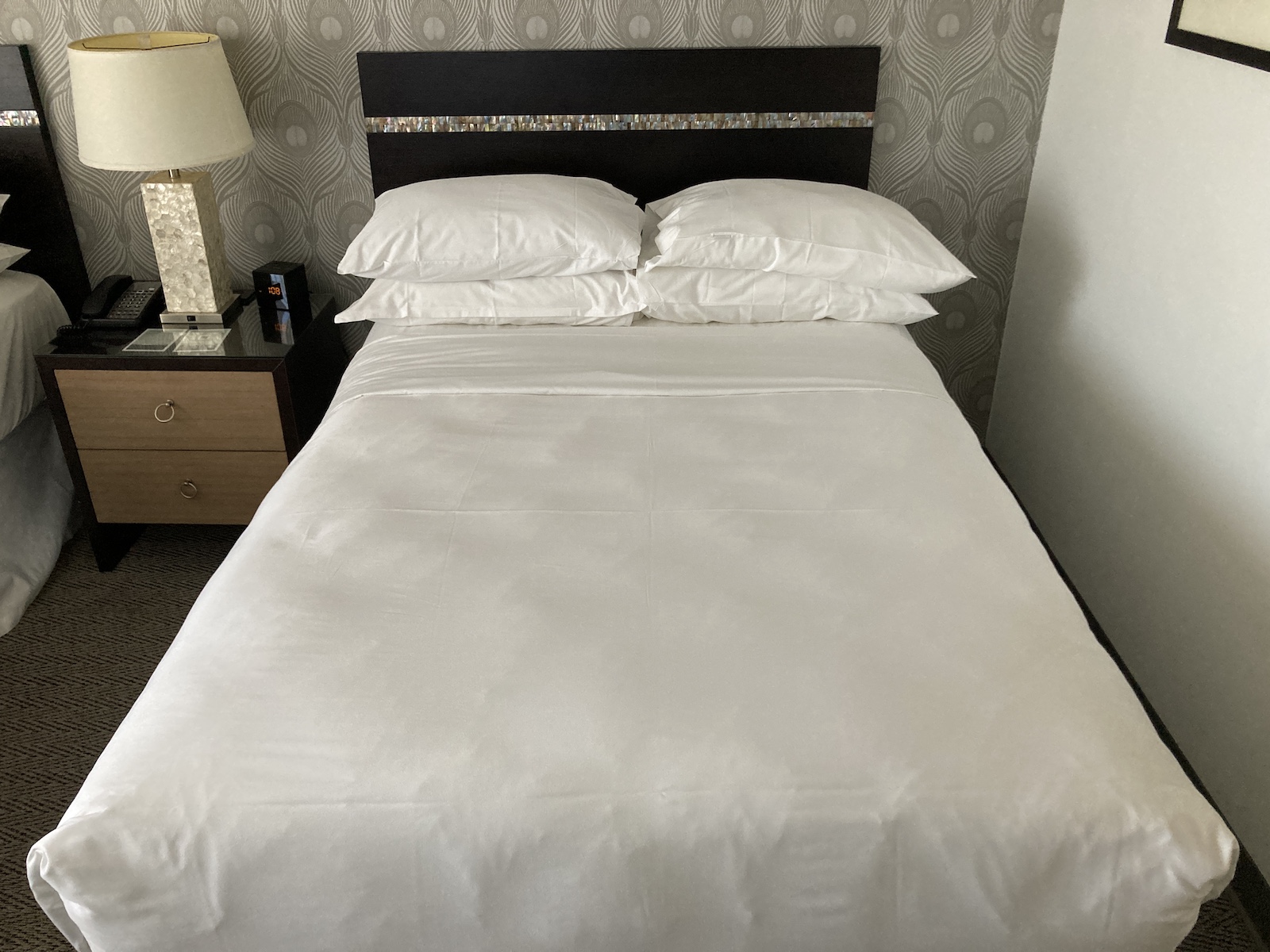 While the beds were comfortable, the pillows were worthless. The moment you put your head on them, you sink. It was equivalent to not having a pillow. The mattress was very nice, though.
Across from the beds, there is a dresser with a TV on top. Next to this is a small desk with a phone, lamp, two bottles of water, and some coffee & tea supplies.
There's a thermostat on the wall. The air conditioning system automatically shuts off when you open the balcony door. We never touched this thing and just enjoyed the breeze from the open balcony instead.
Inside the closet, there is a small safe, a mini fridge (empty), luggage rack, and iron & ironing board.
Balcony / View
Next to the desk, there is a sliding glass door that leads to the balcony. The balcony has two chairs and a small table. There are also blackout and day curtains for the glass doors.
Our view was nothing spectacular, but it matched the room description: partial ocean view. Given that we booked the lowest room category last minute and hoped for an upgrade, this was still an improvement over our actual reservation. The breeze on the balcony was nice, but we had to remember to keep a curtain or door closed. Pigeons wandered into room on the first day, when we had everything open.
Bathroom
The bathroom felt quite small. It was hard for my wife and I to use it at the same time. If I was a the sink brushing my teeth, opening/closing the door would hit me with the door. And there wasn't enough room for her to get in past me to go to the shower.
I will describe the bathroom as simply "standard, sufficient". Nothing special beyond that.
While the shower had good pressure and got hot quickly, our shower head was missing a piece. The piece that would allow you to adjust the spray settings for how the water comes out was simply not there.
Overall Thoughts on the Room
The room wasn't anything incredible, but it was good. It's a standard room, and that's what we got–though with an upgrade to a higher floor and a partial ocean view. The bathroom is cramped, but we weren't spending tons of time in there, so it was OK.
Internet in the room was a bit of a mess, though. Every time your phone screen turned off or computer's screen saver kicks in, you are disconnected from the wifi. To join it again, you need to reconnect and enter your room number/name again–as if you are connecting for the first time. This is odd, since other hotels don't have this issue.
Overall, though, this is a fair room. It's not special, not bad, but standard, and we enjoyed our stay more for the location than for the room itself.
Concierge Lets Me Down
Prior to our arrival, I asked Marriott for the email address to this hotel. We were going to Hawaii to celebrate my wife's new job. I simply asked the hotel to write a note for her and put it in our room. That's pretty simple.
I got a very formulaic email from the concierge the next day with all kinds of brochures for activities on Oahu. It definitely gave me the impression that the front desk had passed off my email and no one actually read it.
I replied to the concierge stating my request again and received an email saying the concierge has a desk in the hotel but is actually a 3rd-party service with no connection to the reservations system. The concierge and front desk kept replying to my request saying "what's your room number?" so they could put a note in the room. My replies "we haven't checked in yet" were totally lost on them.
A simple request, and they absolutely muffed it. There was no note on our arrival.
Daily Breakfast is a Disappointment
My wife and I found the breakfast sincerely disappointing.
On arrival, we got a voucher for each day of our stay, valid for breakfast for 2 people. However, it's only valid for the continental breakfast. We were fine with that, since I hear "continental breakfast" and think of fruits, toast, etc.
However, the continental breakfast is a pre-packed box that you cannot customize in any way. My wife and I are both vegan. The box contains:
Yogurt
Milk
A random box of cereal from among 5 options, none being vegan (they're all kids cereals like Froot Loops, in case you're wondering)
An orange
A granola or protein bar (none vegan)
In addition to the box, you can then choose a pastry:
Choice of drink:
For those keeping score, the orange and the bagel are vegan. The was no non-dairy option to make a latte or coffee with milk. Since the box is pre-packaged and they just hand it to you after requesting it, anyone with dairy allergies or who is vegan etc. will be really disappointed here.
The other breakfast option is a bacon-egg-cheese or sausage-egg-cheese breakfast sandwich.
If you aren't happy with these, you can trade in your voucher for $18 credit at the restaurant toward these meals.
All in all, our breakfast experience felt like "pretending to offer you something, get nickel-and-dimed instead". Outside the U.S., free breakfast means free breakfast.
We wound up just eating the bagel, drinking the juice, and then giving our boxes to the homeless people wandering the streets in Honolulu. For us, the breakfast was a big let down, and there was always a big line for it. Surprising, since the staff just has to hand you a box…
Check-Out
We stayed at the Sheraton Princess Kaiulani for 3 nights. Other than breakfast and my attempt to talk to front desk staff about the resort fee, we had pretty limited interactions with staff. We didn't eat lunch or dinner on property and didn't need the valet services. We kept the "do not disturb sign" on the door for our entire stay.
At check-out time, there was a huge line. I simply checked out in the app and dropped the envelope containing our keys & towel cards into the express box in the lobby.
Email from General Manager After I Took a Survey
After we left the hotel, Marriott sent me a survey via email. I take these for almost every hotel I stay at. About 5 hours after submitting my survey, the general manager of the hotel sent me an email.
Aloha Ryan,
Mahalo for being a valued Marriott Bonvoy Titanium Elite member and for taking the time to complete our survey about your experience at Sheraton Princess Kaiulani.
Exceptional service and a revitalizing experience for every guest is our highest priority, so we want to extend our apologies for your disappointment with the breakfast we offer and the frustration it caused. We will share your comments with our food and beverage team to see where we can improve. We are also sorry for the issues you had with our elevators. We understand your concerns and sincerely regret the temporary inconvenience. Mahalo again for your feedback, and we hope you will consider a return visit so that we can make it up to you.
Thoughts on the Sheraton Princess Kaiulani
We enjoyed our stay. Despite the constant waiting for the elevator in our tower (one of four out of service) and the breakfast being a huge bummer, the stay was not bad overall. We booked a last-minute trip to Hawaii, found a property where we could use Marriott free night awards, and had a location just across the street from where we wanted to be. Staying on the other side of Kalakaua Ave. costs a ton more.
Service wasn't great (nickel-and-diming on benefits, concierge failure), the room wasn't anything spectacular, and the amenities included using paying for things we didn't care about. However, we were happy with our stay, due to the balcony, location, and ease of connecting to The Bus to travel around the city.
If you're looking for a property near Waikiki Beach that can be booked with Marriott 35K free night awards, this is a good option.