A330 SAS Business Class Review: My Worst Business Class Flight Ever
The headline should set the tone, so buckle up for my worst business class review ever: SAS from Stockholm (ARN) to Chicago (ORD) on the A330. For those a bit surprised, the A330 is SAS' standard long-haul product. After seeing photos of the cabin, it looked really sleek, and we were excited to check this out. I'll highlight a few areas where I'm going to give SAS the benefit of the doubt in this review, but my wife and I easily consider our SAS business class experience our worst business class flight ever. We'll be avoiding them in the future. Here's what happened.
Booking Process
We booked with Singapore Airlines KrisFlyer and paid 72,000 miles each + $51.11 in taxes and fees. This is definitely not the best option for business class flights from Europe to the U.S. However, after canceled flights and rearranged plans, we had a bunch of miles stranded in my KrisFlyer account. Given that and the recent 20% transfer bonus from American Express Membership Rewards (my wife was targeted for it; I wasn't), we didn't have to cough up very many miles. That made it a winner for us.
It was also a winner because we could get to my parents' in Florida with only one connection, which other alliances couldn't offer us.
The cash price was $3,427 when including the United domestic flight. This is a redemption value of 4.7¢ per mile. That's above average for KrisFlyer redemptions — even for premium cabins.
Check-In
It was a disaster. There's no sugarcoating it.
SAS had 2 employees for business class check-in and 3 for economy. They were checking in 3 SAS flights to the U.S. at the same time when we arrived. The economy line was 3-4 times longer than the business class line, but it completely emptied out long before the business class line. The worst, slowest check-in agents available handled our line.
When we got in line, there were 6 people/families (whoever was going to the counter together) ahead of us, plus the 2 people already at the counter. We spent more than 50 minutes waiting in line. That's ridiculous. 2 agents took 50+ minutes to help a total of 8 parties. Here's why.
When it was our turn to check in, the woman helping us looked at my passport and then gave it back to me. Then she did the same for my wife. Then, when she wanted to look at our Covid tests, she realized she didn't have the passports to check the names. We had to give them back to her. This "oops, give me the passport again" occurred twice more during the process. Then, she tried to ask if we have visas–not remembering we had US passports. It was a mess.
At the end, she told us we would normally have access to the lounge, "but I recommend you go straight to the gate, since there isn't really enough time to stop at the lounge." Yeah, who's fault is that? We showed up at the airport 2.5 hours before the flight, but we lost an hour and needed to skip the lounge because of potential lines at passport control and needing to go to the tax refund desk.
Employee Gave Bad Info
As we finished check-in and started to walk away, I asked the employee where the tax refund desk was. She told us that the closest one is closed, so go past passport control and find it near our gate. That turned out to be wrong. There's no tax refund desk near the gates. By the time we figured this out, we didn't have time to go to the other terminal and make it back to our flight. Since this can't be done online at this point, she made us lose about $32 by giving bad info.
For reference, it's the tax refund on items purchased in Sweden by non-citizens who are leaving the EU. The purchases had nothing to do with SAS, but I had assumed she could point us to the right spot. Nope.
Boarding
This was another disaster, plain and simple.
Our gate had a document check area before you could enter the waiting area. This went quite well. The actual boarding process was another story.
First, there was no pre-boarding, business class boarding, or even groups. It was just a cattle call. "We will start boarding now" and people headed for the jet bridge. Then, we got a surprise announcement. "Since we are boarding by bus, the bus is full. It can only handle 50 people at a time. Everyone please sit back down." Say what?
First, why are we taking a bus? Second, the people at the front of the line had that "no way I'm sitting down and losing my spot in line" look. It was laughable.
We took a bus all the way around the airport. Our plane couldn't have been parked further away. People joked that we were driving to Chicago.
Once the bus dropped us off, there was no organization. No employees helping anything. Nothing.
Plus, it was freezing. Many people had put their coats and jackets in their suitcases (including us), since we were inside the airport already. Now, we were outside in the Swedish winter, freezing.
Entering the plane, we just got a "hi" and nothing very friendly as I stepped past the flight attendant to turn left into the business class cabin. My wife didn't even get a "hi" on her side, at the other aisle.
SAS A330 Business Class Review – ARN to ORD
We got in and thought, "OK, that's over. Now everything should be fine." We were wrong, but not everything was bad. I'll be fair here.
The business class cabin looks pretty sleek. Seats are in a staggered 1-2-1 configuration. There are 8 rows in business class. There's no real difference in the middle seats. All seats in the "2" part in the middle are basically the same in the fact that none of them are 'more together' without the dividers.
For the single seats along the windows, even-numbered rows are more private and closer to the window. This is due to the staggered layout.
Interestingly, while I was taking this picture of the cabin layout, a flight attendant made an announcement. "It is prohibited to take pictures of other passengers or flight crew without their consent under Swedish privacy laws." I'm sure it was directed at me. They could've just come and talked to me, and I would've happily shown them that I didn't take pictures of anyone.
Seat
When we first arrived, my wife and I had seats in row 5. We wound up moving to row 6. More on that later, but that explains why you'll see my controls in a different spot later.
The seat layout looks nice. The layout is pretty ergonomic, and everything is easily reachable. There is a console in the center of the seats, and it wasn't the most convenient to talk over it to one another, but it wasn't bad.
On arrival, the seats had a seat cover, blanket, pillow, and amenity kit.
The console by my shoulder sits above a table area, and it had a bottle of water tucked away in the corner, reading lamp, headphones, and multiple controls.
The lamp and seat control buttons worked as expected. The overhead light button did not, however. After we had moved to row 6, the overhead light above my seat would turn on at random times. It was annoying but tolerable.
There are also USB and universal outlets.
The seat belt is a standard belt but with an attachable shoulder harness for take-off and landing.
The safety information and air sick bag sat in a small pocket at knee-height.
The foot well isn't the most generous, but it wasn't cramped. However, the shelf sat at a distance where it was a bit too far away to be used as a foot rest when in the seated position.
When putting my shoes, blankets, and pillow in the foot well area, it held all of them.
I found the access to the aisle from the seat a bit tight. The space between the plastic molding in front of me and the molding for my console was closer together than it should be. I think I figured out why later (more on that below). I had to turn my feet sideways to fit through (I wear size 11.5).
Tray Table
The tray table slides out from the console after pushing a button. The button routinely stuck and required a forceful push to release the table. My wife had the same experience, so it wasn't just me.
The tray table is full-size and does not fold. It's a good size and can move forward/backward easily, so you can get it in the right spot for working or eating.
Putting the tray table away is another question. It needed to be in exactly the right spot on the track to go away. It usually took me 5 or 6 tries to put it away.
Storage
There was a small pocket (pull-out, hard shell on the plastic molding) that could be used to store magazines or a book. It definitely can't hold a laptop, and I wouldn't want to keep small items in there that would fall down/be cumbersome to get out.
Personal Entertainment System
When we arrived and got situated in row 5, my wife's entertainment system wouldn't turn on. Just a black screen. She called for a flight attendant, and this woman said there were known issues with the system. They couldn't get it to turn on, so we moved to row 6 behind us, as it was empty.
However, these "known issues" continued. The entertainment system did not have any TV shows or any music.
Count the movies: 4. That's it. A 9-hour flight, and they had a total of 4 movies. 4 movies plus no TV and no music. It was laughable.
Even though the light above me flickered, I could deal with that as a better alternative than my wife not having a working entertainment system — even with its limited options.
Lavatory
I will classify this as the highlight of the cabin / hard product. That's saying something.
The lavatories are more spacious than a traditional, economy lavatory. Several flights I've taken recently just had a normal bathroom in business class, but this was definitely better. It reminded me some trains with the toilet set in the corner / at an angle.
The sink and mirror weren't anything special. However, they did have air freshener and wet wipes readily available. Thus, the features of the lavatory weren't that special, but the space and layout were positives.
The Bed
I saved this for last on purpose. The bed is…not a bed. This flight was marketed as "lie-flat" and it absolutely wasn't.
Look at this picture. That's not even 45º. This was the limit of how far I could recline my seat. Lest you think I just had a "bad seat", we tested the seats in row 5 and also observed other people in the cabin. No one was completely flat like a bed.
What's the deal here? I've seen other reviews (like this one) that show the bed completely flat. From checking several websites, I found that my flight on January 7, 2022 used a retrofitted plane that is 19 years old. Is that the issue? Do new planes have more space and the seats actually "fit"? I'm speculating. The interior was very new and matches reviews of "new" products, but the plane itself is obviously older.
Maybe there's less space front to back, but they jammed in the same number of seats. Thus, the seats are too close together to actually go flat. Speculation and giving the benefit of the doubt. However, they should NOT market this flat as "lie-flat business class" because it's entirely deceptive.
It was not comfortable trying to sleep in this position, and I just put the seat back up to normal and skipped my plan for a nap.
Wifi
Since I planned to work on the flight (and worked more than planned, due to not having the expected bed), I hopped on the in-flight wifi.
The speed itself was quite good. However, the ping was terrible. This really slowed down the response time for loading websites. I was able to use the wifi and get done what I wanted to — albeit at a slower rate than what I desired, since the speed was negatively affected by the bad ping rate.
Service on SAS A330 Business Class Flight – Bad Review Continues
I mentioned that we weren't really greeted at all when we boarded the plane. Additionally, no flight attendants came to say hi to us. We only talked to someone because my wife pushed the call button…and then waited. Finally, someone showed up to talk to her about the entertainment system.
There was no welcome drink before take-off, either. Plus, my gut feeling about the passive-aggressive PA announcement above. All of that was prior to take-off.
Delay
We also departed an hour late. We only got an announcement about this after about 45 minutes. Between the chaotic boarding, some issues with flight manifest, and trying to get the entertainment systems working ("working" meaning "on with 4 movies, no TV, no music"), we left an hour late. Crew didn't come around offering water or anything during the delay. In fact, they didn't even come talk to us at all. They remained in their seats, seat belts on, chatting with one another in the front galley.
Language Issues
Calling this section "language issues" is appropriate because there SHOULDN'T be a language issue. Our business class cabin had 32 seats but only 11 passengers. There were 2 flight attendants plus a purser. You can't convince me they couldn't remember that we don't speak Swedish.
Without fail, every time the flight attendants came to talk to us during meal service, taking away trash, etc. they talked to us in Swedish. Every time. Without fail. And every time, we had to say "English?" or similar. After about 6.5 hours of flight time, I finally told my flight attendant, "We don't speak Swedish. Please use English."
The flight crew speaks English. Quite good English, in fact. So that wasn't the issue. Somehow, they just couldn't remember (couldn't be bothered to remember?) the 2 out of 11 people who don't speak Swedish and then speak to us in English. Needing to constantly remind them about this was strange. I am at a loss for trying to understand or explain this oddity.
Insufficient Cleaning
I will note 2 instances here.
I get that this is not the most obvious of spots, but I noticed stains while taking pictures of the controls and console area near my seat. This needs better cleaning.
When taking pictures of my foot well in row 6, I was surprised to find a dirty sock left behind from a previous flight. This matches the sock in the amenity kit, so it wasn't someone's personal sock left behind, in case you're wondering.
However, this is a pretty glaring oversight on cabin cleaning.
Amenity Kit
Let's talk about some positives. The amenity kit is good.
The case isn't anything special (it's rather boring), but the kit is chock-full of stuff. Eye mask, socks, ear plugs, moisturizer, lip balm, bamboo toothbrush, and toothpaste. It didn't go beyond expectations in any way, but it was a good amenity kit.
Meals
Ignoring the weird "please speak to me in English" element of the meal service, the actual meals are a net positive.
After we were airborne, the purser came to our row and asked, "Were you originally in row 5? You have special meals, right?" We confirmed that our vegan meals were on board, and good on her for figuring out the connection with the empty seats in row 5.
Since we had special meals, they didn't give us a menu to look at. Thus, I didn't see what the options were.
The first meal had gnocchi as a main course. It was a home run.
I'm not sure why our gnocchi was paired with a Samosa (bottom left), as the Indian-Italian combination was a bit beyond me, but I liked both. We also got warm bread from a woman who came around with a basket of 3 different options. The salad was a bit boring, but I'm letting all of this pass because of just how good that gnocchi was. An excellent main dish makes up for some lackluster sides.
Unfortunately, SAS couldn't go 2-for-2 on the meals. The "light meal before landing" (we took off after 10am Stockholm time and landed after 1pm Chicago time) was pretty bland. It had a lentil-veggie patty sitting on top of some unidentified green vegetables and a bed of lentils. Neither of these had any seasoning. I wasn't super hungry, so I didn't mind not finishing these and just eating the fruits.
The chocolate bar they gave us wasn't vegan, but my mom was happy to snack on these in the car when picking us up from the airport.
De-Planing
More chaos here. They just opened the middle door and used the "free-for-all" approach. Flight attendants disappeared. They didn't have business class passengers disembark first. In fact, 2 people from economy shoved past my wife to get off before her in this rush for the door.
Also, flight attendants didn't stand near the door to say goodbye / thank us. In fact, no one came around thanking us for flying SAS before landing, either. This was odd and not common from my other flight experiences at all.
Overall Thoughts on Service
The flight attendants were really hit-and-miss. Once we could get them to repeat themselves using English, things would go well. I just can't figure this out for the life of me. 2 out of 11 people don't speak Swedish. You have 3 employees. And you can't remember this during the flight. What's up with this?
Cleaning could be improved a bit, as pointed out.
The meals, though, were the highlight of the service category. Man…that gnocchi was awesome.
Lavatories and amenity kits were pretty good.
Overall, though, the service needs improvements. There's the language thing and the cleaning aspect. The lack of attention to customers during boarding and pre-takeoff (especially during the 1-hour delay), plus the actual processes of getting on and off the plane.
Final Thoughts
I tried to be fair in my review of SAS business class, but this flight on the A330 from Stockholm to Chicago is easily my worst business class flight experience. As we walked away from the flight, I asked my wife, "Was this your worst business class flight ever?"
She rolled her eyes and gave me that 'do you really need to ask?' face.
We'll be avoiding SAS. The meal was great, but that doesn't make up for chaos getting on & off, poor service quality, bad cleaning practices, non-functioning entertainment systems, and the ridiculousness of the "it's lie flat, but it's not" with our seats.
Disclosure: Miles to Memories has partnered with CardRatings for our coverage of credit card products. Miles to Memories and CardRatings may receive a commission from card issuers.
---
New Card - Capital One Venture X Business 150K!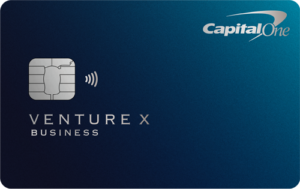 Capital One Venture X Business
earns 2X miles on everyday purchases plus up to 10X in bonus categories. You also get access to Capital One lounges plus an annual travel credit & anniversary bonus. Right now you earn
bonus_miles_full.
---
Opinions, reviews, analyses & recommendations are the author's alone, and have not been reviewed, endorsed or approved by any of these entities.