Air France Business Class Review: Boeing 777 Mexico City To Paris
This is not the first time I've written an Air France business class review but is my first time flying their Boeing 777 product. I previously flew their A350 product from Paris CDG to São Paulo GRU. As this is a different product, different crew, and different route, it's a good time for a comparison. What's better, and what's worse? In this Air France business class review, I'll focus on the flight review itself—the plane features, service, etc.—as well as note any comparisons for better/worse/similar with my previous flight.
Booking Process
I booked this one-way flight using Flying Blue miles (the joint program of Air France / KLM / Air Kenya and others). This was the first flight on my route to Tunis, Tunisia via Paris. Flight time from MEX to CDG is 10 hours.
I paid 53,000 miles + $303.29 in taxes and fees. These miles came from recently opening the Air France KLM World Elite Mastercard from Bank of America. It includes a welcome offer of 50,000 miles after you spend $2,000 on the card within the first 90 days. (The card earns 1.5 miles on everyday purchases, so this was literally a "one card" booking)
The cash price of my ticket was $3,830. This is a redemption value of 6.65 cents per point. The high fees with Flying Blue hurt a bit, but I was still very happy with this redemption value. It's well above the average value we place on Flying Blue miles.
Check-In
I checked in online in advance but knew that I needed to show documents to someone (health declaration, Covid test, etc.). I went to the check-in area and was amazed at how long the line was for economy passengers.
The priority check-in line for business, first, and those with elite status had no one in it. Check-in was quick and easy. Since I had carry-on bags only, all my documents in order, and had checked in online, I was out of there in 30 seconds. The desk agent was friendly and efficient. Good experience.
Prior To The Flight
While checking in, the agent gave me a pass to visit the Grand Lounge in Mexico City MEX airport. This lounge also is accessible with Priority Pass membership.
The lounge is definitely nothing special. There is ample seating and lots of drink options. Food options were minimal: some finger snacks like chips & cheese dip and 2 hot plates to choose from.
Staff were efficient with requests, but it was sometimes difficult to find someone to ask when you wanted a drink. Overall, it was a place to sit, use free wifi, and get some snacks. It's nothing above average for airport lounges.
Boarding Process
Boarding started a bit disorganized but then turned great. I'm glad I left early for the gate, because it was faaarrrrrr from the lounge. They announced pre-boarding just as I got into view of the gate.
The boarding line had 2 people working. The first checked your documents against your passport. The second scanned your boarding pass and let you into the jetway.
Boarding for all passengers was through one jetway, entering between the 2 sections of business class.
When I entered the plane, flight attendants at the door checked tickets and indicated where to find my seat. They gave a friendly smile and warm greeting. The flight was not overly crowded. We actually left the gate a few minutes early, due to efficiency in boarding.
Air France Business Class On Boeing 777 – Hard Product
Now that we've boarded, how was the flight? In this section of my review, I'll cover the Air France business class product on the Boeing 777-300. Here, we'll look at what's built into the plane: the seats, layout, entertainment systems, etc.
The Cabin
On its Boeing 777 flights, the Air France business class seats are essentially all the same. In my A350 review, I indicated seat differences to help you pick the one you want. On this flight, it doesn't matter.
There are 2 business class mini cabins. Both are arranged in a 1-2-1 configuration. The first cabin has rows 3-6 (rows 1-2 are first class "La Première", and there are no rows 7-8). Rows 10-20 are in the larger, 2nd business class area. Note that row 9 has no middle seats, due to the galley. This is a total of 58 business class seats. Seats are in a reverse herringbone layout. Because seats are not staggered, they're all the same.
For those sitting together in the middle seats, this means your feet are closer together than your heads. This could make talking to one another a bit difficult. Additionally, those in middle seats have a movable divider, in case you don't know the other person.
I sat in the larger (rear) business class area. While I usually choose the smaller cabin (less people, hopefully less noise), the front cabin looked very full during online check-in. I chose a seat 17A. I had no one in front, behind, or next to me.
The Seat
I found the seat overall comfortable. The controls were user friendly and intuitive. They worked as expected with no guess work.
Space around the seat and around my feet felt very open.
There is also a good amount of space in the foot well. It didn't feel cramped.
The fact the upper party of your body sits by the aisle while your feet are angled to the window has pluses and minuses. Whenever people passed in the aisle, I wondered if they would bump into my shoulder, hit me with the drink cart, etc. However, it also provided an open, airy experience to avoid any chances of feeling "trapped".
On arrival, the blanket & pillow pack was on my seat, along with a hanger for your coat/jacket. The hanger has your seat number on it, for easy identification of people's items.
Arm Rests
The arm rest on the aisle side is movable with the push of a button. It goes up and down.
Extending the arm rest and cleaning under it doesn't seem like a priority. Lots of crumbs fell out when I extended it (before capturing the picture).
On the window side, there is a large arm rest/table-like area on the plastic molding. There is a lip here for a drink holder. This area is above where the tray table comes out and next to the storage bin.
The arm rests were comfortable and worked as expected.
Storage
There is a storage bin that opens by pushing on the door to automatically release the latch.
It is not large enough to hold a 13" laptop and close the door, though.
I was able to store my laptop in the area where the air sickness bag is stored. It may not be intended for storage, but it worked.
By my feet, I found the safety card.
Additionally, you can store the blanket and pillow in the foot well.
Tray Table
The tray table slides out from the plastic molding on the window side. It opens with a lever under the table. Once extended, it folds out to double in size.
The tray table works easily without making much noise.
Seat Features
The seat has both a USB and universal outlet for charging your devices, located under the plastic molding & near the sick bag. There's also a cup holder here, which had a bottle of water waiting for me. There is a reading lamp over your shoulder plus overhead lights.
The seatbelt is a standard seatbelt but with extra padding. There is no shoulder harness. Near the entertainment screen, there is a button that pops out to serve as a coat hook.
There are overhead lights, controlled by a button on the remote control for the entertainment system. There are no individual air vents.
My favorite feature was what I'll call a "night light". Using my phone to take pictures, I couldn't accurately capture this. If you push the 'light' button on the seat controls, it illuminates a soft light under the plastic molding, near the window. You can use this to look for an item or situate yourself when you don't really want a bright light turned on.
I will also note that the plastic covering in my foot well area (the back of the seat in front of me) was coming loose. It needs stretched out/anchored down. There's a big air pocket under this plastic sheet.
Additionally, while looking for the plugs under the plastic molding near the window, I noticed some of the plastic covering was coming loose under here, also. I get that this isn't normally seen, but I can't ignore that it needs attention (plus some cleaning).
Personal Entertainment System
I have good and bad things to say here. The entertainment system overall worked, but the remote didn't. This affects my overall review of flying in Air France business class. When products don't work, this needs fixed.
None of the remote controls worked for anyone—flight attendants tested them, reset the system, and couldn't get them to work. That needs some attention.
The entertainment screen is touch screen, luckily, so I could still use it. By pushing the silver button at the bottom right, the screen swings out. Aside from a good range of TV and movies, it also has games and flight information.
My favorite feature of the entertainment system was watching a guide on how to get from our arrival gate to my next flight. Definitely a good perk for other airlines to add.
The Bed
As a bed, the seat/bed isn't the best. After playing with the controls, I found that putting the seat all the way flat was not very comfortable. The division/motor underneath created a bump that I found really uncomfortable. The trick was to put the seat all the way down flat. Then, 2 quick taps on the "seat" button (which puts the bed back up into a seat) moved it into the sweet spot. It inclined just ever so slightly, removing the hard bump from the motor and seat division.
My guess? Whoever designed the seats and whoever bought a bunch of them never tested them out.
It's not the most comfortable lie-flat seat I've had on a business class flight, but it was good after messing with it a bit.
The blanket and pillow were good, though. I liked them and have only positives here.
Business Class Lavatories
Lavatories were completely standard. They match typical restrooms you'll find in any economy cabin.
The only difference would be the wall caddy with some perfume, wet wipes, and mouth wash.
For me, the lavatory doesn't match the overall good business class product.
Overall Thoughts On The Hard Product
Overall, the hard product is quite good, It's not the best I've flown. The cabin itself needs some attention (the loose plastic, remotes not working for anyone). The bed isn't ideal but became "pretty good" after messing with it.
While it's not anything I'd rave about, the Air France Boing 777 business class product isn't bad. I would fly it again, but it wouldn't be my first choice.
I found the bed position more comfortable on the A350. My A350 flight also didn't have any product defects, either, but this may be simply due to the age of the aircraft. The A350 may be better for people who have a particular style of seat they prefer, since you can choose different types. The B777 has "all seats are the same", which is great for people who don't have strong preferences or want to try a different product.
My preference? I liked the A350 product better.
Air France Business Class On Boeing 777 – Soft Product
In this section, I'll review the staff and service from my Air France business class experience. I have some very good things to say here, but I also have some negatives to highlight.
Amenity Kit
As the plane taxied out to the runway, flight attendants distributed the amenity kits. They were not at our seats prior to boarding.
The kits are…not attractive. They're a white corduroy with no branding—nothing that tells you it's from Air France. It looks a bit drab.
Inside, it's full of stuff, though. There's an eye mask, socks, and a cloth that you could use to clean your glasses or as a handkerchief maybe. There are ear plugs, a toothbrush & toothpaste, pen, hand lotion, and even a shoe horn. That one surprised me.
Along with the amenity kit, passengers also received a small kit with a new mask & pack of hand sanitizer inside. This is because French authorities recommend passengers to change their masks after 4-5 hours (the flight time was 10 hours). We also received refreshing wet wipes.
Staff Service
After boarding, a really friendly flight attendant greeted me by name and asked how I was doing. We chatted for a bit, and I asked him to confirm that my special meals were on board. He went to look and came back after telling me he personally saw them in the galley.
I interacted with this flight attendant almost exclusively for the first half of the flight then had a different flight attendant during the second half. I found both of them very friendly and eager to help. Additionally, the purser came around prior to take off and prior to landing to say hello to everyone/thank us for flying with them. He was cordial but more so "efficiently saying hello then moving on" than "really friendly".
Meals
Menus were placed at each seat prior to boarding. Prior to take off, flight attendants took everyone's dinner orders. They also asked if you want to wake up for breakfast or continue sleeping. I always like having this option.
I looked through the menu and was impressed with not only the options but also how seriously Air France takes its wine selections/pairings.
When it came time to order, I asked whether breakfast had a special meal or would be the standard options. This would determine whether I wanted to wake up or not. As the flight would arrive mid-day local time in Paris and there was a special meal on board for my breakfast, I opted to wake up for it. I later regretted that.
Dinner
Dinner service was good. The service out-did the meal itself, in my opinion.
We started with a cold tray, which included a salad, fruits, bread, and a grilled veggies mezze. The salad was merely lettuce and sunflower seeds—nothing special. However, the mezze was pretty good.
For my hot plate, I had a ratatouille and rice. Very traditional French meal. While the flavor was overall good in the ratatouille, I would've preferred to have more of this and not so much rice. It felt skimpy.
The dinner wasn't bad. It was OK—nothing special but nothing bad. Service for the meal was really good, though. Service was better than the meal itself.
Breakfast
When I woke up for breakfast, the flight attendant helping me was different. He was younger, eager to help, but not as good as the other guy.
There's also the fact he woke me up with bad news. "I'm sorry, but we accidentally gave your special meal to someone else. He's already eaten it, unfortunately." Well that was fast.
The flight attendant asked if I wanted to order something from the menu. Having seen it the night before, I knew there was nothing vegan. I told him such and he offered to at least bring me the tray, despite lacking a main course. When he arrived, he kept trying to offer me yogurt, butter for my bread, etc. I had to explain several times (his English wasn't great, but I speak French quite well, so I'm not sure what the issue was).
By the time he removed all the things I told him I didn't want and set the tray down, I got 2 rolls and a very small bowl of fruit.
About 5 minutes later, he returned, positively beaming. "The passenger in La Première doesn't want breakfast. I found something for you, which is actually better than the meal we accidentally gave away. We are heating it up for you now."
Then…it came. Despite however many times I explained to him, he brought me something absolutely covered in cheese. I regretted waking up and told him to just stop trying. I don't mean that in a rude way. We were both pleasant with one another. He was eager to please, which I admire. However, I didn't want to keep going through the song & dance of him bringing more items I didn't want. I told him I was finished with breakfast, just to spare his feelings and have him stop trying.
Overall Thoughts On Service
I found the flight attendants really friendly. They are eager to help. However, eagerness isn't everything. I really do appreciate that they admitted what happened with breakfast. If they hadn't told me, I would never have known. They could've lied or covered it up. The honesty is commendable.
That being said, they should also pay attention. A full breakfast turned into something very minimal, due to lack of attention.
This lack of attention with meals was an issue with my A350 Air France business class flight, as well. On that flight, despite triple-confirming vegan food before the flight, they didn't have a suitable meal. Again, the flight attendants were eager to help, friendly, courteous, and many other positive things. This is a situation that Air France needs to handle better. People with allergies, religious obligations, and dietary choices for ethics deserve to receive the meals that Air France promised to them.
I'm overall happy with the flight attendants and the service they offered, but I can't pretend it was perfect.
Air France Business Class On Boeing 777 – Final Thoughts
Overall, my Air France business class review is more positive than negative for this Boeing 777 flight. The seat is quite good, and a bit of finagling with the bed makes it pretty decent. There are some issues to fix in the hard product, though, so I hope those are addressed.
In terms of service, the amenity kit is full of goodies, even if it's a bit drab. Flight attendants are really friendly, eager to help, but they need a little more attention to detail before they can be "excellent".
Overall, I found the A350 flight product better, due to lack of defects in the hard product. Both flights had issues with the meals, while the flight attendants on both were very friendly and personable.
Disclosure: Miles to Memories has partnered with CardRatings for our coverage of credit card products. Miles to Memories and CardRatings may receive a commission from card issuers.
---
New Card - Capital One Venture X Business 150K!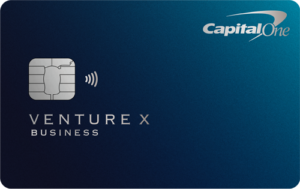 Capital One Venture X Business
earns 2X miles on everyday purchases plus up to 10X in bonus categories. You also get access to Capital One lounges plus an annual travel credit & anniversary bonus. Right now you earn
bonus_miles_full.
---
Opinions, reviews, analyses & recommendations are the author's alone, and have not been reviewed, endorsed or approved by any of these entities.