Atlantis Bahamas Review & Why You Should Avoid It
It's the vacation that so many people dream about and even save years for. From advertisements on television to huge billboards in Times Square, Atlantis Bahamas is a true part of the modern American addiction to travel. Sold in these ads is the promise of luxurious accommodations, pristine pools and an experience of Paradise that is unlike any other. In this Atlantis Bahamas review I'll show you why the resort is anything but paradise and how rude staff, deferred maintenance and a culture of disdain for guests ruined my family vacation.
Atlantis Bahamas Review Summary (TL;DR)
This is a very long review that I feel tells a detailed story worth telling, but let me summarize the key Atlantis Bahamas review points now and you can dive in deeper below.
We stayed 3 nights in the Royal Towers on a comp due to a Caesars Diamond benefit. Our stay did cost about $70 a night in resort fees and service charges.
On our first morning my wife found ramen soup in our coffee maker.
A pipe burst and the hotel shut down water without telling guests. They also let guests use the elevators despite knowing that some were shutting down due to the flooding.
After we left our room for the day our room somehow flooded and we were left to discover this for ourselves.
We called and were hung up on several times plus were lied to by several agents.
It took over an hour and a half to get a manager to help move us to a room other than the one almost directly below ours.
When we were moved we were initially downgraded to a lesser room.
The front desk manager is one of the rudest people I have ever met. She hinted that they were investigating what happened in our room and hinted that she believed it was my fault.
As a result of calling them out on social media, the General Manager contacted me and discussed the issues. He promised to credit us the equivalent of one night in the hotel ($269), but initially only credited $146 and days later after emails from me he credited the rest of our bill which came to $240 total.
Atlantis Bahamas is falling apart and a recent sale fell through due to high deferred maintenance costs. We also encountered rude staff everywhere. This is not the place to go on vacation. Take a look at the photos and read the very detailed story below to determine for yourself if you think it is worth visiting.
Our Atlantis Bahamas Disaster & Why You Should Consider Staying Elsewhere
A couple of years ago my family and I visited Atlantis Bahamas for the first time utilizing a promotion from Caesars Entertainment for Diamond members of their loyalty program. At that time we agreed to pay about $25 per day in service fees in exchange for a stay in the hotel's "Beach Towers". We arrived around midnight due to my wife forgetting her passport was expired, only to find truly rundown rooms that wouldn't look out of place at a run down Knights Inn somewhere in the middle of Pennsylvania.
Imagine our shock too when we woke up the next morning to find out door lock didn't work and that we had been given an ugly rooftop view instead of the expected view of "water". (See pics here.) While the room condition in the 50 year old Beach Towers didn't improve, we were moved to a room with a better view and a working lock and we made the best of the stay without much issue. I vowed never to return again.
Time fades all memories though and for 2019 Caesars and Atlantis Bahamas improved their promotion to include the "Royal Towers" as part of the deal. These are the infamous towers you see in all of the inspiring Atlantis Bahamas commercials. Instead of being 50 years old, run down and a mile away from the water park, the Royal Towers are newer and right next to it. Surely another stay would be worth doing?!?
Fool me once shame on you. Fool me twice shame on me.
We Were Already Going To Be In Nassau
Truthfully the only reason we decided to visit Atlantis Bahamas again was because we were already planning to be in Nassau to visit the relatively new Baha Mar development. The Bahamas is an expensive place to visit with high airport taxes and transport costs, so I figured while we were already there why not take advantage of this now improved deal for the Royal Towers. It would cost us only a $70ish resort fee per night for 3 nights and we did mostly enjoy the pools and water park the first time…
Atlantis Bahamas Review – Check-In Experience
Our recent Atlantis Bahamas stay began with an interaction that set the stage for what was to come. We arrived by taxi after check-in time and walked right into the hotel. I walked up to the check-in desks and was greeted by an employee with a stone cold face. I explained I was a Marriott Platinum member (Atlantis is a Marriott partner) and wanted to check-in and add my Marriott number if possible.
The agent then grabbed my ID and credit card, hit a few buttons on the computer and handed me a room key. She didn't acknowledge the Marriott thing (or say anything else to me) so I asked again at which point she huffed and asked for my Bonvoy number. She then said with the same miserable look that I wouldn't get anything since I was booked through the casino. Noticing I was put on floor 9 in the tower I asked if I could get a higher floor. Without looking at the computer or doing anything else she said nothing else was available. As she stared me down I realized I wasn't going to get anywhere with her so I simply said thank you and we headed to our room.
Our first night in Atlantis was fairly peaceful and calm. We had arrived pretty late anyway, so we only had time for dinner before I walked around the resort grounds taking some stunning photos of the various pools and lovely landscaping. Little did I know that the next day would turn out to be one of the most trying, eye opening and frustrating I have ever experienced in my 13 years of full and part time international travel.
Atlantis Bahamas Review – Soup in My Coffee
That next day began innocently enough with my wife going to make herself a cup of coffee. Unfortunately she discovered in her coffee maker ramen that was left over from the previous guest. To be clear, the previous guest had somehow left Ramen noodles and broth in the water well of the coffee maker and housekeeping hadn't checked it so my wife was left to make that terrible discovery. Things happen though, so we called down to housekeeping for another one and were pleasantly surprised when someone brought one very quickly.
My wife Jasmine's next move was to use the restroom and wash her face. As she turned on the faucet no water came out. She called downstairs to be told that there was an "incident" and water was off in the tower. When asked what happened we were told they couldn't tell us. We had no ability to shower or do anything else really so we decided to head out to the pools for the day. After all this is Atlantis Bahamas, the paradise from the billboards in Times Square.
Utter Chaos in the Elevator Lobby
After a fairly long wait for an elevator we arrived to the ground floor of our tower to find utter mayhem. Employees were running around as water was leaking from the roof. Towels were thrown around many places and one employee told a manager that four of the five elevators were down. The only way they knew if an elevator was working or not was if guests came out of it. There was no concern for guest safety or why these elevators weren't working. When guests emerged from an elevator they previously thought wasn't working, they were excited that only three elevators were now down. Thank god no one was stuck that I know of.
In the midst of this chaos I stopped and asked an employee in the lobby once again what was going on and was told that he couldn't tell me. I decided to tweet the Atlantis Bahamas Twitter team to ask the same question plus inquiry as to why they couldn't communicate to guests when water would be restored or anything else of substance. Later on before Noon they would respond asking for my name and reservation information so they could investigate. I didn't hear back after providing it.
Our First Day at the Water Park Was Good
Truthfully me and my family had a good first day at the Atlantis Bahamas Aquaventure water park. During our first visit in 2017 my daughter was just a toddler and couldn't do much, but we discovered she could now ride on a tube in the rapids river which is my favorite thing at Atlantis Bahamas. We did that, swam for hours and all was good with the exception of an abundance of algae in the regular lazy river. Around 5pm we headed back to our room.
Atlantis Bahamas Review – A Nasty Discovery in our Room
Atlantis Bahamas had all day to get in contact with us to let us know something bad was waiting for us in the room. They had my email address and phone number on file in my reservation and they also had the information I gave the Twitter team earlier that day. Indeed they decided not to contact any guests who were affected and ultimately admitted to me that the process was for them NOT to contact guests.
As we arrived in our room after 5pm on that night I immediately noticed my shoes squishing as I walked across the carpeting. I made my way deeper into the room and found that the front 70% or so was completely flooded and full of water. The somewhat dingy carpet was full of a musty liquid and we found a handwritten note on the bed to call downstairs. Yes, they knew my room had flooded, but decided not to contact me in any way. They thought (I assume) it was best for me to discover it myself. I was not pleased.
Trying to Get Some Help
We called downstairs to the front desk immediately and the automated system said there was a hold time before dropping the call. Our second call to the front desk resulted in us asking for a manager only to be transferred to a line that rang about 30X before disconnecting. We then called housekeeping where we spoke with an agent who insisted we had a new room, told us she would send a bellman and completely ignored our request to speak with a manager. Finally though after going in circles she huffed and said she would have a manager come up to the room so we waited by the open balcony door while 30 minutes passed by.
I openly admit now that we should have walked the 10 minutes to the front desk to speak with someone, although as you'll see later on I have little faith that would have made a difference. Anyway, 30 minutes passed and no one showed up so we called back only to be told that the previous agent had DONE NOTHING. No manager was called. No notes were entered and we were back where we started. The second agent once again deflected and resisted in calling a manager, but ultimately said she would. 20 minutes later a bellman showed up.
Atlantis Bahamas Review – Utter Contempt for Guests
The level of dishonesty and contempt for guests at Atlantis Bahamas is one of the most shocking things I have ever encountered. Employees openly deflect their responsibilities and lie to guests. They also ignore what guests say and do what they want. We learned from the bellman that we were being moved to a room directly below ours and one over. That was not acceptable to me given what had happened in our room. The bellman to his credit was nice and went to a house phone to call a housekeeping manager but alas one never showed up despite him saying they would be there within 10 minutes.
Even more time passed now and we were approaching 90 minutes since this began. I wanted a same category room in the other tower and I wanted a manager to explain why all of this was happening. Finally after pushing on yet another call with yet another agent, I arrived on the phone with a supervisor who did make a point to help. She also deflected a bit about sending a housekeeping manager up, but eventually relented after doing some investigation and calling me back. She also had me moved to the other tower in a comparable (not upgraded) room which is all I asked for.
Hope for a Good Resolution
I was upset at this point but on some level was also dejected and ready to move on. My wife and I were just about to go to the front desk to get new keys since we had little hope that a manager would show up, but a miracle happened. She finally did! And this housekeeping manager was the single nicest person I spoke to at Atlantis. She apologized for what happened and told me she would like to get me a "nicer room".
While standing in front of me in our room she made a call downstairs to talk with the front desk. I overheard the conversation where the Manager on Duty yelled at her as to why she was trying to give us something "nicer". It was so bad that she had to go out into the hall because she didn't want us to hear it. That tells a lot about the service culture of this hotel. After a couple of minutes she came back and said she had found us a renovated (still same category) room in the other tower. She then agreed to meet us at the room in five minutes to let us in and we agreed that was fine.
We Were Downgraded!
So the story ends here right? Nope, unfortunately it was just beginning. We get to the new room to find it was indeed lovely. It didn't blow me away by any means, but the renovated room felt like a nice new Hyatt Place with attractive colors and decent décor. It was a huge improvement over the "90's Holiday Inn décor of our original room, but one thing was seriously wrong. They had downgraded us from the "Waterview" room we had to a view from the other side. For some reason the manager didn't understand why this was an issue despite us being booked into a Waterview room which is sold as a more expensive category.
I had had enough and asked her nicely (she was a very nice person) to escort me to the front desk to speak with the Manager on Duty. She did take me there where after a few minutes in the back someone who claimed to be the Manager on Duty (she was a liar) came out to speak with me. She greeted me with a stark look of disgust and told me that she had heard I wasn't happy with my room. I asked if she had been told anything of what had been going on. She said no. The look on her face told me immediately she didn't care.
The Worst Hotel Manager I Have Ever Encountered
I'm not going to tell you I was completely calm, but I proceeded to explain exactly what happened. The broken elevators and water leaking, the flooded room, the lies from operators, almost 2 hours to speak to a manager and the room downgrade. As I went about telling my story she interrupted me 3 separate times essentially telling me to shutup.
She told me that I wouldn't let her talk, but I insisted that I wanted her to hear everything that had happened.
This manager wasn't interested in any of it. She did finally move me into a renovated Waterview (the same category I booked), but I told her that wasn't enough. After all of this I needed to be compensated. With that same cold dead look she told me she would "investigate" and call me within an hour. In good faith I gave her my cell number and she agreed to call it, but no call ever came.
You Think I Flooded the Room?
We had planned to go to dinner much earlier, but after the front desk fiasco we made our way out to dinner and some time on the property. One hour passed and then two hours and finally at 2 ½ hours since we last spoke and as we were walking back to our room I spotted her at the front desk rudely speaking to another guest. I waited for her to finish with him and then asked why she hadn't called. She explained that she had called my cell and I didn't answer (no voicemail was left), but that she had called the room. Indeed a message had been left on the room's voicemail with a cheery voice (you've got to sound good for the recording!) I never experienced when I was face to face with her.
She then said something that is the single most ridiculous thing I have ever encountered from a hotel employee. She told me that my room wasn't part of the flood and thus they were "investigating" what happened. I asked her what that meant and was told she couldn't give me more information, but she heavily implied I was guilty of something. Her words were so shocking I almost lost it, but knew that wouldn't get me anywhere. I then asked for the name of the manager who would be on duty in the morning and she told me, "You'll deal with me when I get here at 3pm."
A Shocking Response
That was laughable to me at this point and I told her I would no longer be dealing with her. I then asked her to write down names and positions of people I would be speaking to and she relented. I have never been so worn and exhausted by a hotel in my life. Atlantis Bahamas had a pipe burst that flooded my room. We then were lied to for hours before getting downgraded to a lower category room and now the manager was implying I had something to do with it! Wow.
Thankfully I had something on my side called social media. During the entire day's events I did two things. I tweeted out select things that were happening including the flooded carpet in my room. I also DMed notes of everything that was happening as it happened to their Twitter team so we both had time stamped messages. As I walked away from the desk I informed this manager of all of the documentation I had. I could see just a little worry over take her face, but before long she returned to that cold dead stare.
Yeah it's bad. It actually isn't harder in this case for them to just listen and do their job. Have been getting lied to and the run around for well over an hour just trying to get a manager. Instead they lie and never call one. Pretty crazy. Must be no accountability.

— Miles to Memories (@milestomemories) January 11, 2020
Atlantis Bahamas Review – Social Media Worked
I wasn't sure how I was going to approach the next day because I just wanted to enjoy the time we had left before we could get the hell out of there, but I was determined to let someone of authority know how that manager had treated us. Thankfully I didn't have to work hard to reach someone of authority, because all of those tweets and messages reached the General Manager of the hotel and at 9am I received a call that he would like to meet me.
To be honest I speak with hotel General Managers often enough to fairly accurately gauge how much they care. My meeting with the GM was rushed and I could tell he was singularly focused on making me happy because of the social media reach this website has. How do I know that? He mentioned it several times. Either way, I just wanted to move on with my life so we agreed that he would credit me with the equivalent of one night's room cost (my room was free after all) and went our separate ways after he insisted that manager would be dealt with.
One Last Service Letdown
I forgot to ask how much "one night's stay" was, but figured surely they would do the right thing. Later that day our $146 charge from two night's resort fee and a snack by the pool was erased. Unfortunately though the third night's resort fee was charged and not taken off. One night in the hotel was $269 for our stay so I emailed directly to the General Manager asking for the additional credit. It took four days for him to respond, but to his credit (I guess) they did wipe out our entire bill which was $240 all-in.
The thing about Atlantis Bahamas is that my story isn't unique. Others have shared horror stories big and small and during our few days there we experienced tons of rude staff and other guests being treated as poorly as we were. Most concerning and sad though is the state of the property. It is utterly falling apart.
They Aren't Spending Money on Maintenance
In 2019 Ashkenazy Acquisition Corporation agreed to purchase the hotel from its current owners only to back out because of higher than expected deferred maintenance costs. What deferred maintenance you ask? Well, to start rock work is fading all around the property. Additionally the main aquarium in the lobby is partially shut off because it is LEAKING all over the floor.
Then there is the algae lazy river I mentioned earlier on and I even found another burst pipe in the "Coral Towers" on my final day. It had a quick makeshift patch (see below) and an air dryer but plaster was left everywhere because no one cares. There is algae elsewhere around property too along with a lot more falling apart. The "ruins" of Atlantis are indeed looking pretty ruined.
On our drive to the airport we talked to the taxi driver who said everyone he picks up at Atlantis has complaints. The biggest two he told me are the fading rock work and the rude front desk staff. He said the employees aren't treated well and lose their jobs easily. He said they have contempt for guests and just don't care about the guest experience. This is an issue that starts with ownership and carries through with the culture created by management.
Why You Should Avoid Atlantis Bahamas
Indeed I've said that for the most part we have enjoyed the pools at Atlantis Bahamas and the landscaping when not falling apart is beautiful as well. So why should you avoid staying there? It really is a crapshoot as to whether or not something terrible will happen. Additionally, at best you'll say the rooms were below average but you enjoyed the pools despite the rude staff. That is a best case scenario.
Worst case scenario is you get caught in the web of lies, lack of responsibility and deflections that I found myself in. When you decide to take your family on vacation and dedicate time out of your lives to go somewhere you want it to be nice. That is not something you will find at Atlantis Bahamas. Instead you may enjoy parts of it, but the experience no doubt will fall short of those amazing ads.
Atlantis Bahamas Review – Bottom Line
Don't waste your family's precious vacation time. Do yourself a favor and go somewhere other than Atlantis Bahamas. That water park is full of slides that you can find elsewhere and the pools while numerous and generally beautiful don't even compare to ones I have experienced in Hawaii and elsewhere. The casino too is small & smoky whereas Baha Mar has a much better offering in that department.
I welcome everyone to share their own Atlantis Bahamas experiences both good and bad. Everything written about here is 100% true and completely documented, but I recognize others will and have had different experiences. If you want to gamble with your money and hard earned vacation time then go ahead and visit Atlantis Bahamas, but don't get mad at me when something goes wrong.
Disclosure: Miles to Memories has partnered with CardRatings for our coverage of credit card products. Miles to Memories and CardRatings may receive a commission from card issuers.
---
New Card - Capital One Venture X Business 150K!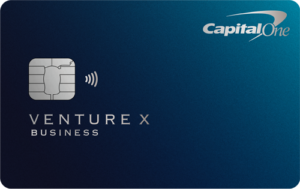 Capital One Venture X Business
earns 2X miles on everyday purchases plus up to 10X in bonus categories. You also get access to Capital One lounges plus an annual travel credit & anniversary bonus. Right now you earn
bonus_miles_full.
---
Opinions, reviews, analyses & recommendations are the author's alone, and have not been reviewed, endorsed or approved by any of these entities.