Disclosure: Miles to Memories has partnered with CardRatings for our coverage of credit card products. Miles to Memories and CardRatings may receive a commission from card issuers. Opinions, reviews, analyses & recommendations are the author's alone, and have not been reviewed, endorsed or approved by any of these entities. Links in this post may provide us with a commission.
My 5 Favorite Credit Card Designs
When choosing a new credit card, I'm overwhelmingly interested in what bonuses and benefits are being offered. I couldn't care less what the actual card looks like. But that's not to say that some cards have far more appeal to the eye than others. I have several favorite credit card designs. Some are cards that are designed to really stand out, while others grew on me over time.
Luckily, my favorite credit card designs include some cards that I do use routinely. Others see rare use or even live in the desk drawer. However, I do keep at least one in my wallet simply for its aesthetics (but it still sees little use). I'll let you guess which.
Citi Premier
The Citi Premier card gets top billing on my list of favorite credit card designs. The look of the card has always stood out to me, with the circular logo that appears recessed into the card. It's a beauty.
But I'm in it not just for the design. The Citi Premier is actually more more functional card and sees the most use any given week since it is so versatile. I'm a major fan of ThankYou points, especially to transfer to Turkish Airlines to book domestic United flights.
Here is a snapshot of the Citi Premier benefits:
3x earning at gas stations, supermarkets, hotels, restaurants, and for air travel
No foreign transaction fees
$95 annual fee
The Platinum Card from American Express
The Platinum Card from American Express is designed to appeal. A metal card beats a plastic card any day of the week, and I have it admit I love being able to pull it out of my wallet on the rare occasion it gets used. Normally it just sits there and looks pretty. What I don't do is this.
Primary benefits of the Platinum Card:
5x points on air travel
Monthly Uber credits
Semi-annual Saks credit
Access Centurion, Airspace, Escape and Priority Pass lounges
Global Entry or TSA PreCheck credit
Access to the Fine Hotels & Resorts program
Gold elite status with both Marriott Bonvoy and Hilton Honors
$550 annual fee
Honestly, I only use my Platinum for some flight bookings and for lounge access. Well, that will be the case once the 10x grocery earning ends from the offer I took.
Chase Sapphire Preferred
Yes, one of the original gangsta travel credit cards is still an excellent one. I remember when I first held the Chase Sapphire Preferred way back in 2012. I've never had a card get more compliments than this one. I loved the design then and still love it now, although I no longer hold the card. I also prefer the Preferred look to the Reserve look.
The Chase Sapphire Preferred is still a solid credit card. Here are the primary benefits:
60,000 bonus points after $4,000 in spend initial welcome offer
Points worth 25% more when redeemed for travel, or transfer to partners
$95 annual fee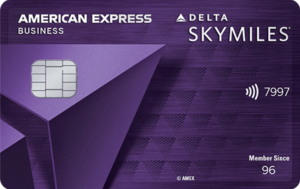 Delta SkyMiles Reserve American Express Card
While the old Delta Reserve American Express Card design wasn't anything to write home about, the new deep purple card really pops. It matches the "Passport Plum" Delta flight attendant uniforms. It may also bring up some nostalgia from when I had the SPG American Express card, which was also rebranded to a cool purple design.
Besides looking cool, the Delta SkyMiles Reserve American Express has some use for me. It lived in the desk last year, but it is back in my wallet as I spend toward bonus MQMs and the MQD waiver for 2022 elite status. I'm bullish travel will come back.
Here is a snapshot of the card benefits:
Complimentary SkyClub access when flying same-day Delta-operated or Delta-marketed flights, plus two one-time guest passes annually
Centurion Lounge access when flying same-day Delta-operated or Delta-marketed flights (no guest access)
Annual companion certificate upon card renewal (that you can even use for first class)
Earn 15,000 bonus MQMs per $30,000 in spend each year, up to 4 times
Earn the MQD waiver for Silver, Gold, and Platinum Medallion after spending at least $25,000 in a year
$550 annual fee
The Ritz Carlton Rewards Visa
The final card on the list is one that I never held, sadly. I was able to see a friend's Ritz card, though. The black front design stands out, and the old metal card was at least as heavy as the American Express Platinum. I don't believe Chase still issues the card in metal, or they have downgraded it's construction somehow. I was very interested in getting a Ritz card at the time, but sadly could not due to the dreaded 5/24 rule.
The Ritz Carlton Rewards Visa is no longer available to new applicants. However, I believe you can still product change another Chase Marriott card to the Ritz card as long as you've had your other card for at least 12 months. The Ritz card has a $450 annual fee, but it comes with a Priority pass membership, annual free night (up to 50,000 Bonvoy points), two $100 Visa Infinite Airfare credits, and $300 in incidental air credits. If you're lacking another premium card and aren't keen on keeping the Marriott Bonvoy Boundless, it's worth considering.
Final Thoughts on my Favorite Credit Card Designs
All my favorite designs have the numbers on the back. This single design change makes any card look way more clean and appealing. I'm glad more and more have made this switch.
I still don't choose which card to pay with based on how it looks. That would just be stupid. But I do have to say that I like having a few cool looking cards in my wallet, one the rare occasion I get to use them.
How about you…do you have any favorite credit card designs?