Flight Review: Finnair A350 Business Class Helsinki to New York
I recently flew the Finnair A350 business class product from Helsinki to New York. The flight was incredible. In this review, I'll try to avoid gushing too much, but suffice to say that this is a product I absolutely recommend. We'll cover everything from check in to deplaning at JFK, including the Finnair business class lounge in Helsinki, the plane itself, and of course the service from the staff.
Booking Process
I booked this flight using Alaska MileagePlan miles, since these 2 airlines are both Oneworld alliance partners. My booking was from Paris (CDG) to Helsinki (HEL) to New York (JFK). I paid 70,000 Alaska miles + $145.97 in cash.
The cash price of this ticket was $7,104.30, so I got an incredible 9.9 cents per mile in value. That's well above the average value of Alaska miles.
I got my Alaska miles (more than what I needed for this flight) from opening both the personal and the business version of their credit cards with Bank of America last year. You can read about those applications here, if you're looking to build your Alaska miles stash.

Check-In at Paris CDG
Obviously, this isn't a Finnair hub. Finnair doesn't completely own this process. However, I will say that check-in was not great. First, I was surprised how late it started. I arrived a little over 2 hours before departure (for an international flight), and check-in didn't open until about 1:40 before departure. Then, when it started, it was a bit disorganized. They couldn't figure out how to get the monitors to turn on, then couldn't get them to match with the lines of people waiting (correct side for business vs economy), then they finally gave up and started helping customers.
With only 2 people in the business class line in front of me, it still took well over 10 minutes before it was my turn. One of them had no checked bags, and neither of them was going beyond the EU. The employee was friendly, though.
I got a chuckle out of him loading the ticket stock into the machine upside-down.
Finnair Business Class Lounge in Helsinki
The Finnair lounge in Helsinki is fantastic. It was pretty empty during my visit, but I spent 2 hours here. The lounge matches my overall feelings on the Helsinki airport: it's beautiful. Just look at this area I passed en route to the lounge.
There is ample seating throughout the lounge. I really like that they have different types of seating, and areas are divide to break up noise.
There's a nice buffet with lots of options. Given that I had a meal on my flight coming in from Paris and knew that I'd have a meal heading to New York, I just had a small snack.
There's a bar, but given how empty the lounge was staff weren't tending it full time. I saw customers helping themselves, and others flagged down an employee for service.
Coffee, soda, and beer on tap are self-serve.
The wifi in the lounge, staff service, and number of options are great. The layout and design are fantastic. Great lounge.
I was surprised, however, that they still had this style of towel machine in the bathroom. It's the kind where you pull it down, use part of the towel, and the next person pulls more to use a part you didn't touch. That was a blast from the past.
Flight Review: Finnair A350 Business Class
I underestimated how far my gate was, and I showed up during the "door closing soon" announcement. Boarding agents were friendly and efficient. I filled out my health declaration, showed my documents, and went down the jet bridge.
We boarded through the middle door, between the larger (front) business class section and the smaller (rear) business cabin, with economy beyond that. On boarding, I was greeted warmly and given a kit with a hand wipe and surface disinfecting wipe. Flight attendants at the door were smiling and set the tone for a great flight.
Cabin Layout
Business class on a Finnair A350 is in a 1-2-1 reverse herringbone layout. This plane was an A350-900 series. On this plane, there are 2 separate business class areas. The larger (front) area has rows 1-8, while the rear business cabin sits behind the galley and contains rows 9-12.
In this layout, all seats are essentially equal. Seats along the window are all equal, and the middle seats are all equal. No seat has more privacy than others, and no middle seats are closer together for couples than any other spot. Additionally, all seats have these coat hooks and steps built into the plastic molding. For my short friends who struggle to reach the overhead bins, rejoice!
Looking at the seat map online, I noticed that about 10 people had seats in the front cabin. I chose seat 11A (the left-side window) in the rear cabin and had that entire area to myself for the whole flight.
Seat
The seat was very comfortable. It didn't feel cramped and had all the controls you would expect. On arrival at my seat, I had a pillow on the chair itself and a blanket (in plastic) and slippers in the foot well.
The slippers weren't anything special in terms of quality. However, I love when airlines provide slippers.
Built into the plastic molding near the window, there are USB and universal outlets, seat controls (which are easy to use), and the control for the entertainment system.
There's also a reading lamp at shoulder height, and this works easily.
By the window, there's a table area. My menu and drinks menu were here at boarding, along with the amenity kit.
I also had a bottle of water, which I moved to the cup holder down by my knee, next to the safety information.
On the aisle side, there's a small storage bin and adjustable arm rest.
Space around my feet and the foot well were both great. I didn't feel cramped, the foot well was comfortable, and the foot well platform was at a good distance to where it should be comfortable for people of most heights.
The seat belt has extra padding on the end with the buckle. I'm not really a fan of these, as they feel quite heavy.
Overhead, there are flight attendant call buttons and lights but no individual vents. Luckily, the temperature was decent throughout the flight—not hot and not cold.
Lack of Storage
As I always travel with my laptop; I harp on this on every flight. There was no space to store your laptop in this seat. You can put it in the foot well or keep it in the overhead bin. My 13" laptop couldn't fit in the pocket with the safety information, didn't fit in the cubby for the headphones, and didn't fit in this small storage area near the arm rest.
Tray Table
The tray table opens with a latch and stows under the table near the window. After opening it, it unfolds.
While it swivels in and out easily, it could be improved further by being able to pull it closer to you. I found that I needed to use the seat controls to move closer to the table, since moving the table closer to me wasn't possible.
Entertainment System
Screens for the entertainment system fold away and then pop out with the push of a button. Given that the screens fold away at an angle, I will say that watching the safety video at this angle was a bit odd.
The screen is touch screen, plus you have the option of the remote, attached to the plastic molding by your arm.
While the number of movies was not abundant, it had a fair mix of movies from numerous countries, new and old, plus TV shows, music, and games. One thing I would change is that the music section had playlists but you couldn't see the name of the artist or song title—it just played the music. There was a song I liked and wanted to find more music from the singer, but I couldn't find who the singer was within the entertainment system.
Preparing for Departure
After getting familiar with my seat, some flight attendants came over to say hi. They joked with me about sitting in the rear cabin by myself, and I laughed about trying to avoid crying babies. Given how few passengers were on the flight (about 40 total between business and economy), they had spare time. I found the flight attendants really friendly and personable. I chatted with several of them throughout the flight, which I'll attribute to a combination of quality staff and also the low numbers of people on board, thus lightening their work load.
The flight attendants confirmed my request for a vegan meal, asked if I had any questions, and offered a welcome drink. I had a blueberry juice, which was an interesting option, and I liked it. They also gave me some salted almonds.
Another flight attendant came by to give me headphones. These were not at our seats before departure and also were collected before landing. However, they were nice about it, unlike how American Airlines does it.
Amenity Kit
During this time waiting for our turn to take off, I explored the amenity kit.
It's not the flashiest or the most chock-full-of-stuff amenity kit I've ever received. The design and the information are OK.
Inside, there are ear plugs, lip balm & hand cream, a toothbrush & toothpaste, eye mask. It contains the basics but nothing more.
In-Flight Service
Throughout the flight, I found the quality of service excellent. Flight attendants didn't hover and bother me, but they weren't absent, either. I have absolutely nothing bad to say about them. They match the excellent quality of the flight attendant I interacted with on my flight from Paris to Helsinki. Finnair has great flight attendants. I want these people on every flight I take in the future.
After reaching cruising altitude, we had dinner. Since the flight left around 5:30pm, this was on schedule for a normal dinner time. My food was of excellent quality and really delicious. I had a salad with grilled tofu, a bread roll, and 2 Indian dishes with polenta. It was incredibly delicious. It ranks with the best airplane meals I've had, topping the delicious Thai curry I had on my flight from Paris to Helsinki earlier in the day.
For those who didn't ask for special meals, the menu had several options to choose from.
On both flights (Paris to Helsinki and now Helsinki to New York), Finnair absolutely impressed me with dessert. For those who never order special meals, let me explain. The main course is all you get if you request a vegan meal. I've accepted this as a fact of life. When the flight attendants ask if I want dessert, I usually just say "no", because they won't have anything suitable to offer. Or I get a fruit cup as "dessert", which isn't anything special.
Given the tone of voice from the flight attendant on my first flight earlier that day, I inquired what the dessert option was. Vegan cupcakes! You have no idea how rare or special this is on a flight.
So, of course I inquired on this flight. I had a berry-flavored mousse that was super delicious. Huge props to the Finnair catering people. Please teach every airline how to follow your example.
Another great part of the in-flight service is that staff kept the bathrooms clean and organized. The A350 business class lavatories are just standard size, but I appreciated that the Finnair crew kept them in a constant clean state.
Schedule of the Flight
Later during the flight, while exploring the entertainment system, I found a schedule of the flight.
This is a nice feature. You can see when the meals are coming, what time the lights will be dimmed, and landing time.
This is my (empty) cabin during the dimmed lighting period.
In-Flight Wifi
I have never purchased wifi on a flight before. Given that I was flying solo and also needed to get a lot of work done, I purchased wifi for my flight.
You can purchase this beforehand or can buy it during the flight. Interestingly, you can get 15 minutes free by watching some ads if sitting in economy. Business passengers can get 1 hour free.
I purchased an "all flight" pass, which cost 20 euros. As I've never used in-flight wifi over an ocean before, I'll say that it was quite good but didn't work all the time. When we were closer to land, it worked well and was fast. It went out for about 45 minutes in the sea north of Iceland and for about 45 minutes over the sea between Greenland and Canada.
Given the fact flying is already an incredible thing, having wifi during the flight was great, and I have no complaints that it wasn't 100%. Strangely, though, it blocked access to Slack and to Google Drive.
The Bed
During one of these periods of no internet, I watched a movie and put the seat down into a bed. It was comfortable, as was the blanket, which came in a plastic pouch prior to boarding.
Space around the shoulders isn't abundant. If you're really big, it could feel tight. However, I found the space adequate—though not grand—and I was able to completely stretch out without issues.
I didn't sleep, but I found the bed comfortable overall. No complaints here. It wasn't lumpy or hard.
Snacks and Light Meal
About 2/3 of the way through the flight, flight attendants came around with sweet and salty snack options. I got some chips and a Coke. Later, they brought me a fruit cup.
A little over an hour before landing, we had a light meal. I had a ratatouille with rice, which was quite good.
I have to add that I really liked the cups and glasses that Finnair uses in business class—not just on the A350, as I had the same glasses on my first flight.
Deplaning
Flight attendants didn't come around to specifically thank each passenger, but they were present at the door when leaving. They were friendly and offered the same great smiles that welcomed me onto the plane about 9 hours earlier.
Final Thoughts on Finnair A350 Business Class
I mentioned a few "could be further improved" areas, but I really have nothing negative to say. I had been anxious to try out Finnair business class in general–especially the A350 product–and I'm really glad I did. The entire experience flying with Finnair, including both flights and the lounge in Helsinki, was excellent. I wish every airline could have such excellent flight attendants. Every airline should figure out how to not only provide the special meals passengers request (rather than airlines forgetting them quite often) but how to do so with excellence.
I need to figure out how to fly via Helsinki on all future trips. Is this the "best" business class product I've flown? No. I'd say the actual seat on SWISS or Qsuites is better. However, the experience—which is largely controlled by the staff and service—was absolutely phenomenal here. If you haven't flown Finnair's business class on the A350, you should.
Disclosure: Miles to Memories has partnered with CardRatings for our coverage of credit card products. Miles to Memories and CardRatings may receive a commission from card issuers.
---
New Card - Capital One Venture X Business 150K!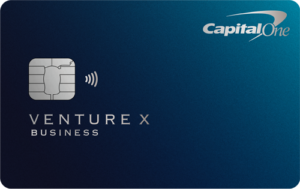 Capital One Venture X Business
earns 2X miles on everyday purchases plus up to 10X in bonus categories. You also get access to Capital One lounges plus an annual travel credit & anniversary bonus. Right now you earn
bonus_miles_full.
---
Opinions, reviews, analyses & recommendations are the author's alone, and have not been reviewed, endorsed or approved by any of these entities.