Hilton Honors Elite Food & Beverage Credit, No More Free Breakfast
Hilton sent out emails to members alerting them to a change in the Hilton Honors program.  No more free breakfast for Gold and Diamond members, they will instead get a Hilton Honors elite food & beverage credit. This is supposed to happen from July till the end of 2021.  Although, I could see this sticking around longer than that but only time will tell.  People of course lost their mind over this, one buddy even swore he was done with Hilton.  Let's pump the brakes there, I'll go as far as to say this is an improvement.
I will preface that statement with a lot of this depends on the credit amount, which is unknown as of yet (but there have been leaked amounts – more on that later).  And the amount will be different depending on the hotel brand. Likely, a more expensive brand, like Conrad, would give you a bigger credit etc.
RELATED: No, Free Breakfast Isn't Overrated, Plus My Take On The Hilton Changes
Update 12/15/21
It looks like the day we all kind of knew was coming is here. Hilton has extended the food and beverage credit through 2022. So there will be no free breakfast again next year, except at these Hilton hotels where everyone gets breakfast. The one good thing is the rates increased a little bit for the credits next year in the mid tier properties (February 1, 2022):
$25 per person per day for luxury brands, including Waldorf Astoria, Conrad, and LXR
$15 per person per day for full service and lifestyle brands ($18 in high-cost markets), including Hilton, Signia, DoubleTree, Curio, Tapestry Collection, Canopy, and Motto
$10 per person per day for Hilton Garden Inn properties
High cost markets are designated as Boston, Chicago, the District of Columbia, New York City, San Francisco, the county of Los Angeles, and the state of Hawaii for the lifestyle brands.
One issue with this program has been the way some hotels have implemented it. They have not been following the rules and limiting the credit to certain restaurants or certain items at the restaurant. It should be a full property credit that you can use at any dining establishment. Hopefully this runs a bit smoother in its second year.
HT OMaaT
Details of the Change
Here is the statement by Hilton:
Food & Beverage Credit for Gold & Diamond Members. You asked for flexibility, and we've got it. Whether you look forward to breakfast or would rather skip it in favor of a refreshing beverage and afternoon snack, the choice is yours. In early July, we'll begin offering a daily Food & Beverage Credit that will continue through the end of 2021. You can use this credit at the hotel brands where you currently receive a complimentary continental breakfast as your elite benefit of your membership. You'll now be able to dine when and how you want. We will share more details in the coming weeks.
Leaked Credit Amounts
Per Ben at One Mile at a Time here are some of the believed credit amounts (per person up to 2X):
$25 for luxury brands, including Waldorf Astoria, Conrad, and LXR
$12 for full service brands ($15 for full service brands in high-cost markets)
$12 for lifestyle brands ($15 for lifestyle brands in high-cost markets)
$10 for Hilton Garden Inn properties
Why I Think This Is An Improvement
People were enraged with this change, which was predictable.  Whenever a "devaluation" happens people lose their mind and swear off a brand, we saw it with Southwest a few weeks back. But if you step back and think about it you realize this isn't bad, and dare I say it is better.
Free Breakfast Is Highly Overrated
In this hobby there are a few things we overvalue in my opinion.  Free breakfast and airline lounge access are the two main ones.  I'll do another post about airline lounge access on another day but let's focus on free breakfast.
The saying has long gone that breakfast is the most important meal.  While that has been disproven over the years one thing hasn't, breakfast is the cheapest meal.  We value free breakfast at the sticker price but that isn't exactly accurate.  You can get a really good breakfast off site for $10 or less most of the time. Especially when you compare it to the breakfast you actually get at Hilton.
We aren't talking about amazing Hyatt breakfasts here that are pretty much unlimited.  Many of the Hilton properties I have been to gave me the continental breakfast free and charged more to add hot breakfast.  You know how much a bagel and cereal costs? Here let me check my pocket for some change, that is how much.  What are we really missing out on a big chunk of the time?
Now of course there are outliers here, when you are stuck at a resort property with no dining options near by etc.  But how many of those are in the US?  And the whole I can't feed my family of 4 free anymore since this is limited to two people thing, that has always been the rule.  While it was YMMV I have been denied more than two people breakfast more often then I was given it.  You could have two people bring back extra bagels to the room I guess…wow, amazing!
So really think about how much that free breakfast actually saved you.  Could you have gotten a better breakfast nearby for a reasonable price?
You Might Get A Bonus Day Out Of This (Really Useful For One Night Stays)
Another thing I like about this change is you could end up getting an extra day out of it.  Normally you miss out on the breakfast on the day of check in because it has already ended.  Maybe this credit will be offered on the first day since it is a credit.  That means you could come out AHEAD with this change.  Or if you have an early check out and didn't have time for breakfast anyway, happens to me often, you can grab something for dinner or drinks etc. Which leads to my next point.
Options Are Good
Having flexibility is considered a good thing everywhere else, so why not here.  Some people hate breakfast or sleep in late.  Others don't have time in the morning to sit down to their free two day old bagels. This gives you the option to use it for room service, a drink in the lounge or an appetizer before hitting the town etc. I like flexibility and prefer $50 off dinner or the bar at high end properties versus a breakfast, but that is me.
Lounge Access Is More Important
They haven't said anything about lounge access yet.  They could always remain closed for the rest of the year, that wouldn't surprise me either.  But I value lounges over free breakfast.  Usually that is where you can grab some food in the morning anyway but you could also grab drinks and snacks during the rest of the day too.  So it gave you more value in my opinion than just a continental breakfast.  If lounges stay around than this is a less worrisome change in my opinion.
Hilton Honors Elite Food & Beverage Credit – Final Thoughts
Going against group think is something I always try to do because we tend to get caught up in the mob mentality in this hobby.  It is why things like Maldives hype train happens.  But if we break this down logically I don't think the change is that bad, and I personally actually prefer it.  I will take that $10-$25 credit and use it on a drink or snack or something and will go ahead and use that money saved at a better off site breakfast.
I have long said the only free breakfast that matters is Hyatt Globalist breakfast. Will I miss the powdered eggs and day old bagels at the next DoubleTree I stay at?  Probably not.  Give me a beer or two instead!
Disclosure: Miles to Memories has partnered with CardRatings for our coverage of credit card products. Miles to Memories and CardRatings may receive a commission from card issuers.
---
New Card - Capital One Venture X Business 150K!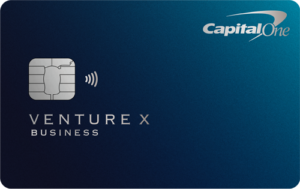 Capital One Venture X Business
earns 2X miles on everyday purchases plus up to 10X in bonus categories. You also get access to Capital One lounges plus an annual travel credit & anniversary bonus. Right now you earn
bonus_miles_full.
---
Opinions, reviews, analyses & recommendations are the author's alone, and have not been reviewed, endorsed or approved by any of these entities.