This post may contain affiliate links - Advertiser Disclosure. As an Amazon Associate, we earn from qualifying purchases.

I Fear I Am Addicted To Travel & That Isn't A Good Thing
I am exhausted. Just truly beat and I feel kind of defeated. My grass is long, I have other yard work piling up and I can never find the time to catch up. There is soccer, bowling and homework filling my nights and weekends. My days and nights blend together, the way life is with small children. I find myself struggling to stay awake, struggling to keep up. But I still get on that plane and go.
When I am on a trip I find myself longing for home and when I am home I find myself longing for that next trip. Am I alone here? Does anyone else find themselves longing for one or the other. On the flight home when exhaustion kicks in I swear I am going to take a break from travel. Just days later I am planning the next great trip, missing that itch of having something on the horizon. I love the chase of the booking almost as much as I like going on the trip itself.
Hi my name is Mark and I fear I am addicted to travel, and I am not sure that is a good thing.
My Travel Patterns Don't Help
I have a weird travel pattern. Most of my trips are of the short, weekend variety. And I rarely, if ever, go on a trip for more than week. One part of that is my wife has much more limitations on vacation time than I do. Because of that we often fly out Friday evening and come back Sunday afternoon without her needing to take days off. The other part of it is that I am a homebody by nature…which honestly makes no sense!
I love being home, surrounded by my comforts, sleeping in my bed, not working on my crappy travel computer. Life is just easier and simpler at home, it has an effortlessness about it. But off in the dark corner travel sits tugging on my shirt and whispering in my ear. The sad truth is that I listen to it's whispers more often than not.
I will say taking many short trips is more exhausting (and a bigger hit to my frequent flyer accounts) than fewer, longer trips. When you are in a place for only a few days you tend to be more driven to see things. On short trips I don't stop to take time to just relax and really enjoy it. I end up sleeping less than I would at home and I feel it when I get home.
This Year Has Been The Busiest One Yet
This has probably been my busiest travel year yet. Because of my knee surgery I was out of commission for close to 3 months and I think I tried to cram a year's worth of travel into 9 months. That is a recipe for disaster. I also had more work related trips than usual which I think will only ramp up in the future as we try to bring more events to our readers.
I am currently in the middle of a 12 week span that has me on 7 different trips. That is a mix of work travel, family travel and a baseball trip. I look at all of the travel and just cringe. But I also look forward to each trip individually. I look forward to checking out Harry Potter at Universal with my kids, Washington D.C. with my son and nephew and I love meeting other miles and points people so the Chicago seminars and Vegas meet up are welcomed sights. That doesn't mean my body won't be beaten and tattered when I come out on the other side. But I honestly couldn't see not doing one of the trips and I fear that is because I am addicted to travel.
Does Having A Flexible Job Actually Hinder More Than It Helps?
This is the best job I have ever had. I am one of the lucky few that made their hobby, their love, into their work. I had never envisioned doing anything like this but I thank Shawn, and our readers, for giving me the opportunity. But I fear it might hurt me more than it helps me in this aspect.
Being able to work from anywhere there is an internet connection is a freeing feeling. And being able to complete work whenever you want is a life saver when having small children. I do think those two things lead me to thinking I am a little too big for my britches though.
I post articles pretty much every day and even though I can work while traveling I hate doing it. You can see where this is going. That means that I need to cram 7 days worth of work into 4 or 5 days on a regular basis. This leads me always feeling like I am behind and that I can never quite catch my breath. That is also why my yard work is desperately lacking right now 🤦‍♂️. Quit laughing yard work is a big thing in my family 😂. There are some things you pick up from your father that never leaves you!
Having said all of this I continue to book trips and sometimes stack them on top of each other. The scary thing is that I am sad if I don't have travel in the near future to look forward too. It is almost like a need (addiction) that I can not control.
My Plans Going Forward
I have made a silent pledge to myself, a mid year New Years resolution so to speak. I am going to try to stick to traveling no more than 1 time per month next year. To people outside of this hobby I sound like a complete tool with that sentence. But to those of you like me then you know what that means.
I think this will eliminate the exhaustion that I often feel after long or multiple trips. This will also allow me to properly get ahead on work for upcoming trips instead of always playing catch up. It should also lead to me feeling more rested and hopefully my yard looks better next summer too!
Final Thoughts
I am really curious to hear if anyone else faces these struggles. Do you swear off travel for a time being only to be searching future trips days later? Do you need to have a trip in the near future to calm your soul?
I think that this year kind of got away from me and I have no one to blame but myself. I need to find more balance in my life. Hopefully I can defeat this travel addiction and find a happy medium.
I also plan on taking more road trip vacations next year which are easier to accomplish and lead to less exhaustion in my opinion. The silver lining of all of this is my points balances should start filling up again versus constantly dwindling.
I already have some amazing trips on the books next year like Kyiv and Prague, Maui and a miles and points meetup/trip to New Orleans. But I have been better at spacing them out. Hopefully I can keep up with that and stick to my resolution!
Share your thoughts, experiences and advice below. I look forward to reading it and discussing it with you.
Disclosure: Miles to Memories has partnered with CardRatings for our coverage of credit card products. Miles to Memories and CardRatings may receive a commission from card issuers.
---
New Card - Capital One Venture X Business 150K!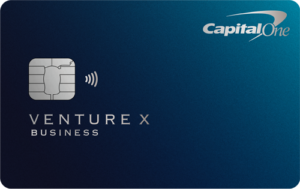 Capital One Venture X Business
earns 2X miles on everyday purchases plus up to 10X in bonus categories. You also get access to Capital One lounges plus an annual travel credit & anniversary bonus. Right now you earn
bonus_miles_full.
---
Opinions, reviews, analyses & recommendations are the author's alone, and have not been reviewed, endorsed or approved by any of these entities.