This post may contain affiliate links - Advertiser Disclosure. As an Amazon Associate, we earn from qualifying purchases.

Making Walt Disney World Affordable with Miles & Points
As devoted Disney fans, my family and I are no strangers to the enchantment of Disney parks. Living in Las Vegas, we have the luxury of frequent visits to Disneyland. We also make an annual pilgrimage to Walt Disney World in Orlando. We were thrilled to finally take our 4-year-old son on his first proper trip to the magical Walt Disney World this year. While planning the trip, I did a lot of what I call "budgeting the magic," allowing us to create an affordable and unforgettable experience. Join me as I share the strategies that made our Disney World adventure both affordable and memorable!
Budgeting the Magic – Saving on Disney World Tickets
For this trip, I purchased tickets allowing us to visit one park per day on four of the seven days of our trip. To pay for the tickets, I sourced discounted Disney gift cards from all over the place, anywhere I could find a good deal. You can combine gift cards together online for up to $1000 per card, which made keeping track of them much easier.
I bought Disney gift cards from wholesale clubs when Discover had that as a 5% category, which put those savings over 10%. Chase Freedom also had entertainment as a 5x category last year. Office Depot and Lowe's had numerous offers on Chase cards for 5-25% savings for $110-250 in spend per offer. I used my US Bank Cash+ card with electronic stores as a 5% category at Best Buy. Additionally, we made Disney gift cards our go-to request for Christmas and birthdays.  Ticket costs were around $2000, easily our biggest out-of-pocket expense. I'd say my total cost after discounts and points earned was around $1300. My goal was to save as much money as I could on every other part of the trip, so that this wouldn't sting so much.
Saving on Disney World Flights
On our outbound flight from Las Vegas, I snagged web special awards on American for 8500 miles each for a direct flight to Orlando. Though we encountered a delay, having a couple buffer days before entering the parks made the situation manageable.
On the return journey, my wife and son planned to visit family in Buffalo, taking advantage of a convenient shorter nonstop flight on Southwest. I used Amex air incidental credits from a couple of cards, as well as some LUV vouchers from the Southwest holiday meltdown to cover the entire cost for the two of them.
As for my return flight, I treated myself to a cheap business class ticket on American for 20k miles. Due to some weather and operational failures, I only made it to Phoenix that night. I ended up booking a Southwest flight from there to get home in time for work, using points from that same holiday meltdown. American refunded me the unused portion of the ticket, so I was out about 16k miles in total for the flight.
Walt Disney World Hotels on Miles & Points – The Details
When putting the trip together, I explained to my wife that if we could switch hotels to suit our needs, we could afford for the trip to be longer. This would also allow us to splurge on things like more character breakfasts and gifts. Being the avid Disney fan that she is, my wife quickly agreed to those terms!
For this trip I wanted to use as many free night certificates as I could, while also being close to all of the action at the parks. I settled on four hotels over the span of ten nights, each with its own advantages and cost-saving strategies. To many of you, that might sound like a lot, and it was, but there was a method to the madness behind it. So, let's go through how and why I put all this together.
Hyatt Regency Grand Cypress (2 nights)
Our park tickets gave us a seven-day window to go to the parks, however, we wanted to be on vacation a little longer than that. So, I started off at my favorite off-property resort in the area, the Hyatt Regency Grand Cypress. This is one of the best uses of a category 1-4 free night certificate available, in my opinion. I always like to add to the beginning or end of a Disney World trip here.
I used two certificates on nights when rates were around $350 per night. By having the Chase World of Hyatt card, I get one free night annually, and another for spending $15k in a year. This isn't too difficult with the various things I do to generate points. Factoring in the annual fee, you could say these 2 nights cost me $95. If you factor in the free breakfast for the three of us, I'd say we broke even.
Having Globalist status comes in handy at this property. Their breakfast buffet is very good, and open until 11:30 am. This is great for west coast travelers like ourselves getting adjusted to the Eastern time zone. We were glad to have that after our late night arrival. I've stayed there three years in a row, and been upgraded each year. If you are facing the right way, you can clearly watch the Epcot and Magic Kingdom fireworks from your room, always a nice bonus. We were also able to get a 4 pm late checkout, even if it isn't guaranteed at this property for Globalists. Thankfully that gave us plenty of time to enjoy the resort and move to our next hotel at our own pace, without having to kill any time in between.
Walt Disney World Dolphin Resort (4 Nights)
Now it was time to get ready for our park days! My go-to hotel complex is the Swan/Dolphin/Swan Reserve. These properties are within walking distance of both Epcot and Hollywood Studios. This is an ideal use of Marriott Bonvoy points/certificates and I wanted four nights so that we could take a day to rest between each park day. 12-16 hours in a park can get quite long and exhausting!
I did quite a bit of credit card gymnastics to make this part of the stay work. When I started, my wife and I both had the legacy SPG Amex. I also had the Chase Marriott Premier Plus Business Visa. These cards all give an annual 35k certificate. These won't work on a lot of nights, as they will price over 50k, which is the highest amount you can top off a certificate booking with using additional points.
Amex threw an interesting opportunity my way when they announced changes to the Bonvoy Brilliant card. At the time, it offered a $300 credit for Marriott purchases. It was going to change to a monthly $25 dining credit, but I had time to act. My wife had an open Amex slot, so I got the card with the 75k signup bonus for her, in addition to her legacy SPG Amex. Then, I upgraded both of our legacy cards to Bonvoy Brilliant cards. By doing this before the changeover date, I was able to buy a $300 gift card with all three cards to use the Marriott credit before the deadline for a nice double dip. These cards also give a free night certificate good for up to 85k, which gave me a lot of flexibility to book this property. While I wasn't going to get maximum value, I was happy with this.
I was able to find a night at 47k during the window I wanted, so I was able to use the 35k certificate on that night. I used the Brilliant certificates on two of the nights, and then used the points from my wife's signup bonus on the least expensive night of our stay. Rates were around $400-$450 per night.
So the math on this part of the stay- two Bonvoy Brilliant annual fees of $450, the Chase business card annual fee of $99, and $900 back in statement credits from buying the Marriott gift cards. The Brilliant I signed my wife up for doesn't post a fee until after a year, at which time I'll likely cancel or downgrade it. The 75k signup bonus was easily met with everyday spending, which I'll roughly value at $525. I'll also likely downgrade her other Brilliant card and just keep the one for myself when the annual fees come due for those. All in all, I'll say I actually came out about $426 ahead on these bookings, adding more once you factor in using all those monthly dining credits.
During our stay we splurged a bit on spa reservations and room service, since we essentially had $900 in free money from Marriott to use. We couldn't quite spend all the gift cards, though we did put a good chunk into them. I did have to call after the stay, as they still erroneously charged my card, but it was sorted out in the end. There are definitely some headache costs to factor in with using gift cards.
Disney's Contemporary Resort (2 nights)
Our next park was Magic Kingdom, which usually means you have to go through the Transportation and Ticket Center. This is probably my least favorite place at Disney. The way around that is if you are staying at any of the three deluxe Disney resorts around Bay Lake – Contemporary, Grand Floridian, or Polynesian. Each of these hotels is located right on the monorail and gives much easier access to Magic Kingdom.
I ultimately chose Contemporary, because it is the closest to the park and even allows you to walk if you want. Unfortunately, rates aren't cheap here, given the convenience. To get a room I searched within the vacation window we had for whenever I could find the cheapest two nights, and booked everything else around that. Being around Memorial Day, the best I could do was $550 a night for a garden-view room at the end of the resort. A bonus of being so far out was that the Electric Water Parade went right past our room. I only wanted two nights because we just wanted to go to the park and then have a late breakfast at Chef Mickey's while waiting to go to our next hotel.
This was definitely pricey, but I had some creative ways of knocking the costs down. You don't have to pay all at once. You do have to call in to make partial payments, which is a bit of a time commitment. I used my $300 travel credit on my Sapphire Reserve, my $325 travel credit on my Altitude Reserve, and the previously mentioned discounted Disney gift cards to cover these costs. I was also able to use Altitude Reserve Real-Time Rewards to redeem room charges I made there, including Chef Mickey's breakfast. Factoring in the credits and the discounted gift cards, I'll put the total cost at around $427.50 for the two nights. Definitely my highest hotel expense, but not bad considering it started at $1100.
Waldorf Astoria Bonnet Creek (2 nights)
We saved Animal Kingdom for last, which is the easiest park to do, yet the hardest to get to. You have to take transportation no matter where you stay. So, I went a little outside of the Disney bubble to the Bonnet Creek area. Most of the properties in this area offer early entry to the parks, even though they are considered off-property. I chose to stay at the Waldorf Astoria Bonnet Creek, which ended up being the nicest property of our trip. You can also use the facilities at the adjacent Signia by Hilton property, which has a nice pool and lazy river for kids to enjoy.
I picked this because I had two Hilton free night certificates I wanted to use. This property was 80k or $900 per night, so it was an excellent use of the uncapped free nights. I get one free night annually from my Hilton Aspire card, along with Diamond status. I get another from spending $15k on my Hilton Surpass card. I do this through a mix of real spending and gift card buying at gas and grocery stores.
My Diamond status got us an upgraded view, from which we could see the fireworks, although we were a bit further away from the parks. I was also able to get a 2 pm checkout on our departure day. This allowed us to take the morning to get packed up for our late afternoon flight. I also had $50 per day in F&B credit between me and my wife, as well as a $250 credit at Hilton resorts from my Aspire card. We splurged on room service again, with the credits covering all the costs. It would have been a pretty pricey place to eat without these credits.
The math here- the annual fee on the Aspire is $450. But I get the $250 Hilton resort credit, plus a $250 air incidental credit. The annual fee on the Surpass is $95. Factoring in the Diamond F&B credits, I'm going to say I came out ahead $55 here.
Making Disney World Affordable – Bottom Line
If you read all of this, you are either really impressed with me or think I'm completely nuts. I understand. This was a lot of work. In total, I used seven free night certificates across three brands, one night on points, and two nights at heavily reduced cash rates, staying at four properties for a total of ten nights.
With careful planning, leveraging credit card rewards, discounted gift cards, and utilizing loyalty program benefits, we successfully created an affordable Disney World experience that exceeded our expectations. I would never have been able to afford all of the things we did and the places we stayed if I paid cash rates for everything. But by "budgeting the magic", you'll create cherished memories that will last a lifetime without straining your finances. The smiles on our son's face were truly priceless, and made every bit of this worthwhile.
Disclosure: Miles to Memories has partnered with CardRatings for our coverage of credit card products. Miles to Memories and CardRatings may receive a commission from card issuers.
---
New Card - Capital One Venture X Business 150K!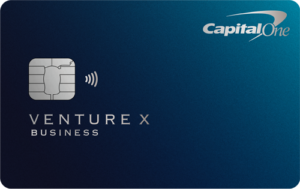 Capital One Venture X Business
earns 2X miles on everyday purchases plus up to 10X in bonus categories. You also get access to Capital One lounges plus an annual travel credit & anniversary bonus. Right now you earn
bonus_miles_full.
---
Opinions, reviews, analyses & recommendations are the author's alone, and have not been reviewed, endorsed or approved by any of these entities.