This post may contain affiliate links - Advertiser Disclosure. As an Amazon Associate, we earn from qualifying purchases.

Review: Delta One Suites A330neo – New York JFK To Amsterdam AMS
In this review: Delta One Suites A330neo flight from New York JFK to Amsterdam AMS. We'll look at the good and the bad parts of the flight, covering the seat, service, and amenities. Additionally, we'll briefly look at the Delta SkyClub lounge we visited in JFK before the flight and the KLM Crown Lounge during the layover in Amsterdam. First things first in this review: how we booked the Delta One Suites on the A330neo.
Booking Process
We recently visited Mexico, so our booking started there. We used 65,000 Delta SkyMiles to fly from Cancun to New York. From there, we flew to Amsterdam and then to Istanbul. This was all one ticket, flying Delta's domestic "first class" product on the first flight and Delta One Suites over the ocean. The flight from Amsterdam to Istanbul was with KLM's Euro-business product, which is similar to a premium economy seat with middle seats blocked.
We paid 65,000 SkyMiles each, plus $71.96 in taxes. The cash price of this booking was $3,932 on the day we booked. That's a value of 5.9 cents per point, which is well above the average value of Delta SkyMiles. Mexico to Europe for 65,000 SkyMiles is a steal. (Be warned, though, that connection times can be rough. We had 4+ hours in JFK and 5+ in AMS.)
In case you're reading this review and want to know how to distinguish the Delta One Suites on A330neo (or other Delta One Suites) from the older Delta One product, look for the red tag "new aircraft" or "new interior" on your flight options. More info is here on Delta's site.
Review: Delta SkyClub Lounge at JFK
I've been to other SkyClub lounges. The main thing I want to operate here is current operations during the pandemic. What's functioning, and what's not? If you visit, what should you expect? Let's look.
The lounge was pretty empty when we visited from about 1pm to 5pm.
The bar and food service counters were functioning. The main difference is that food is either individually wrapped or on request from an employee. There's nothing you can touch that would be touched by another customer also.
That doesn't mean they had a lack of options. They had tons of options for grab & go, as well as multiple options for full meals. The options we saw were 2 types of soups (the "build a bowl of pho" section was fantastic!) and Indian food as the theme of the day. We were pleasantly surprised with the sheer number of options, given that other lounges have really reduced offerings right now.
The one surprise to me is that the soda machine (self-service) is still operating. I had expected canned drinks or needing to request drinks. You can still get your own soda from the machine, but they've changed to disposable cups and a sign to get a new cup each time.
As expected, the showers are closed.
We were surprised by the ratio of food options to number of people. Our main takeaway is that the lounge is open, operating well, and giving a lot of options for food and drinks. It may be fuller at other times, but we were surprised by how few people there were (especially with other lounges being closed).
Review: Delta One Suites A330neo JFK-AMS
Here's the bulk of the review, covering the actual flight itself. We'll cover the boarding process, the seat inside the Delta One / business class cabin, and the amenities. Along with these, we'll talk about the service from the flight crew during the trip. Both of these have good and bad elements, so I'll highlight those.
Boarding
Boarding was a bit disorganized at first. They used the facial recognition machines, and only 1 was working at the beginning. This slowed down the line 1) because they could only use 1 at a time and 2) because people had to stop, take off their masks, put the mask back on after the machine recognized them… Between this and everyone social distancing, everyone around us was playing the "are you in line but far apart or are you not in line?" game. Once they got the 2nd machine going and formed a proper line, things went smoother.
We were greeted warmly at the door. Boarding was through a single jetway, entering the 2nd door (between business class and economy). We had the 2 middle seats, so my wife went up one aisle while I went to the other. As soon as we arrived to our seats, the purser came to greet us. He greeted us by name without having to use notes, and he was fantastic from the start. After a quick hello, he moved on to let us organize our stuff. Boarding completed efficiently after they got it going.
Delayed Takeoff
We had a delayed takeoff, but the communication was really good. After loading the baggage, they couldn't get the baggage compartment door to lock/stay closed. Clearly, we couldn't fly like that, so maintenance came out. The captain kept us updated, and the crew offered people water, told us we were free to use the toilet / didn't have to put on seatbelts yet, etc. After 20 minutes, we were on our way.
Review: Delta One Suites A330neo Hard Product
The Delta One Suites on the A330neo are set in a staggered 1-2-1 configuration. Solo seats by the windows are closer to the aisle in odd-numbered rows and closer to the window in even-numbered rows.
The 2 seats together in the middle are more to the right in odd rows, more to the left in even rows. There are 7 rows of 1-2-1, plus a solo seat on the left window in row 8. 29 Delta One Suites total in the cabin, situated between the front and rear galleys. After the galley, you find premium economy and then economy seats.
The Seat
We had seats 1C and 1G, the middle seats in row 1. Both of our seats had the armrest on our left side and the seat on the right side of the suite.
In the sitting position, I found the seats comfortable. While my seat was pressed up against the divider on one side, there was a lot of space on the aisle side. Overall, the space inside my suite felt roomy and comfortable to sit in. It includes a shoulder harness for takeoff and landing, which can be detached from the standard seatbelt on your lap.
The armrest to my left was spacious. The "armrest" (that's generous) on my right, near the divider, wasn't much of an armrest.
Above the arm rest and below the storage area on my left, there are numerous controls for the seat. These were really easy to use.
There's also a universal power adapter, USB port, and the headphone jack. These all functioned as you'd expect. The "feature light" button controls the reading lamp inside your suite, which is dim and functions well as a night light.
The "do not disturb" button did nothing on our aircraft. I actually asked a flight attendant, and we couldn't determine anything happening, despite several minutes of playing with it. It seems this has not been activated on this aircraft.
In the center seats, the tray table slides out from the storage/armrest area. Suites next to the window are a bit closer to the TV screen, so there is a fold-out armrest located in the armrest unit, coming from down by your feet.
Seat Divider
If you're in the middle seats, the divider can go up and down. It's a nice feature for those in a middle seat but not traveling with the person on the other side. Unlike QSuites from Qatar, these aren't "honeymoon seats". While the divider can go down, there is still an armrest between the 2 of you. You aren't that close to one another.
Storage
There was ample storage. I was happy to see that my charger, laptop, and some other smaller items fit into the storage area next to the seat. There were no closets or bins to put things in, so whatever you want needs to fit here. It was sufficient for what I wanted but not anything bigger.
There is also space near the foot well to put the blanket and pillow in. However, I wouldn't try to use this for storing anything, since it will move around. Plus, it's not convenient at all.
Personal Entertainment System
The personal entertainment system was mostly good. The screen is a touchscreen and works as you'd expect. There are a lot of options for movies, music, games, etc. You can view flight information, call for flight attendants, or turn on the overhead light.
Then I saw a remote control in the armrest. However, it doesn't work. I found the registration info for our flight, and the plane is over a year old. Despite this, there's still a sticker saying the remote controls haven't been activated yet, so you need to use the touch screen. It's pretty weird for a plane over a year old to still have things not yet turned on, like the remote and the "do not disturb" button.
Suite Door
The suite door can close for privacy. Remember that these are not floor-to-ceiling, so you can still see into the suite. You'll still hear noise from the outside. However, it does reduce noise and disturbances when you want to sleep. Since the "do not disturb" button our aircraft didn't work, this is also a good sign to the flight attendants that you want to sleep / to not wake you. I'm 5'10", and the walls of the suite/door come up to chest height.
The Bed
The seat in the Delta One Suites lie fully flat on the A330neo. This is what you'd expect from a long-haul business class product. While I found the seat comfortable as a seat, I didn't find it overly comfortable as a bed. It's a bit firm, so it took me a while to find a comfortable position when laying down. Lots of adjusting and positioning to get comfortable on the seat product, plus the fact it's pushed all the way against the divider. It has good length when counting the headrest all the way to the foot well, but it could definitely be better in comfort and not feeling crammed against the wall.
When you want to sleep, it does get decently dark inside the suite. For reference, here's how dark it got with the cabin lights dimmed and the suite door closed. It's not pitch black, but it's better than other planes.
Amenities
On arrival to the seat, I had a blanket, pillow, headphones, a bottle of water, and an amenity kit. The headphones had a tag saying they'd been sterilized.
The blanket and pillow were comfortable. No complaints on these, but nothing to rave about.
The amenity kit is from TUM. We saw 3 colors of these in the cabin: purple, gray, and black. Distribution seemed random. I like that this amenity kit isn't big and bulky.
The amenity kit has standard items like lip balm and an eye mask, toothpaste, and a small toothbrush with a cover. I appreciated the cover and will use this for future travels.
There are an eye mask and ear plugs, a pen, socks, hand sanitizer, and mouthwash. This was my first time seeing mouthwash in an amenity kit, which is a good idea.
The Bathroom
The front lavatory in the Delta One Suites cabin of the A330neo is a regular lavatory. It's the size of an economy bathroom on a traditional flight. The bathroom had hand lotion, but that may be the only thing that makes it different from an economy bathroom. It's definitely not any bigger and doesn't have any differentiating features.
Overall Thoughts On Delta One Suites Hard Product
Here's a summary review: Delta One Suites A330neo hard product is pretty good. There are good features, but they need to be working to be useful. The layout of the cabin is really nice, and this is a good hard product overall. There are some things that could be improved, though. They need to activate all features, and a bit better layout of the seats vs the divider wall would improve things.
Review: Delta One Suites A330neo Soft Product
The soft product of a flight includes the intangibles. It includes service, staff, experience, cleaning, etc. Here are my thoughts on the soft product during our flight from JFK to AMS, which lasts for 7:10.
Cleanliness
One of the first things you notice when boarding a plane is whether it's clean or not. In fact, you basically don't notice it if everything is clean / as it should be. I've never even mentioned cabin cleanliness in a review before, because I take it for granted.
Under my TV screen, there was a dried booger on the wall. The cleaning crew clearly missed this, though it's not small and not hard to see. I cleaned it off with the sanitizing wipes distributed when we boarded. It also made me wonder how well my seat had been cleaned, so I spent a few minutes wiping down everything in my suite. I'm definitely not a germophobe, but I lacked confidence in the cleaning process for our flight because of this.
Staff
We were greeted by flight attendants at the door during boarding, and they were friendly. Big smiles, friendly hello. At our seats, we were greeted by the purser. He greeted us by name and set the tone for multiple positive interactions with him throughout our flight. Christopher (the purser) was the flight attendant we interacted with most, and he was fantastic. He was friendly without seeming fake, helpful without hovering or being overbearing. Also, he knew in advance that we had ordered special meals and confirmed them with us before takeoff. We liked him a lot.
We had lesser interactions with 2 other flight attendants, also. The female of these 2 was friendly and only passed through the aisle on my wife's side. Our limited interactions with her found her to be friendly and helpful.
A male flight attendant on my wife's side of the plane was efficient. Not overfly friendly or helpful, but he was efficient. He quickly removed dirty dishes, but that's about it.
Overall, though, I found the flight attendants helpful and attentive to whatever we needed. Our main interaction was with the purser, and he was fantastic.
A funny note about the staff
None of the staff had flown the Delta One Suites before, just being familiar with the Delta One product (main difference: the doors on the suites). We could hear them geeking out about how cool the plane was while talking to each other in the galley. One flight attendant was even taking photos.
That being said, since they weren't as familiar with the plane, the purser remembered to unlock the suite doors on my side while no one unlocked them on my wife's side. We had to call someone to unlock the door, so she could close it and go to sleep. That comes back to lack of familiarity with the cabin. For landing, none of the flight attendants remembered to lock the suite doors. BAM! They all slammed shut when we hit the runway. Again, they were excited to check out a new plane cabin (so was I!), but this meant they missed some things. I liked their excitement about the cabin, though.
Service
During the night, this other male flight attendant I referenced reorganized the entire front galley. Imagine the amount of noise he made banging around the carts and reorganizing everything at 2am. It was ridiculously loud. Given that we were in row 1, and most of the work was on my side of the galley, I barely slept. I sleep really well and can sleep through a fair amount of noise, but I barely slept.
For the life of me, I can't figure out why he thought it was acceptable to make so much noise. I saw another passenger complain, but it only improved by a bit. This really affected not only my sleep but also my view of the "service" on the flight. Part of "service" means not annoying the passengers. Overall, the service was good, but this was definitely a low point.
Meals
As I mentioned, we requested special meals. We received them, and they were exactly as requested. Given that other airlines have messed this up or not offered special meals right now, we were skeptical on whether this would play out according to plan. We had packed snacks, just in case.
For those who didn't ask for special meals, there were 3 options: a beef dish, chicken with ravioli, or a mushroom risotto.
Service was done mostly at the same time for everyone, but "not now" was a possible answer if you want to eat at a different time. However, it was not a la carte or "tell me what time to bring your meal" like some airlines offer.
The meal came all at once, not in courses. My main course was a type of curry that came with rice, greens & beets. It was OK but not special.
Sides included salad, fruits, and a rice cake. Rice cake…yawn.
At breakfast time, we had a main dish of asparagus (good), potatoes (excellent), tomatoes (chopped but not cooked), and really overcooked greens. Attention every airline of the world: stop serving greens. They are always soggy as hell, flavorless, and not worth eating. Just stop.
And another rice cake. Yay?
Overall, the food was mostly good. It wasn't impressive, and it's not anything I'd order at a restaurant, but it was decent, and I'm really happy they actually delivered correctly on the special meal request. That puts them ahead of most other airlines.
Overall Thoughts On Delta One Suites Soft Product
Overall, our experience of the soft product was largely good. The majority of our interactions with staff were positive, especially since the best person in the cabin was the one we saw the most. Service was mostly good but could be improved by not creating horrific amounts of noise during the middle of the night.
Food service was mostly good, but the food wasn't anything to write home about. However, having special meals available, delivering on it, and it actually being what we requested is an anomaly, not the norm, so Delta gets a lot of props here.
Review: KLM Crown Lounge, International Terminal
During our layover at Amsterdam Schipol airport, we visited the KLM Crown Lounge. Our connecting flight from Amsterdam to Istanbul was on a KLM flight, but you can visit the KLM Crown Lounge as long as you have status with or are flying business class on a SkyTeam partner.
While walking through the Amsterdam airport, they had sanitizing stations for your belongings. However, these are only open 9-5, so we didn't get to try it.
The KLM Crown Lounge is above the main floor, up an escalator or elevator. Signs are easy to follow. AMS airport references all lounges by number, and this is lounge 51.
We arrived at the lounge to friendly welcomes and a boarding pass scanner to gain entry. At 7am, it was pretty empty. When we left at 11am, it was packed.
There are self-service coffee machines and also a breakfast buffet (behind class, tell the employees what you want).
When the ground floor got full, we moved upstairs, since this was still pretty empty and quiet. Throughout the lounge, power sockets for charging your devices are abundant, which is nice.
The outdoor deck for watching planes come & go is currently closed, which is a bummer.
Overall, the KLM Crown Lounge is what you'd expect, and the size of it is fantastic. Seating & power sockets are abundant, nothing ran out during our visit, and they also have showers & lockers available to use. This is a nice lounge if you're at AMS.
Final Thoughts
If I had to sum it up in a one-line review: Delta One Suites A330neo is a good product but needs some adjustments to the hard and soft products. Simply not banging around during the middle of the night makes the latter infinitely better. The former will require some maintenance attention. There's no justification for a plane over a year old still having stickers that say "not working yet". This is something you'd expect on a test flight or when breaking in the plane for its first trip, full of media but no paying passengers. A year's worth of paying customers later, and you still have non-activated features? Come on, Delta.
Overall, this is a good product. I'd fly it again. I'd like to fly one with all of the features working, obviously. That being said, I still recommend it to others.
Disclosure: Miles to Memories has partnered with CardRatings for our coverage of credit card products. Miles to Memories and CardRatings may receive a commission from card issuers.
---
New Card - Capital One Venture X Business 150K!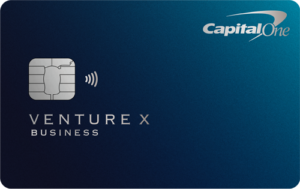 Capital One Venture X Business
earns 2X miles on everyday purchases plus up to 10X in bonus categories. You also get access to Capital One lounges plus an annual travel credit & anniversary bonus. Right now you earn
bonus_miles_full.
---
Opinions, reviews, analyses & recommendations are the author's alone, and have not been reviewed, endorsed or approved by any of these entities.