Search For Amex No Lifetime Language Offers
American Express has been lighting the world on fire this year with huge offers, giving out multiples of the same card, authorized user offers, pay over time offers and everything in between. There are almost too many options to list. Because of that, one of the questions I get peppered with is, where do I find these offers? I figured I would put together a quick tip on how to search for Amex no lifetime language offers quickly. It also pulls up authorized user offers, upgrade offers and most of what you want. This is probably well known to many but it should help quite a few newer people out there.
This tip only helps with offers in your Amex Offers section. These offers will also be sent out via email and regular postal mail. But, if you get it from those places they usually end up in your Amex Offers too, so it is a good "catch all".
Amex Offers Section
This tip will focus on the desktop Amex site since I find that to be the quickest way to search Amex Offers. I believe the desktop also gives you more options to refine your Amex Offers section by as well.
1 – View All Amex Offers
First up, once logged in, you will want to scroll to the bottom of your first card's page. At the bottom it will show like 10 Amex Offers but you will have up to 100 available to you. Select View All to get access to all of the Amex Offers. This will open an Amex Offers only page, which is what we want.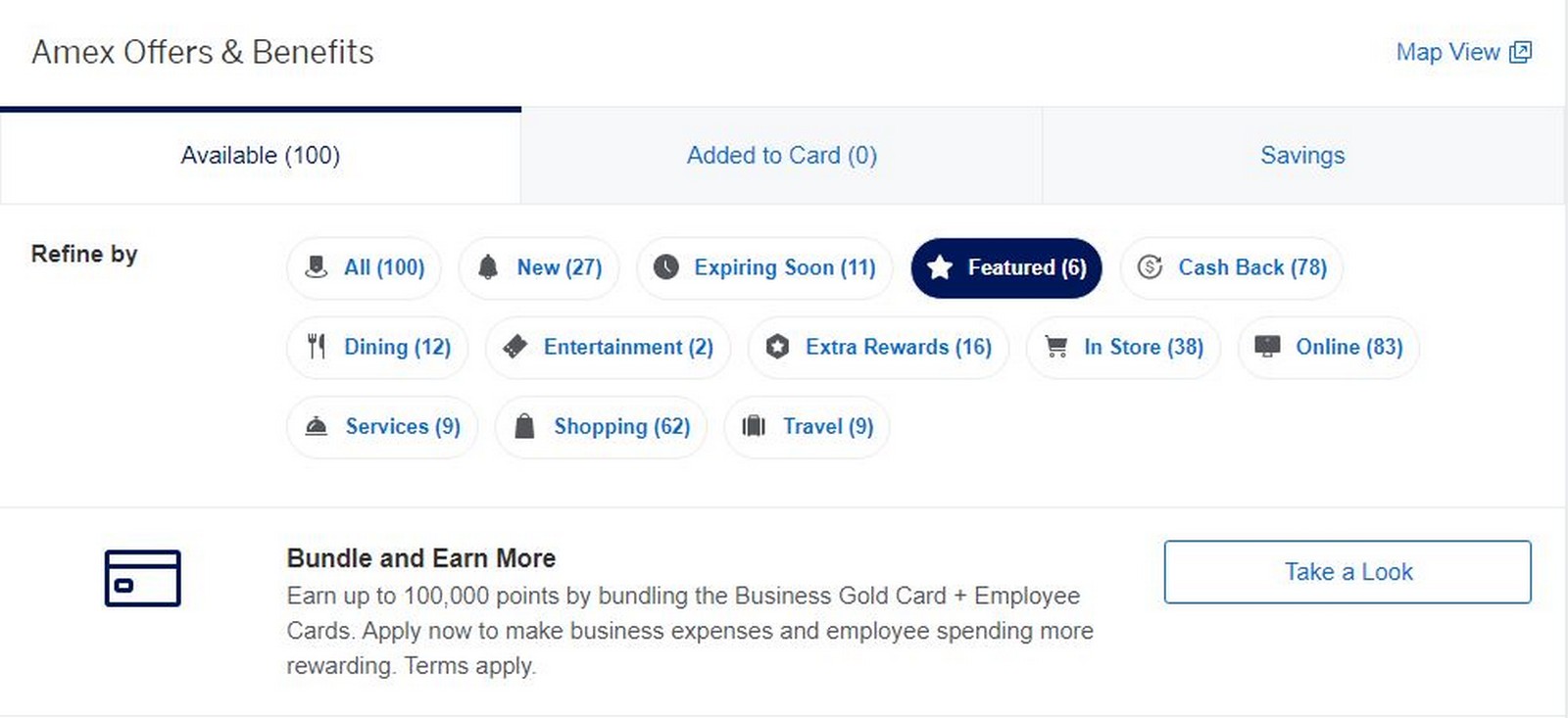 2- Featured Offers
After the Amex Offer only section is opened you just need to select featured offers. These are Amex's own offers. This will pull up things like your card perks and any no lifetime language or authorized user offers etc. you have on that account. Here is a card that shows we have both offers available.
3 – Search All Cards Quickly
Once you do this for the first card in your account you will be able to quickly scroll through the others. Just go to the upper right of your page and click on the small card image and then click on all of your cards one by one. It will keep you on the Amex Offers specific page and featured will already be highlighted for every card you open up.
How To Search For Amex No Lifetime Language Offers: Final Thoughts
Hopefully you found this tip useful the next time you want to quickly check your American Express cards for all of these awesome bonus offers. This should quickly show you which of your cards has an authorized user offer, upgrade offer or a no lifetime language offer. Some will even show multiples of these, like pictured above.