This post may contain affiliate links - Advertiser Disclosure. As an Amazon Associate, we earn from qualifying purchases.
We just wrapped up our most recent Walt Disney World trip.  We experienced a lot of familiar, favorite experiences but also some surprises.  Notably, we stayed in a new region – the EPCOT Resorts Area at the newish Walt Disney World Swan Reserve, a member of Marriott's Autograph Collection.  We've been longtime fans of Walt Disney World deluxe properties on the monorail loop, but we were excited to take in something new.  I'd heard plenty about the Reserve since its opening, but I wanted to experience it for myself.  And we had plenty of Marriott points and free night certificates to burn.  We figured, why not give it a try?  Here's my Swan Reserve review based on our recent stay.
Booking
We booked our seven night stay at the Swan Reserve using a combination of Marriott free night certificates and Bonvoy points.  I enjoyed stacking two 50k free night certificates and a fifth night free reservation for this seven night itinerary.  I made three reservations to do so.  In total, I reserved the seven nights for 210k points and two free night certificates.  Resort fees (including taxes) are $37.28 nightly; self parking is $34.10.  I used cash back rewards to cover these expenses.
Location
The Walt Disney World Swan Reserve's standout quality is its excellent location.  Across the street from Marriott's Swan and Dolphin properties, the Reserve is within convenient walking distance to EPCOT and Hollywood Studios.  My family and I were able to walk to each park in about 15 and 20 minutes, respectively.  Magic Kingdom transportation options are plentiful, as well.  Guests also have close access to dining options at Disney's Boardwalk, Yacht, and Beach Club locations.  Disney's Fantasia Miniature Golf course is next door to the Reserve, as well.
While the Reserve's location is close to perfect, those looking for convenient options outside of the Disney bubble may be a bit disappointed.  Of course, many people in that situation may not pick this property, anyway.
Check-In
Lobby Shortcomings
Upon arrival, my family and I took the escalator up to check-in on the third floor.  The first floor houses a large bell desk and waiting area.  The third floor lobby is extremely cramped, sharing space with their lobby bar, main restaurant, and quick service dining option.  I'm no architecture expert, but I feel like there could've been a more optimal design.  The lobby's tight quarters are more of an issue based on the check-in experience.  Speaking of…
Our Check-In Experience
After waiting about ten minutes at check-in for an agent to finish up with one guest, we were welcomed to the front desk at about 3:30 pm.  The bubbly check-in agent had no problem connecting our three reservations for the week so we could stay in the same room.  Even better, we received an upgrade to an Epcot view room based on our (lowly) Gold status (thanks, Amex Platinum).  Things were off to a good start.
The front desk agent mentioned our room wasn't quite ready and advised that we'd be called when it was.  This seemed reasonable, as we arrived a bit before the official 4 pm check-in time.  After waiting in the small lobby seating area for just over 30 minutes, I returned to the front desk for an update a bit after 4 pm.
I explained we had 6 pm dinner reservation at EPCOT and wanted to freshen up prior to heading out.  A different front desk agent responded that the room just needed to be inspected.  I asked about the 4 pm check-in time, and the agent stated that only check-in time is 4 pm, implying that the room isn't necessarily ready then.  I was taken aback, but chose not to push.  She assured that the room would be ready "before 6 pm."  It seemed the agent didn't understand the nuance that may not meet our needs – a room being ready prior to 6 pm doesn't mean we'd arrive on time for our dinner reservation.  I didn't bring this up, though, figuring any effort would be futile.  We decided to get on with it and head to EPCOT.
Apparently, inspecting the room took almost two hours.  We received a call at 5:56 pm stating that our room was ready.  We picked up our room keys a bit after 8 pm upon our return from EPCOT.  I explain more on how this went in the Service section.
I Must Mention….
Most everything about the front desk is slow.  The majority of the time, one agent was present at the compact front desk with four agent stations.  A few times, I saw a couple agents there, and the sometimes-available concierge helped out with check-ins in a pinch.  On top of the short staffing, the amount of time per guest check-in was inexplicably high.  The lobby had no signage or line markers for guests to follow – maybe because there's not room for such items.  Add all of this together, and the lobby can become a big mess of people waiting.  Heck, the Conrad Las Vegas has a better system.
Room
We were immediately satisfied with our 14th floor room, partially because we'd waited so long for it.  I found the room decor fresh and inviting.  The views of EPCOT and its fireworks display are a delight.  Magic Kingdom's fireworks are also visible, creating an impressive view of two different fireworks shows simultaneously.
The room upgrade only entailed an improved view.  Otherwise, our room was the entry level, two queen bed room layout.  The standard room size is noticeably small, especially for a family of four.  Marriott's site lists the standard room size at 330 square feet.  Unfortunately, the functional aspects of the room were lessened by these limited dimensions.  I liked the long combination unit holding the desk, drawers, fridge, and safe.  But accessing any of these meant blocking a high traffic area in front of the beds.  Opening a door or drawer consumed most of the walkway.  I was repeatedly, understandably bumped by family throughout the trip.  The room's only chair is at the desk, and I was disappointed there were no other seating options.  Indeed, there's no room for another chair in such a small room.
On the plus side, I loved the indentations underneath each side of the bed to store footwear and suitcases.  I especially appreciated this smart design due to the room's small footprint.  Lighting was readily available throughout the room, maybe too much so.  The bulbs were very bright, and without dimmers on any lamps, we had no choice for softer ambient lighting.
Bathroom
The bathroom layout is straightforward, holding a single vanity with a dimming light.  Apparently, Marriott decided to pay for dimmers for the bathroom, but not the bedroom.  Anyway, the shower-only bathing space was ample, with dual Kohler showerheads.  My biggest quibble with the bathroom design is the sliding door.  It's not durable enough for the beating it's already taken from inconsiderate guests at the new property.  The locking mechanism has been damaged by previous guests, unleashing the door's guillotine-like quality.  Any time we left the bathroom door open, we would hear a BAM! 30 seconds later when the door closed on its own.  The door's laminate has already chipped away around the handle, as well.
Amenities
Dining
On paper, the Swan Reserve checks the amenities boxes one might expect at a full service hotel.  Stir, the main bar on the lobby level, is attractive enough, and the hotel's main restaurant, Amare, sits on the same floor.  Grounds is a great option for grabbing quick coffee and breakfast items.   A small seating area flows from Grounds to Stir.  We didn't bother with any of these options, not wanting to unnecessarily spend time or money here.  We prefer using our time and Disney gift cards at the parks.
Pools
Just outside on the third floor are the outdoor pool and Tangerine, the poolside dining and drinking option.  The pool seems remarkably austere – a long, skinny, curved one with some seating, but not much.  Kids may get bored at this pool quickly.  We wouldn't know, since the pool was closed for the majority of our stay for maintenance.  I found this odd, given the hotel opened about six months ago in late 2021.
Notably, Swan Reserve guests can access Swan and Dolphin recreational facilities, including the pools.  We enjoyed using their sprawling resort-style pool complete with water slide across the street.
Fitness Center, Etc
The Swan Reserve has a medium-sized fitness center for guests adjacent to small bathrooms with lockers and showers.  While not officially part of the resort, the Fantasia mini golf course next door is a great off-day activity option.
The hotel offers its own bus transportation to the various parks, but we didn't want to roll the dice on that.  We preferred using Disney transportation, such as the Crescent Lake boats, and our own feet.
Service
I found the Swan Reserve's service to be average, at best.  I can't ignore that we got upgraded to an Epcot view room, but beyond that, there's nothing overly positive worth noting here.
Front Desk
The front desk manager provided us our room keys when we returned from EPCOT on our first night.  Based on the the late room availability, I asked for a refunded points portion for this 60k night.  He offered to provide 15k points, and I accepted.  I then asked how long it would take to receive the points back in the account, and he said he would put the request within the next day.  But he then passed the buck to Marriott Corporate, saying they are the ones who actually put the points in the account.  He admitted that may take a few more days.  As of this writing nine days later, and we still haven't received the points.
I never got an explanation for why room availability was so late.  It was as if this is the norm at the Swan Reserve rather than an anomaly.
While we had the same room throughout our stay, I had to get the keys updated on each day of a new reservation.  Of course, this involved long waits at the front desk due to the high guest volume and slow check-in speeds I described earlier.
Housekeeping
Housekeeping provided us the best service experience during our stay.  We received new bath amenities daily, and housekeeping thoughtfully handled my girls' stuffed animals left on the bed.  We received two new bottled waters daily, probably the most useful of anything covered by our resort fee.  Room cleaning was prompt for all days except the last full one.  We returned back a bit before 3 pm, and the room hadn't been cleaned yet.  After calling Guest Services, which included a five minute hold to get an agent, I requested the room refresh.  We left shortly after and returned to a clean room.
Swan Reserve Review – Conclusion
I feel about the Swan Reserve the same way I do of a few oceanfront restaurants nearby our home.  Their locations are enough to draw customers in, and it seems the businesses don't think it's necessary to provide anything else remarkable to patrons.  Is that enough?  Perhaps, but it's not a recipe for continued loyalty, in my view.  I can see myself staying here again, but I can just as easily opt for the Swan, Dolphin, or Disney-owned properties nearby.  In my opinion, the Swan Reserve has a great location, that new car smell, and not much else.
While rates vary widely, I'm seeing rates routinely in the $300-600 range for a basic room.  Why pay so much for a bland hotel with nothing outstanding beyond location?  Those paying cash rates may be able to do better at a Disney-owned property while receiving superior service (at a minimum).  Points rates tend to hover around 50-60k nightly but will inevitably increase.  Many will get better use out of their Bonvoy points elsewhere.
My relationship with Marriott hasn't changed at all due to this stay.  I merely consider it a transactional one, not the type I look to foster.  Of course, Marriott elites can squint and probably rationalize a stay at the Swan Reserve.  But overall, I recommend the convenience of an EPCOT Resorts Area stay more than this property specifically.  What's your personal Swan Reserve review?
Disclosure: Miles to Memories has partnered with CardRatings for our coverage of credit card products. Miles to Memories and CardRatings may receive a commission from card issuers.
---
New Card - Capital One Venture X Business 150K!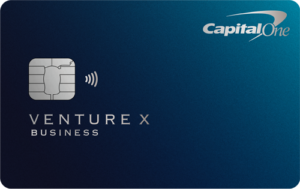 Capital One Venture X Business
earns 2X miles on everyday purchases plus up to 10X in bonus categories. You also get access to Capital One lounges plus an annual travel credit & anniversary bonus. Right now you earn
bonus_miles_full.
---
Opinions, reviews, analyses & recommendations are the author's alone, and have not been reviewed, endorsed or approved by any of these entities.