Travel Freely Review – How Useful is the Tool for Points and Miles Beginners?
Recently, Mark asked me if I'd ever heard of or used Travel Freely. I responded that I vaguely recalled hearing of it, and I didn't have any experience with it.  You see, I deal with an ongoing challenge called Too Much Stuff (TMS).  I have an ongoing queue of books or articles I want to read, shows I want to watch, rough skills I want to hone, and so on.  Indeed, adding another site or app to check or update isn't high on my list, and I try to keep things simple where I can.  But in an effort to fight against my curmudgeon-like tendencies, I acquiesced to trying out the tool.  Here's my Travel Freely review; today, I'll focus on the tool from a credit card rewards beginner's perspective.  I plan to write about the Travel Freely app and benefits for advanced users in the near future.
RELATED: Travel Freely – A New Recommended Tool to Organize Credit Cards & Find Best Offers!
What Is Travel Freely?
Travel Freely is a site (and more recently, app) that enables credit card organization and tracks the best credit card welcome offers available.  Also, Travel Freely's CardGenie uses an algorithm to recommend card products based on your current card portfolio, bank rules, and the latest welcome offers.
What Travel Freely Isn't
Travel Freely is not a tool which updates your current points balances.  Plenty of those exist, and those interested can find that capability elsewhere.  The service is also not expensive; it's actually free.  I was pleasantly surprised that the site is not a time-suck, either.  Travel Freely is not intrusive – it does not require you to enter any credit card numbers or track your purchase history.
Getting Started
Signing up is tremendously easy.  You only need to provide your name and email address, verify your email, create a password, select beginner or advanced level, and you'll be up and running.  Speaking of email, beginners can expect a few e-mails weekly from Zac Hood, Travel Freely's founder, containing useful info, tips, and links.  You can also decide to track cards for a second user, such as your spouse or domestic partner.  Probably the most time-intensive task in starting out is entering your existing card information.  For beginners, though, you most likely won't have too many cards to enter!  The site asks for the following info:
Card Name
Account Type (User 1, User 2, or Business)
Date Opened
Optional Categories: Authorized Users, Bonus Achieved, Notes, and Status (Active/Closed)
I enjoy how the Card Name field auto-populates based on my entry.  Again, I find the site requiring minimal info a refreshing aspect.  Of course, adding more info makes the tool more useful.  The automatically attached card art is an aesthetically pleasing touch (it certainly does a better job than iTunes).
Travel Freely – Dashboard
My Dashboard page (labeled as Home on the site's left column), is pictured above.  My active cards are prominently displayed, along with a task list for maximizing rewards, points tally, and a rough cash value of those points.  I found the card tracking window particularly helpful for beginners – it includes annual fees posting within 45 days, bonus deadlines within 30 days, and a rough timeline for when user(s) should consider applying for another card.  Related dates are displayed to the right.  The Travel Goals window is populated based on your entries in Task Step 2.  You can easily refer friends to Travel Freely using the window quite prominently displayed in the top right area.  The Trips Taken window is currently under development.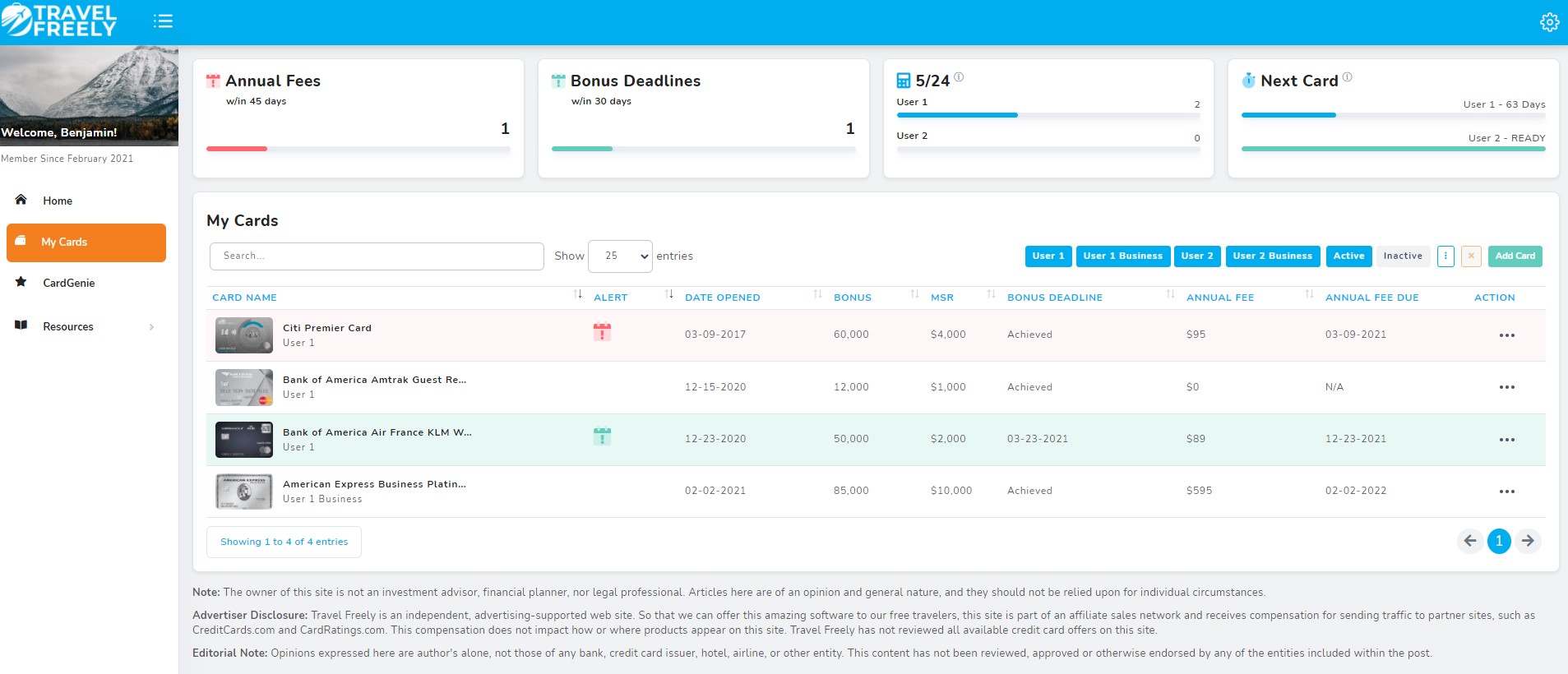 Travel Freely – My Cards
You can drill down into your card specifics in the My Cards page.  I like this page providing more useful info and the ability to easily edit your current entries.  Key time periods are color-coded.  For instance, my Citi Premier card entry is prominently marked red since the annual fee is due within 45 days.  Similarly, the BOA Air France card entry is labeled green since the welcome offer deadline is within 30 days.  Simply float over the alert column messages to display this specific time-sensitive info.
The other columns encapsulate info you entered when you added cards and certain card characteristics which were auto-populated, such as annual fee amounts and future due dates.  I can filter cards based on the user and business by simply clicking on the blue buttons.  Also, I'm able to easily customize which columns show up.
A few windows across the top include similar info and also my Chase 5/24 status.  I find certain windows, especially the annual fees and bonus deadlines, unnecessarily repetitive based on this info's existence elsewhere.  Displaying the 5/24 status is great for beginners.  While displaying status of additional bank rules would also be useful, beginners are understandably more focused on the 5/24 rule.
CardGenie
The CardGenie page contains card welcome offers based on Travel Freely's algorithm.  In my opinion, this page particularly shines with its clean, streamlined format.  I like how uniform the page is, and Travel Freely strikes a great balance of useful info without too much on one screen.  Simply click Learn More on the far right to get a great background on each card, including Zac's customized take.  Similar to the My Cards screen, you can easily customize and filter the display.  In terms of appearance, I think Travel Freely has the most attractive referral page of any site I've seen.
Getting back to Travel Freely's algorithm, I couldn't easily tell at first glance what offers distinguish the tool from any other site advertising cards without such an algorithm.  But with a closer look, it's what is not in the CardGenie recommendations that makes it unique.  Specifically, the CardGenie excludes any cards a user is ineligible for based on each bank's application and eligibility rules. In the future, I'd appreciate the ability to quickly view what CardGenie weeded out and why.  I feel like users would obtain an even fuller picture that way.  Admittedly, this probably isn't an issue for beginners, though.
Resources
Finally, the Resources page contains several handy items for beginners.  Under the Beginners Start Here section, beginners can go through Travel Freely's seven steps, helpfully including videos from Zac.  The Blog Posts section holds a variety of content, including application, earning, and redemption strategies.  Likewise, the FAQ and Help section provide great pointers for anyone starting in the hobby.
Travel Freely Review – Overall Take
Travel Freely provides a great one-stop shop for anyone looking to jump in and better understand the credit card rewards hobby.  The tool guides users every step of the way in establishing a solid foundation for credit card rewards and benefitting from them.  The site has a great overall design and is fun to use.  And the additional work and time to benefit from the site is fairly minimal.
Again, it's free!  But how is it free?  Travel Freely communicates how the site makes money based on affiliate links/credit card referrals.  Kudos to Travel Freely for their clarity on this point – it's viewable to users throughout the site.
The CardGenie tool is tremendously handy for displaying a wide variety of welcome offers in a concise format.  Travel Freely states that certain cards may not show up because the user isn't eligible for them.  Also, Zac has advised that he's continually adding new card offers to the CardGenie, and there's an outside chance certain cards may not appear yet.  Of course, it's probably impractical to expect every possible credit card welcome offer to appear in CardGenie with such a dynamic credit card industry.  Zac encourages users to email him directly for any assistance.  He shared with me that he actively adds new card welcome offers based on user feedback.  Like any reliable site, I understand Travel Freely is evolving to incorporate new features and content, and I look forward to seeing what's next.
Travel Freely Review – Conclusion
I recommend Travel Freely to anyone starting out in the credit card rewards hobby.  While I called it a great one-stop shop for various aspects of rewards, always ensure to supplement your understanding by taking in content from a variety of sources.  The time commitment is minimal, but the tool is as useful as you make it.  For a free service and the resources it provides for beginners, it's definitely solid.  Looking beyond my Travel Freely review, do you use the site?  What are your favorite features?