This post may contain affiliate links - Advertiser Disclosure. As an Amazon Associate, we earn from qualifying purchases.
Disclosure: Miles to Memories has partnered with CardRatings for our coverage of credit card products. Miles to Memories and CardRatings may receive a commission from card issuers. Opinions, reviews, analyses & recommendations are the author's alone, and have not been reviewed, endorsed or approved by any of these entities. Links in this post may provide us with a commission.

From Shawn – This guest post is written by PDX Deals Guy. He is a long time reader of Miles to Memories and an overall great guy. Recently he visited Las Vegas with his wife and took advantage of the American Express Fine Hotels & Resorts benefit. Today he is going to talk about the program and show you how to maximize it to the fullest. You can find more of his writing on the PDX Deals Guy Blog.
American Express Fine Hotels and Resorts Guide
My wife and I just returned from a great 4-day (3-night) long weekend in Las Vegas.  Fortunately for us, we had the deck stacked in our favor to begin with, playing with "house money" via the recent Smart & Final Amex Offer.
While we have had the Ameriprise Amex Platinum card for almost a year and usually go to Vegas a few times each year, we were excited to try out a previously unused-by-us Platinum feature.  That is, booking hotels via the Amex "Fine Hotels and Resorts" (FHR) portal.
Fine Hotel and Resorts Basics
The key benefits of FHR are the "special amenity" (per stay) and free breakfast (each day), although the non-guaranteed early check-in, guaranteed 4pm late check-out, upgraded room (if available), and free wifi can also come in handy.  The most interesting special amenity in Vegas is probably a $100 resort credit at Bellagio, which can be used at the spa or any number of the resort's restaurants, including their very nice buffet.  Unfortunately, most of the other Vegas properties now only offer a $100 spa credit.  The free breakfast is handled differently at each property, but it is usually quite generous.
Given these benefits, FHR can be a great option in many cities.  But Vegas can be a particularly nice city for using the program, given the plethora of nice 4- and 5-star properties at attractive prices.  Using FHR can be such a good deal in Vegas that there is a Flyertalk thread specifically dealing with people sharing their experiences.
Whether using FHR in Vegas or elsewhere, a key item to consider is that they may or may not have competitive rates compared to other websites or booking direct.  Thus, you'll want to compare rates and decide for yourself how much value you get out of the FHR benefits.  We noticed that the FHR rates for the same dates changed frequently, both up and down.  So it may benefit you to check back frequently to see if the rates adjust down, in which case you can cancel and re-book at the lower rate.
Maximizing the Deal
Since the "special amenity" is given per-stay, whether a one-night or multi-night stay, there is definitely a benefit to staying for one night.  This can be potentially taken advantage of if you're traveling with another Amex Platinum cardholder (such as your spouse!), and willing to check-out and check-in each day.  Doing this is not nearly as painful as it might sound, given the early check-in and late checkout benefits (you should never be without a room).
Some people on Flyertalk have reported that they just tell the front desk what they're up to and see if they can stay in the same room.  While there's nothing wrong with two different Amex cardholders taking advantage of this offer, it seems like the check-in/out option is probably safest to make sure you maximize the benefits.
Another option is switching from one property to another (and potentially back).  As you will read, this is the route we utilized.  A final option is to take advantage of the fact that FHR often offers the 3rd or 4th night free (see the "view featured offers" link on the main FHR page – link).  The downside of this is that you only get the special amenity once, although you do still get the breakfast amenity daily.
Our Vegas Experience
After getting the all-important clearance from my wife, we decided to go for the switching properties gameplan.  While Bellagio is definitely the best FHR deal in town, we always enjoy Wynn/Encore, so we wanted to have it in the mix.
Night #1
The first night was a Saturday night stay at the Bellagio (where we have had much better experiences than Shawn.) Weekends are typically the most expensive nights in Vegas, so we "paid up" a bit at a rate of $225 for a standard room.  That price is before taxes and a $29 resort fee (but we had success getting the resort fee waived for this first stay by asking about the "free wifi" benefit at checkout!).
We were upgraded to a 18th floor fountain view room in the main tower, which has the best views of the famous Bellagio fountains. We were also able to check-in around noon with no problem, which is nice given that checking in before 4pm is hit & miss at best, especially on weekends at nice resorts in Vegas.  At check-in, we also verified that we were set up for 4pm checkout the next day, so that we wouldn't have to call back later to set that up.
Recall that the FHR rate comes with a $100 resort credit, which we used for two weekend dinner buffets. The price for the two of us was roughly $85 with tax (although I found that we had to ask for the tax to be included in the $100 at checkout).  If you haven't had a Bellagio (or Wynn or Caesars) buffet, you are in for a treat.  I'm not going to say that it's the best quality food on the planet, but it's MUCH better than most buffets and the range of selections is impressive.  Notable are the 4 to 6 (depending on the day) different meats at a carving station, and both snow and king crab legs sawed perfectly down the middle to make for easy consumption!
At check-in, we were also given two $30 "breakfast vouchers" that are good at a number of restaurants, including the buffet.  The vouchers must be used in their entirety, but we discovered a few interesting things:
They do NOT have to be used during breakfast hours,
They do not both have to be used at the same time (but you may only use a maximum of one voucher per person)
They do not expire until the end of the calendar year (so you can save them for later if you are feeling overloaded with "free" food!).
The second day, before checking-out, we combined the rest of our $15 or so (from the $100 resort credit) and one $30 voucher to have a very nice breakfast/lunch at the Bellagio Cafe (I highly recommend the braised shredded rib dip sandwich!).  That left us with one $30 food voucher for a later date.
Night #2
The second day we departed the Bellagio and checked in at Encore (the newer and arguably nicer property attached to the Wynn Resort), both roughly in the 2:00pm hour (late for one, early for the other).  Our rate at Encore was $179 before taxes and resort fees, bringing the actual total to $233.  It is worth mentioning that all FHR bookings show up with pre-tax/fee prices when searching multiple hotels in a city for a particular date, but when you get to the point of actually booking the room, some include the taxes/fees (like Wynn) and others do not (like Bellagio).  In my experience, the first night of the stay is prepaid (without resort fees), but there is usually a 2-day cancellation option for a full refund (but be sure of this before you book!).
We were told at check-in that we were being upgraded.  While I don't think the room was actually an upgraded floorplan (neither was Bellagio), we did get a very high floor (37th) and southern view of the strip and Wynn golf course.  The front desk agent was very welcoming, and even asked if we were celebrating anything special.  After a brief pause (and thinking to myself "we're celebrating an awesome FHR rate!") I noted that we were celebrating a belated birthday for my wife.  Later that night we found some nice chocolates and birthday card in our room!
The FHR benefits at Wynn/Encore are not quite as attractive as Bellagio.  The "special amenity" is a $100 spa credit, and suffice to say that it's difficult to find spa services for anywhere near $100.  In fact, in terms of true "spa" services such as massages, the cheapest item is $170.  But the spa credit can be used in the adjacent salon, so my wife was able to get a "deluxe" manicure for $70, plus an extra $10 for a french polish (we could have both gotten a standard manicure for $50/each!).
Note that gratuities (and alcohol) are never covered by the FHR spa or restaurant benefits, so please tip accordingly!  Another option we considered was the $40 per person daily access to the spa facilities (such as steam room, hot tub, etc.), but it was nice that the manicure included spa access for the day.
The FHR breakfast benefits at Wynn/Encore are actually a bit more generous, at $40 per person.  Unlike Bellagio, these are a room credit (not a voucher) and must be used for breakfast (by 11am at all but one of the restaurant options).  We used our breakfast credit at the Wynn buffet, which was very nice but well under $40.  On weekends, the brunch buffet is closer to $40, or there are a number of nice restaurants where a person could potentially more fully utilize the credits.
Night #3
The third day we fully utilized the 4pm late checkout at Encore before moving back to Bellagio.  Even though it was a Monday, they were supposedly out of fountain view rooms, but they did upgrade us to a slightly larger junior suite.  These are basically the end-of-the-hall corner rooms (long walk!), with the primary cool feature being a jetted tub with a window view.  The rate was great at just $148.  (Occasionally weekday rates can be found as low as the $120's!)
At check-in, we again received the $100 resort credit, which we used for a nice sit-down dinner at one of Bellagio's very nice restaurants.  We also received the two $30 breakfast vouchers, and made sure that we were set up for 4pm late check-out.  The next day we again used one of our $30 vouchers at Cafe Bellagio, leaving us with two $30 vouchers to use on our next trip (probably for two heavily discounted dinner buffets!).
MLife Hyatt Match & Centurion Lounge
Another nice amenity that we utilized on our trip was the status matching by Vegas MLife properties. We have Hyatt Platinum status simply by virtue of having the Chase Hyatt co-branded credit card and thus were given MLife Gold.  The primary benefits we utilized were the priority check-in line for "invited guests" (although beware that this line can actually be longer, but possibly worth it for potential better treatment in regards to room upgrades?) and a much shorter invited guests line at the buffet (which can be a BIG time saver a peak times).  There are also benefits for accruing MLife points while gambling (toward "comps") and discounts at retail stores.  Platinum MLife members also get free access to a number of venues including the Bellagio Fine Arts Gallery and the Mandalay Bay shark reef.
As if the Amex Platinum card didn't do us enough favors via the FHR program, we actually book-ended our Vegas trip with complimentary visits to the Centurion lounge in the D terminal (which can be easily accessed from the C terminal via two quick tram rides, and even the A & B terminals with a bit of extra walking, without having to exit/re-enter security).  Given that we arrived to Vegas early, starting with a nice breakfast before our Bellagio check-in was convenient and nice.  And then ending the trip with a light dinner and drinks in the lounge was a pleasant capper before the harsh reality of the flight home to the real world!
Conclusion
All-in-all, it was a very great trip and a huge "value" success in utilizing the Amex Platinum Fine Hotels and Resorts benefits.  Considering we received upgraded rooms and utilized both early and late check-in/out, we would have been very happy with nightly rates at both Bellagio and Wynn/Encore in the $200/night range (plus or minus depending on the day-of-the-week).  But throw in the "special amenity" ($100 per stay) and free breakfast (daily), and it is a tremendous value that will definitely play into the equation of whether we will continue to keep the Amex Platinum when annual fee time rolls around.
The only downside to the trip is that we ate way too much good food and now need to go on a post-trip diet to shed a few pounds! We are looking forward to trying FHR in other cities (if the rates make sense), and will definitely be using it again in Vegas!  We would be interested in comments from other folks who have utilized FHR.  Any tips or tricks we missed?
Disclosure: Miles to Memories has partnered with CardRatings for our coverage of credit card products. Miles to Memories and CardRatings may receive a commission from card issuers.
---
New Card - Capital One Venture X Business 150K!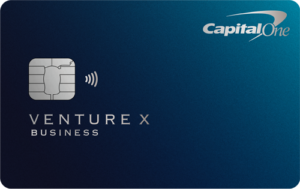 Capital One Venture X Business
earns 2X miles on everyday purchases plus up to 10X in bonus categories. You also get access to Capital One lounges plus an annual travel credit & anniversary bonus. Right now you earn
bonus_miles_full.
---
Opinions, reviews, analyses & recommendations are the author's alone, and have not been reviewed, endorsed or approved by any of these entities.