Disclosure: Miles to Memories has partnered with CardRatings for our coverage of credit card products. Miles to Memories and CardRatings may receive a commission from card issuers. Opinions, reviews, analyses & recommendations are the author's alone, and have not been reviewed, endorsed or approved by any of these entities. Links in this post may provide us with a commission.

Delta Boarding Order & How To Get Priority Boarding
Moving ahead in the Delta boarding order can be helpful when you want some overhead bin space. Less clamoring for bins. More space for your feet now. Less waiting behind people who move like molasses during boarding. Let's look at Delta's boarding groups and how to get priority boarding.
Boarding Groups & Delta Boarding Order
The Delta boarding order is published here. This is how things work in normal times and probably what Delta will move back to when travel normalizes. Let's look at who boards when, so then we can understand how to move up in the boarding order. I'm purposefully not including pre-boarding for people who are disabled, pregnant, have babies, etc.
Active duty U.S. military
Delta One & Delta Diamond Medallion
Delta Premium Select & First Class passengers
Families with car seats & strollers
Delta Comfort+ passengers
Sky Priority (Platinum Medallion, Gold Medallion & top-tier status from partners)
Main Cabin 1 (Silver Medallion

, 

Delta Corporate Travelers, Priority Boarding Trip Extra customers, Delta SkyMiles Gold / Platinum / Reserve Card Members & mid- or lower-tier elite status on partners)
Main Cabin 2
Main Cabin 3
Basic Economy passengers
There it is. That's how we are getting on the plane with Delta. Depending on factors like your frequent flyer status, when you bought your ticket, how much you paid, class, etc., you can move up in the line. Let's see how we can move up in the Delta boarding order.
How To Get Priority Boarding With Delta Airlines
Want to move up in the line in the Delta boarding groups and board earlier? If so, there are several approaches. Let's start at the top of the list and work our way down.
Be Active Duty Military
If you really want to be the first one to board, sign a contract with Uncle Sam. Active duty military are number 1 on our list. Delta will let you board first in the process by showing your CAC and/or orders with your ticket. If you're military, make sure to check out our articles about special perks from American Express and banks that waive fees for military members & their families. No one will join the military just for this perk, so let's continue.
Fly In A Higher Fare Class
Moving down the list, we'll see Delta One and "First Class," which is their domestic business class. Also up here is "Premium Select", which is their premium economy option. If you want to get priority boarding with Delta Airlines, this is a feasible option. Without all of the effort and mileage runs needed for elite status qualification each year, book a higher fare class. Look for points breaks and deals on flights in first, business, or even premium economy. This boarding group is obtainable with points & miles, rather than shelling out for it. Cardholders can also take advantage of reduced mileage fares.
Travel With A Small Child
Don't have a kid just for this, but it's nice to know that you can board 4th. Additionally, a lap infant will fly free on domestic Delta flights, so get those flights in before the 2nd birthday. Delta policies on children's seats are here.
Earn Elite Status
Next on our list, we see people with elite status. Delta's elite status program is Medallion, and it has several levels. From highest to lowest, it's Diamond, Platinum, Gold & Silver.
People with Medallion status board in number 2 on our list. If you're looking for guides on status runs, Ian has one here. If you're lazy or don't see the value in it, then let's keep moving down. Just know this can move you into 2, 6, or 7 on the list, depending on your status. It's likely group 6 or 7, unless you're really flying a ton of cash fares with Delta partners.
Pay For More Space
Delta Comfort+ passengers are in Delta boarding group 5 on our list. If you pay for more space (think bulkhead seats & exit rows), that will also move you up on the list. Another perk is that Delta has dedicated overhead bins for Comfort+ seating areas, so you're not fighting for limited bin space.
The idea of paying for more space also includes Priority Boarding Trip Extra. Available here as an add-on to your trip, $15 moves you up into Main Cabin 1 during boarding. Group 7 isn't all that high on our list, but it's at least above 8, 9 & 10.
Get A Credit Card
This is another simple option for moving up higher on the list. You can get in the Main Cabin 1 Delta boarding group by having one of their co-branded credit cards. Unlike other airlines that differentiate among cards, with some cardholders boarding before others, Delta puts them all together. You can board with Main Cabin 1 (group 7) by having one of the following credit cards:
Personal Credit Cards
Business Credit Cards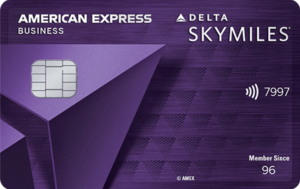 Travel For Work
If you're traveling for work and your company has Delta Corporate Travelers agreement, you also board in group 7. This isn't something most of us can set up, but it's nice to know this is out there. If you travel for work and use Delta Airlines often, see if this is something your company can establish.
Final Thoughts
Now we know how the Delta boarding groups work and how to get priority boarding with Delta Airlines. We looked at the order of boarding and how to move ourselves further up in the line. Having one of their Delta Airlines co-branded credit cards (learn more) is not only a good way to get priority boarding but also free checked bags on domestic flights. Status and class of travel are other ways to move up quite high on the list. Being in the military or having a business travel agreement are other options, though less common. If you're really desperate to move up on the list, there are also options to pay for it. Have a great trip!