LATAM Business Class Review: New 777 Product São Paulo To Miami
My LATAM business class review is based on a recent flight from São Paulo GRU airport in Brazil to Miami MIA airport. We flew on their new-ish Boeing 777 product. Launched in late 2019 (then rolled out during the pandemic, with no one really flying on it much), it's marketed as a considerable upgrade from their previous 767 aircraft. How was it?
Despite the fact I consider LATAM to be the worst airline in South America, I was anxious to try this product. I've had numerous problems with their staff. They are late and unreliable even on good days. In fact, this flight left 39 minutes late (more on that below). I put aside all of that to go into this flight with an open mind. Here's how it went.
Booking Process
We booked with Alaska Airlines miles. The cash price of this flight was $2,049 at the time of our booking. Closer to the flight, it sold for $3,000. With Alaska Airlines, we paid 45,000 miles each + 91.65 in taxes & fees.
Note that with Alaska Airlines you pay a partner booking fee of $15 per passenger and a one-time $25 phone booking fee. That phone booking fee annoys me, since you cannot book LATAM flights online with them. You have no choice but to book on the phone, and then they charge you for it.
45k miles + $91.65 is a value of 4.3 cents per mile. That's well above our average valuation of Alaska Airlines miles.
Check In
Check in was fantastic. We sent an email (and later received a survey, which we completed) complimenting the check-in agent. He was super friendly and patient with us. We used this flight to officially move out of Brazil, so we had a ton of stuff. He was friendly and helpful, organizing things conveniently while going through our documents and tagging the bags.
Some of the bags were a bit over the weight limit, so he patiently waited while we moved a few items into other suitcases. I've had numerous experiences with unfriendly, gruff employees at LATAM. Diogo (this agent) set the bar for fantastic service.
Prior To The Flight
While waiting for our flight, we visited the LATAM VIP Lounge at São Paulo GRU airport.
The lounge is spacious and large. The smiling woman at the desk scanned our boarding passes and confirmed boarding time / gate location for us.
The lounge had everything you'd expected in a business class lounge. The decorations are well done and unique.
I found it strange that I couldn't find a urinal in the men's bathroom. Everything was private rooms with a toilet & sink.
While I wouldn't describe the food & drink options as anything incredible, they were well stocked and had variety.
Boarding Process
Boarding was…a complete mess. Awful.
At check in, we showed our required COVID tests, passports, and health declaration forms. That should be sufficient, right? Wrong.
We were not waiting at the gate when boarding started. When we showed up about 10 minutes later and tried to board, we were told that we hadn't shown anyone our documents. We had…at check in. "Well you didn't show them to us." This is something about LATAM that drives me nuts. No LATAM employee can allow another LATAM to do his/her job. There is redundancy everywhere with them.
We had to get in a separate line to show all of our forms again. Then we could get back in the boarding line and get on the flight. First, we had to pass the slow/inefficient check-in agents who scanned our boarding passes. We boarded through the middle door, near row 7, in the middle of the business cabin.
No wonder we left 39 minutes late. I got inside the plane about 10 minutes before scheduled take-off. At the time I entered, I was only the 3rd person in the business cabin. Boarding needs major improvements here. Remove redundancy and scan boarding passes without unnecessary chit-chat that slows down the boarding process.
LATAM Business Class Review – Hard Product
Once inside the plane, how was it? In this part of my LATAM business class review, I'll look at the hard product. That's everything built into the plane, such as the seat, features, bathrooms, etc.
For unknown reasons, our seats were changed after check in (online, 24 hours in advance) and before arriving at the airport. We previously had the middle seats together in row 3 (seats 3E and 3F). We were changed to 3L (right side window) and 6C (left side window). I moved my wife to 4J, the seat behind me in 3L.
The Cabin
The cabin is a staggered 1-2-1 layout. In odd-numbered rows, the middle seats are together, with the arm rests / storage near the aisles and seats in the middle. In even-numbered rows, the arm rests / storage are in the middle, with seats more exposed to the aisle. This is also true of the single seats near the window.
The business class area is cut into 2 mini cabins, with rows 1-6 in the first section. There is a wall and 2 lavatories before rows 7-10. Each row has 4 seats, except where the lavatories are. There are a total of 38 seats.
There is ample overhead storage, with bins above middle and aisle seats. However, the bins are cut into sections for each row and labeled as to who they belong to. The small-ish nature of the bins created a problem for the man in row 2 with a guitar.
The Seat
At first glance, the seat looks nice. It's definitely a more modern product than their previous aircraft.
While not overly wide, it doesn't feel cramped while sitting in the seat. It's decently comfortable and is a fair product when compared to other airlines. It's "middle of the pack".
My wife's seat was more exposed to the aisle, while mine was closer to the window. If you're a light sleeper, odd-numbered seats will be better, so you don't wake up when people pass by. Odd seats definitely provide more privacy. In the middle section, you'd also be much closer to your travel partner.
In terms of depth, you're close enough to the TV screen to easily touch it. However, it's far enough away that you don't feel cramped. Nothing tucks away or swivels out to create more/less space.
An area to improve, though, is the access to the seat from the aisle. It's a bit tight. I wear size 11.5, and it was very difficult to pass my foot through the entry facing like this. Thus, you need to turn your foot one direction but body a different direction to move in/out of the seat. It was a bit awkward.
Arm Rests
In seat 3L, I had a standard arm rest (which did not go up & down) near the window. On the aisle side, I had a large arm rest with storage space. The marble design on this arm rest gives it a great look. Really unique.
Storage
Above the large arm rest with the marble design, there is a bit of storage. It's not much.
A small or medium laptop can fit into the rack where the amenity kit is kept.
This bin operates on a magnet. Push down, and it pops open. I put my phone charger in here. Later, I could not for the life of me get it open again to retrieve my charger. My wife had a lot of trouble opening hers, also. I'd say it took a good 25 tries to open the bin to get my phone charger out. I didn't use the bin after that.
Tray Table
The tray table slides out from under the marble arm rest. Simply push the button and it pops out. Very smooth and doesn't make any noise. It's a decent size.
Seat Features
On the main, larger arm rest, there is a universal outlet. Near the entertainment screen, there's a small coat hook.
The seat controls were easy to use and responsive. The best part of the controls is that they're in 2 places, easily accessible when sitting or when sleeping.
One of the best features is that the seat has a variety of lights accessible in different places. From the TV remote, you can turn on overhead lights.
There's a reading lamp that turns on automatically when you pop it open. It has varying degrees of brightness that are easy to change.
A subtle light near the TV screen is controlled from a button on the seat controls.
The seat also has a 'do not disturb' function. Push the red padlock on the seat controls, and it becomes a bright, bold red color.
This green light on the aisle will become red when 'do not disturb' is activated.
Personal Entertainment System
While not impressive, the screen for the personal entertainment system is a good size. It's clear and has good quality.
The screen responded easily to touch, so I only used the remote just to test it. It worked as expected.
The entertainment system had a good variety of TV shows, movies, games & music. I had a difficult time finding and viewing the flight info, but this is available as well.
Headphones were located at the seat on my arrival. Unlike American Airlines, crew didn't come reclaim them in our sleep/wake us up for the headsets. The headsets were functional but nothing to write home about.
Overall, I enjoyed watching a movie in the take off / dinner part of the flight.
The Bed
Prior to boarding, staff placed 2 plastic packs on each seat. One contained a mattress pad. The second contained a duvet and pillow. The fact we had a mattress pad intrigued me.
The mattress pad was tailored to the size of the seat when put into the sleeping position. 2 elastic straps (one at each end) go around the seat cushions to hold the mattress pad in place. However, you need to attach this BEFORE laying the seat all the way down. I had to put it up a bit to attach the straps, then put the bed down again.
The bed is not wide by any stretch of the imagination. It's just big enough to lay down, but if you're a big person, it could feel cramped.
The foot well is decently roomy.
It wasn't plush, but I was able to fall asleep and stay asleep on this bed. It wasn't hard or uncomfortable, but it's also not the best. Again, it's decent and does the job as expected.
Business Class Lavatories
There is nothing special about these. There are 2 lavatories in the middle of the business class cabin, plus one near the door to the cockpit. They are standard lavatories with no amenities and no extra space.
LATAM Business Class Review – Soft Product
This part of my LATAM business class review covers the soft product. This is for things not built into the plane, such as service, meals, and amenities. How were these? This was the biggest area where I tried to put aside previous experiences and go into the flight with an open mind.
Amenity Kit
I found the amenity kit at my seat when boarding. The bag had a unique design, not like any I've received on other flights with other airlines.
Inside, it had a pen, hand cream, lip balm, ear plugs, a refreshing wipe for your face, eye mask, toothbrush & toothpaste, and socks.
Additionally, a bottle of water was placed at each seat prior to boarding.
Staff also distributed slippers just before takeoff. These were average, but I always appreciate slippers on flights.
Staff Service
For me, this was the biggest question mark going into the flight. I tend to find LATAM employees (from check in to HQ, from boarding to flight attendants) sub-par. However, I've never flown long-haul business class with LATAM. Entering with an open mind, I have to say I had a good experience.
After the boarding disarray, when I entered the plane, not a single person said "hi" to me. In fact, I had to say "excuse me" to pass through a group of 3 flight attendants so I could turn left into the aisle where my seat was. None of them said anything to me—not a word. It wasn't off to a good start.
However, the flight attendant we had was fantastic. If you think of "great flight attendant", she's it. She was friendly, lots of smiles, all of that. However, she also didn't hover or bother you when you wanted to just sleep or watch a movie. It was the perfect balance of "there when you want her, leaves you alone when you want". From takeoff to leaving the plane, we didn't talk to any other employees. We dealt with 1 person for everything, and she was awesome.
Meals
As always, we pre-ordered special meals. My wife and I are both vegan, and LATAM messes this up consistently. We have flown all over South America and over to Africa with LATAM, and they mess up the meals consistently (missing, incorrect special meal, tell us we didn't pre-order even though we did, etc.).
I'm happy to say LATAM got this right. You can't request special meals on their website, which is very odd for 2021. I requested via Twitter a few days in advance and confirmed the day prior.
When boarding, I spoke to our flight attendant to confirm the meals were on board, and they were.
Menus were placed at each seat before boarding. There are a good number of options, and you can indicate your choices, as well as whether you want to wake up for breakfast.
The flight attendant simply took our drink orders and asked if we want to wake up for breakfast. I said yes, my wife said no.
Dinner
Dinner was just OK. It included a bit-too-salty vegan meatloaf with rice and veggies. We also had fruit, plus a Mediterranean couscous + veggies plate. The tray had jam, but there was no bread.
It wasn't great by any measure, but it was filling and edible. And I'm happy I got the meal I ordered.
Breakfast
Breakfast was…how to say it. Think of all the jokes about what people think bad vegan food is. That was this breakfast.
It was just slices of plain, cold tofu. I like tofu. It gets a bad rap. However, this is why it gets dissed all the time. No one likes plain tofu, so this was a big letdown.
I ate the fruit and the bread with jam.
Overall Thoughts On Service
If I hadn't made it clear, our flight attendant was fantastic. The fact I passed through a group of 3 flight attendants who didn't even say "hi" when boarding made me wary. Things got much better after that. Plus, LATAM at least brought our requested meals on board, which is always a good sign. The food wasn't special at all, but it was passable.
When exiting, no one from the flight crew was at the door to say bye, but the ground agent operating the jet bridge was friendly and saying hello to everyone.
Check-in and the flight attendant were definitely high points. Boarding brings down the otherwise-excellent service experience.
Final Thoughts On LATAM Business Class On Boeing 777
From start to finish, my LATAM business class review could be summed up like this: it's an average product that I would fly again, and our particular flight attendant made the experience above average.
There were some areas for improvement, for sure. The flight attendant who served our meals should teach everyone else how to be like her. Boarding could improve. The hard product isn't outstanding, but it's a fair offering that can hold up against what other airlines have these days.
I tend to avoid LATAM whenever possible, but I was pleasantly surprised with this flight experience.
Disclosure: Miles to Memories has partnered with CardRatings for our coverage of credit card products. Miles to Memories and CardRatings may receive a commission from card issuers.
---
New Card - Capital One Venture X Business 150K!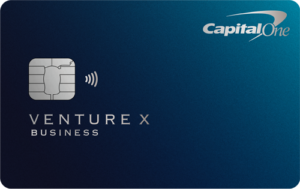 Capital One Venture X Business
earns 2X miles on everyday purchases plus up to 10X in bonus categories. You also get access to Capital One lounges plus an annual travel credit & anniversary bonus. Right now you earn
bonus_miles_full.
---
Opinions, reviews, analyses & recommendations are the author's alone, and have not been reviewed, endorsed or approved by any of these entities.