Disclosure: Miles to Memories has partnered with CardRatings for our coverage of credit card products. Miles to Memories and CardRatings may receive a commission from card issuers. Opinions, reviews, analyses & recommendations are the author's alone, and have not been reviewed, endorsed or approved by any of these entities. Links in this post may provide us with a commission.

Chase Freedom Unlimited Increased Offer Makes It A Must Get
Chase has really been making me think these last few weeks.  I had to do the mental olympics on the Sapphire Reserve card, with the pay myself back feature.  That has actually been working out better than expected, with continued spending offers. Plus, I still haven't been billed the annual fee yet (😉). Now Chase launched a whole new offer on the Chase Freedom Unlimited card that has me back to the drawing board. The Chase Freedom Unlimited increased offer is so good that I think it is a must get card for a lot of people.
Details of the Chase Freedom Unlimited Increased Offer
Here are the details of the new offer:
Earn a $200 welcome offer after you spend $500 on purchases in your first 3 months from account opening
5% cash back on grocery store purchases (not including Target or Walmart purchases) on up to $12,000 spent in the first year
Unlimited 1.5% cash back on all purchases
0% Intro APR for 15 months from account opening on purchases
No annual fee
Why This Offer Is So Good
The $200 (or 20,000 Ultimate Rewards points with an annual fee card on the account) is somewhat a normal offer.  The standard welcome offer is for $150, but it is often increased to $200, so that isn't a noticeable increase.
Adding 5% back on grocery spend, up to $12,000 in the first year, is the real eye catching perk here.  Many people's grocery bills are higher than ever right now so this is a large area of spend. There are also other opportunities at grocery stores for people that are even slightly creative.  The $12,000 limit should be reachable over 12 months for many people. That is an additional 60,000 points if you are able to complete the spending.
The 0% APR is an underrated part on the offer too.  Especially if you could use a little breathing room right now with everything going on.  Or, you can use it as an investment vehicle with an interest free loan.  There are a lot of possibilities there too.
Why The Offer Has Flipped My Plans On The Side
I wrote about my upcoming plans for my wife's final Chase 5/24 slot a few weeks back.  If you remember, I was taking a slightly different approach with her World of Hyatt card.  I planned on paying the annual fee to get the free night, since I value it over the $95 annual fee.  Then I would have her complete the $15,000 in spend to earn another category 1-4 certificate. Once that was done we planned on closing the card and opening a new account for the 50,000 point welcome offer.
That plan has already been set into motion. We have paid the annual fee and completed $5,000 worth of the spend so far. However, this offer has me rethinking that plan.  Should I abandon ship and jump on the Chase Freedom Unlimited offer instead?  Would that make better sense?
Comparing The Two Offers
Let's take a look at the two offers:
Chase Freedom Unlimited
After spending the $12,000 on grocery purchases I would have the following:
20,000 points from the welcome offer
60,000 from the grocery spend
A grand total of 80,000 points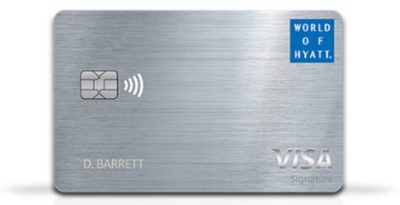 World of Hyatt Card
If I put the same $12,000 in spend on the World of Hyatt card I would have the following:
50,000 World of Hyatt points from the welcome offer
At least 12,000 points from the spending
An additional 12,000 points from the free night certificate
A grand total of 74,000
I added an additional 12,000 points for the free night certificate on the World of Hyatt card.  After spending $12,000 she would only be $3,000 away from the $15K free night cert.  That certificate is worth as much as 15,000 points, or an extra point per dollar.  Giving it a full 1 point per dollar valuation is a little generous but I wanted to go with the maximum value out there.
Crunching The Numbers
As you can see the Chase Freedom Unlimited comes out on top by 6,000 points.  That doesn't factor in that the points are essentially Ultimate Rewards points, if you have an annual fee Ultimate Rewards earning card.  I value UR points a little bit more than World of Hyatt points since they are flexible.
Final Thoughts
My plan going forward is to wait for the free night to post from the World of Hyatt card's annual fee, which can take a bit. I will then have my wife close the account and abandoned the final $10,000 in spend for the second free night certificate.  In a perfect world we would complete the spend and then close the account.  I am not going that route since I have not seen an end date on the Chase Freedom Unlimited increased offer and I don't want to risk missing out.
Once the World of Hyatt card is closed I will have my wife apply for the Freedom Unlimited.  This is perfect timing to replace some of my Ultimate Rewards stash from the pay myself back feature.  It will chip away at the 200,000 points that I have cashed out, giving me 40% of those points back fairly quickly.
Has the Chase Freedom Unlimited increased offer changed your application plans at all? Are you pivoting to a new plan because of it like I am?