Best ATM Card – Is Fidelity A Contender With Schwab & SoFi?
You can't be a contender for the best ATM card unless you waive fees for accessing cash–including in other countries. Standard-bearers for the best ATM card are typically Schwab and SoFi. I even bluntly proclaimed that if you don't have a no-fee ATM card you're getting ripped off. The Fidelity debit card also offers reimbursement for all ATM fees for certain customers. Let's take a look at the Fidelity debit card and whether it's a contender with the best ATM card heavyweights.
Fidelity Debit Card Details
Here are the key details of the Fidelity debit card:
Access to more than 1 million ATMs with fees waived / reimbursed
ATM surcharges waived for: users with Fidelity Cash Management Account, Fidelity Account Premium, Private Client Group, Wealth Management, or household annual trading activity of 120 or more stock, bond, or options trades
No annual fee
Additional perks:

Extended warranty services for first 90 days from date of purchase
Travel and emergency assistance
Worldwide travel accident insurance
Auto rental collision damage waiver
Fidelity Cash Management
As noted, Fidelity debit card is available only to those with the Fidelity Cash Management or other premium account services. Let's look at the Fidelity Cash Management account to see what it is and whether it makes sense to get one.
Fidelity Cash Management is a brokerage account that includes FDIC insurance, which is not common. The cash balance in the account also earns interest, because it functions like a hybrid brokerage-checking account. The account also provides access to other investment accounts besides stocks and trading. This includes mutual funds and CDs.
On top of all of that, you can link the account to external accounts to move money around easily. You can open the account with no minimum, and there's no monthly fee. Just pay per trade.
Comparing With Schwab & SoFi
Now that we know about Fidelity's offering, let's compare it to the no-fee ATM card options from SoFi and Schwab to see if it deserves a spot in the discussion of best ATM card options.
SoFi
Online-only newcomer SoFi has a fee-free network of over 55,000 ATMs. That's on top of their no-fee policy on foreign transactions. You even earn interest on top of all of this, though it varies depending on account balances and activity. You can see more about it here.
The plus for SoFi is that you don't have any account minimums or need to do any trades etc. to qualify for ATM fee reimbursement. The plus for Fidelity is that you have access to more types of services, along with the FDIC insurance.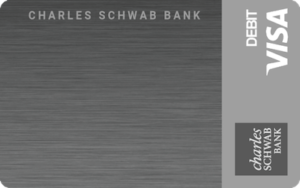 Schwab
We once described the Schwab debit card as the one card everyone should get. There are no ATM fees, no foreign transaction fees, AND they reimburse you for any fees tacked on by the ATM you used (including insane amounts). It also gives you access to the Charles Schwab Amex Platinum Card, which you can use to cash out your Membership Rewards.
The plus for Schwab is the access to the extra version of the Amex Platinum Card. In many respects, these 2 cards are really similar. You need to have an investment account, but neither has a monthly fee or minimum balance.
Fidelity Debit Card – Is It a Best ATM Card Contender?
In my view, the short answer is "yes".
Yes, it requires more work to set up the accounts needed for the perks and access to the card. The easiest option out of any is SoFi. You can open this account online in 5 minutes and get it over with. With Fidelity and Schwab, you need to open investment accounts, wait for those to get approved, and transfer money into the account. However, I think it's worth the effort for the perks offered by the Fidelity debit card. No fees on the account, no minimum balance, and the perks outlined above are a good combination and worth the effort I foresee.
Final Thoughts
The Fidelity debit card is a new one to me, but I'm glad I learned about it. It's surprising to find a debit card that offers travel perks. I'm even more surprised by their FDIC insurance on this hybrid brokerage-checking type of account. The fact it has no fees for ATM use, for account maintenance, or even low balance/low activity fees really surprises me. If I didn't already have the Schwab account and my USAA account, I'd honestly sign up for the Fidelity account. It seems like a contender for the best ATM card.
Do you have the Fidelity debit card? Any other perks you love about it? And if you haven't heard of it until now, are you thinking about signing up? Let us know.