This post may contain affiliate links - Advertiser Disclosure. As an Amazon Associate, we earn from qualifying purchases.

Points and Miles Freedom:  Open Your Mind to Rewards Beyond Travel
Travel is many things.  And to each one of us, those exact things differ.  But we commonly strive to have fun, in some measure, during our travels.  Indeed, as points and miles hobbyists, we go after that fun element more passionately.  Some of us enjoy the fun of planning the trip just as much as the travel itself.  I fit in this category often.  Not coincidentally, many of us don't want to give up travel rewards for everyday, non-travel rewards because that's not perceived as being as much "fun" (or insert your preferred adjective denoting superiority).  And hence, over time, we can easily ignore everyday rewards in our endless quest for all-valuable travel rewards.  However, what are we missing when we don't assess rewards beyond travel?  How can we enable even more points and miles freedom?  I share today a few considerations I've taken into account as I've earned and redeemed points and miles through the years.  I periodically need the reminders, and maybe a few of you will find them enlightening.
We've All Been Conditioned
Ever since the first modern frequent flyer program in the late seventies, we've associated rewards and loyalty with travel.  These travel loyalty programs took off (ahem), permeating other airlines, hotel corporations, rental car agencies, and so on.  Credit card programs linked up in the mid-eighties, feeding everyday consumers/travel beasts.  The industry grew further, and the internet turbocharged it.  Not too long ago (relatively), people started talking about all this stuff on the internet for money.  For over 40 years, the masses have increasingly eaten all of this stuff up, including this writer.  And through it all, we've been encouraged/conditioned to redeem our rewards for travel.  Travel rewards have been and are the standard.
Consequently, it's natural to discard everyday reward redemptions unrelated to travel as subpar, less fun, unprincipled, lazy, uninformed, lame, etc.  Quite often, if a redemption doesn't neatly fit within travel loyalty norms we're comfortable with, we'll presume the redeemer is confused or misguided.  I've heard some pontificate that if I'm not redeeming for travel, I'm in this game for the wrong reasons.  My response to that is I'm playing a different game, one that is bigger than, but substantially includes, travel.
Why do you enjoy travel rewards?  Do any of your other life goals rank above travel?  If so, can rewards help meet those higher-priority goals?
Points and Miles Freedom – A Paradigm Shift
Travel Rewards
The vast majority of travel redemptions involve a linear progression for redemption.  Most frequently, this involves redeeming bank points, hotel points, or airline miles for a given travel product or service.  Let's consider the traditional travel rewards redemption in these terms:
Travel Goal + Redeemed Travel Rewards = More Rewarding Travel (Elevated Travel Experiences, Cheaper Travel, etc)
I first wrote about this angle here.  Now, let's put those travel rewards in perspective.  Life includes everything – the normal/everyday/non-travel part and the holiday/vacation/travel part.  Through that lens, here are travel rewards benefits graphically:
We can greatly benefit from travel rewards while on trips.  No surprise there.  But travel rewards aren't providing any benefit to us during our everyday lives, though.
Rewards – A New Paradigm
You can expand your rewards options, though.  But to do so requires a paradigm shift.  Quite simply, consider all your credit cards, loyalty memberships, rewards currencies, and elite status as means to obtain "Rewards", rather than unnecessarily-limiting "Travel Rewards".  Now, consider this:
Life + Rewards = More Rewarding Life (More Fulfilling Experiences, Opportunities, Living More Cheaply, Increased Savings/Investments, etc)
By opening our minds to rewards beyond travel, our rewards benefits chart looks like this:
Historically, we've primarily focused our rewards on the travel part, which for most of us, is a relatively minor portion of our lives.  This isn't surprising.  This very minor travel portion is targeted at us incessantly, through loyalty programs, elite status, social media, blog content (like mine), etc.  Indeed, the minor portion is perceived and inflated to mean everything to some individuals.
Enough of this Travel Industrial Complex.  Why have we focused our rewards almost exclusively on travel – a comparatively miniscule portion of our lives?  Instead, why not leverage our rewards in a way that applies to the majority, or hopefully all, of our respective lifetimes?  Why not be enriched continuously, perhaps even daily, from our rewards, rather than longingly looking at that award trip that's booked but seems so far away?  Over the past few years, I've moved toward rewards redemption strategies that look more like the second chart than the first.  What about you?
Everyday Rewards Are Improving
In the early stages of travel loyalty and credit cards, few redemption unrelated to travel existed.  However, everyday rewards options have been improving for years.  The pandemic has accelerated everyday rewards growth even more.  Here are just a few examples:
Cashing Out:  Redeeming credit card points for cash has been fairly easy for years, and certain options are improving value.  Chase's Pay Yourself Back feature increases point values from 1 cent per point (cpp) to 1.25 or 1.5 cpp for transactions similar to cashout.  Most other banks and many travel loyalty programs provide easy options for cashing out or valuable gift cards.
Overall Card Benefits:  Banks are increasingly providing a variety of offers and credits for goods and services unrelated to travel.  Some have been instituted over several years, while others have increased as a response to the pandemic.  For instance, some cards' travel credits have become grocery store credits.  I personally believe that this everyday rewards trend will continue.  Even if banks slow this trend, I don't think they'll be able to revert completely back to travel rewards.
Competition:  Card issuers, from small credit unions to the heavyweight banks, are increasingly competing for our spend.  That is great for us as consumers.  We've seen this manifest itself through ever-increasing welcome offers and category bonus earning rates.
Everyday Rewards Deliver Where Travel Rewards Can't
I've routinely obtained up to 10.2% back in rewards on spend with a clothier's credit card and essentially zeroed out our family's clothing expenses.  Earning at that rate for unrelated spending, particularly at grocery stores, has been a no-brainer.  Stacking Cash App and grocery fuel points programs enable me to save 22.3% on spending.  Many are able to redeem their excess fuel points for groceries.  Using restaurant loyalty programs, often stacked with those dining credits from card issuers, we greatly decrease our bills for going out to eat.  These are just a few examples – so many more options are out there.  Someone focusing on travel rewards may only benefit when he or she gets that free airline ticket and/or hotel room on next year's trip (and if the boss approved the time off).  Meanwhile, those of us focusing on everyday rewards are benefitting, shockingly, everyday.
Focusing On Rewards Includes Travel
By focusing on a more general "rewards" category, a consumer isn't excluding oneself from travel rewards.  Savvy consumers can benefit from it all – travel rewards and everyday rewards.  For instance, I cash out many rewards currencies in the near term while simultaneously amassing airline miles and hotel points for trips months and years down the road.
Consider how redeeming everyday rewards can positively impact your future travel freedom.  You can choose to cash out certain rewards now to immediately lower your normal expenses.  With a bit of recordkeeping, you can then contribute the money you save to a future, TBD travel reward.  Yes, it's a bit more effort to keep track, but you are actively engaged in redeeming your points and miles.  Points and miles aren't worth anything until you redeem them. 
Consequently, I live by three words in this hobby:  ALWAYS BE REDEEMING.  That works for me; it may not work for your specific situation.  Regardless, you should always have a feasible redemption in mind when you are earning points and miles.
Points and Miles Freedom – Conclusion
I'm not trying to dissuade anyone from pursuing their travel rewards goals, nor am I attempting to convince anyone to arbitrarily redeem for everyday rewards.  Only you truly know your goals.  Rather, this article is more about having one's mind open to all possibilities for their rewards, basically maximizing one's points and miles freedom.  By first considering alternatives, those who pursue travel rewards can feel even more confident with any given redemption, and others may realize everyday rewards can benefit them more immediately, directly, and/or substantially.  That's why I proudly say I'm in the Rewards hobby, not the Travel Rewards hobby.  Quite simply, I'm not saying "no" to travel rewards; I'm saying "yes" to everything.  What about you?
Disclosure: Miles to Memories has partnered with CardRatings for our coverage of credit card products. Miles to Memories and CardRatings may receive a commission from card issuers.
---
New Card - Capital One Venture X Business 150K!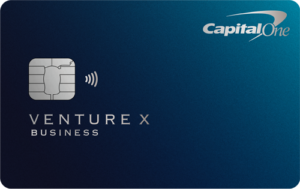 Capital One Venture X Business
earns 2X miles on everyday purchases plus up to 10X in bonus categories. You also get access to Capital One lounges plus an annual travel credit & anniversary bonus. Right now you earn
bonus_miles_full.
---
Opinions, reviews, analyses & recommendations are the author's alone, and have not been reviewed, endorsed or approved by any of these entities.