Caesars Diamond Status Match
It is that time of year again, that magical month where you can partake in the Caesars Diamond status match and earn valuable status without gambling. The beginning of the year presents a window to take advantage of the Wyndham and Caesars partnership and their status match program. In this guide I will show you what Caesars Diamond status gets you, how to status match into it and other ways to earn Caesars Diamond status without gambling.
Caesars Status Levels
Let's first take a look what is required to earn each level of status in the Caesars Rewards program. The tier credits required can be earned from gaming, hotel, dining and property spend. Just be sure to show your players card before every purchase, or bill it back to your room if staying at a Caesars Rewards property.
Here are the levels and their tier credit requirements:
Caesars Rewards implemented the various levels of Diamond status a few years ago. This was to remove some of the perks from people earning the status via match (people like us 😁). They also added in some extra perks for people earning Diamond Plus and above. There is no way to earn above the base Diamond status level via match, you must earn the required Tier Credits.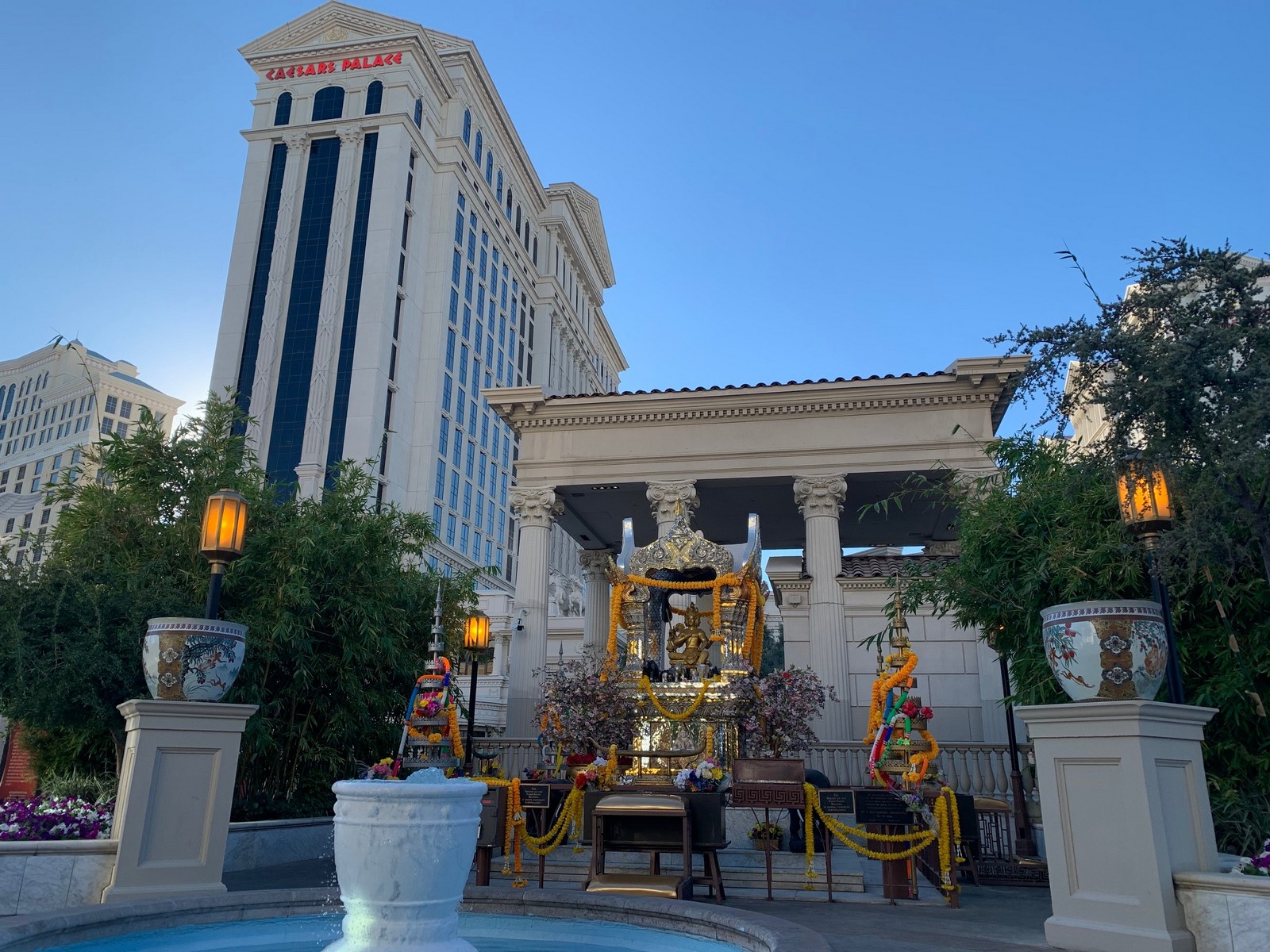 Caesars Diamond Status Perks
Now that we know the different tiers in the Caesars Rewards program we should discuss what you get after completing the Caesars Diamond status match.
Caesars Rewards Diamond Members Get:
I mentioned above that some perks got moved to the upper levels of Caesars Rewards Diamond status. Those included free Laurel Lounge access and two free nights at Caesars Palace Dubai. You can still gain access to the lounges, during normal times at least, by spending 1,000 Tier Credits ($10) per person. Each Diamond member can do that for up to two people. Most of the Laurel Lounges are currently closed, all of them in Vegas, so you are not missing much there right now anyway. People that have earned Diamond Plus status and above are currently offered 4 free drinks every day in place of lounge access though.
How To Earn Caesars Diamond Status Without Gambling
So let's get into the juicy details of the Caesars Diamond status match and all of the ways to earn status without gambling at a Caesars property. We will start with the Wyndham and Caesars Rewards partnership match and work our way down.
Caesars Rewards & Wyndham Hotels Status Match
First up is the Caesars Rewards and Wyndham Hotels partnership. This is a way to manufacture Caesars Rewards Diamond status each and every year without spending a dollar in the casino. The potential issue is that you need to have Diamond status with either Wyndham or Caesars Rewards to get the status match train rolling though. If you don't currently have either we will discuss other options next.
Assuming you have Diamond status already, with one of these two programs, you can match them back and forth every year. That is because of an overlap in status years between the two programs. Wyndham status ends January 1st every year while Caesars Rewards status lasts until February 1st of the following year. That gives you the month of January to make the magic happen.
Link For Caesars To Wyndham Match – Do January 1st-31st
Link For Wyndham To Caesars Match – Do February 1st On
Once this is completed you have Caesars Rewards Diamond status and all of the perks listed above that come with it. You didn't even have to put a penny in the slots to get it either!
Wyndham Earner Business Card – Get Wyndham Diamond Status
What if you don't already have Caesars Diamond or Wyndham Diamond status to do the status match? Well, you need to get one or the other, but just for ONE YEAR. Every year after that you can do the match back and forth. The easiest option for earning Wyndham Diamond status is to grab the Wyndham Earner Business Card. Because, come on, no one wants to spend a ton of nights in Wyndham hotels to earn it, do they?
The Wyndham Earner Business Card comes with automatic Wyndham Diamond status. It has an affordable $95 annual fee too. That means you can get on this status match train for just $95! The card is actually pretty good too, earning 8X at gas stations and 5X on utilities etc. It also comes with a 45,000 point welcome offer after spending $1,000 within the first 90 days. An added bonus is that Wyndham points can be turned in Caesars Rewards credits (worth 1 cent each) for your next Vegas trip. You are required to transfer them in chunks of 10,000 points and you can only do 30,000 points in total transfers each year. Just be aware of those limits.
Once approved you are ready to match your newly acquired Wyndham Diamond status to Caesars Rewards Diamond. The best thing is it will only cost you $95.
What if you can't get a business card or you don't want to sign up for a credit card though?
Caesars Rewards Status Match From Other Gaming Programs
Another option to get Caesars Diamond status is to perform a status match from another gaming program, like the new MGM Rewards. Caesars has a very generous match going on all year that you may be eligible for if you gamble at a local casino etc. This is yet another way to earn Caesars Diamond status without spending any money in a Caesars casino. Unfortunately, this will only work for new Caesars Rewards members though. Although there are reports of non Vegas casinos not enforcing this.
Here are the terms from the offer:
New Caesars Rewards® members, present your valid eligible VIP loyalty card from select competitors at any Caesars Rewards Center between February 1 –  December 31, 2022, earn one hundred (100) Tier Credits, and we will upgrade you to Diamond status valid through January 31, 2023.
Check the website to see if your casino program is included in the approved list of statuses. If your status is on the approved list then get yourself to a Caesars property and get that Diamond status. You can match it over to Wyndham January of the following year and get this status match train rolling.
Potential Hyatt Work Around
A potential work around for this option is to leverage your World of Hyatt status. MGM Rewards and World of Hyatt have a similar partnership. You can turn your Explorist, or Globalist, World of Hyatt status into MGM Rewards Gold status. You can then take that MGM Rewards Gold status to Caesars to match into Caesars Diamond status. The double match action!
FoundersCard To The Rescue
Let's say you don't have status with another gaming program, or Hyatt, and you can't get the Wyndham Earner Business card either, what now? There is one more option for you, and it is called FoundersCard. (Here is our full review of Founderscard.)
FoundersCard is a loyalty program that you pay to join. You must be a qualified entrepreneur or business executive to be approved, so keep that in mind. The cost is not cheap, even with discounts. Over the years there have been promos, including some highly targeted ones as low as $99 per year ($295 was more common), but the best price we've seen for awhile has been $395 per year and as far as we know that is the lowest price you can get right now.
One of the many perks of the FoundersCard program is Caesars Rewards Diamond status. This is a way to get your foot in the door cheaper than you could earn it by gambling or spending money on property. Once you earn it the first year you can then perform the Caesars Diamond status match to keep it from then on.
There is no need to pay a second year, unless you get enough value from the other perks of FoundersCard (which there are many). If the Wyndham and Caesars partnership stays around for a while this investment becomes much more affordable. Unfortunately, no one knows how long it will last though. If you make a few trips to Las Vegas this year the resort fees you save may more than cover the cost on their own.
Final Thoughts
Hopefully in this Caesars status match guide I have given you the keys to $100 dinners, free parking, waived resort fees and free show tickets. If you already have Diamond status with Caesars or Wyndham then the hard part is done. If not, then I have given you a few other options you could pursue to get aboard the status match train. Once aboard it is quite a fun ride!