Disclosure: Miles to Memories has partnered with CardRatings for our coverage of credit card products. Miles to Memories and CardRatings may receive a commission from card issuers. Opinions, reviews, analyses & recommendations are the author's alone, and have not been reviewed, endorsed or approved by any of these entities. Links in this post may provide us with a commission.

Easy Does It – My Five Best Credit Cards for a Single Card Wallet
People love lists.  Not coincidentally, I'm good for throwing out a list here periodically.  Plus, I like reading others' lists and passionately agreeing or disputing them.  Why not combine a list with another hobby staple – the "Best X Card Wallet"?  We're going to combine those two angles and strip it all down to one card.  Many out there prefer to keep things simple with one card for all spend.  Also, some active hobbyists may want to take a break for a bit and solely focus on one of their favorites.  If I was going with a single card wallet, what would my top five best credit cards be?  After a few caveats, I'll jump into the cards and why I picked them.
Single Wallet Best Credit Cards – Caveats
I include my top five single card wallet products here, but I'm intentionally avoiding a ranked list.  Why?  Because the benefit of any one single card is highly dependent on one's personal situation.  Indeed, for the same reason, many of you may pick a card not included on this list.
Also, while welcome offers are invariably a consideration with any card, I'm not overly weighing that aspect as part of this list.  I'm considering this list in terms of cards providing solid ongoing value for spend.  In this case, the welcome offer becomes a diminishing factor the longer one holds a card.  But, of course, welcome offers cannot be totally ignored.  Likewise, I'm also excluding the consideration of any temporary pandemic benefits since I'm focusing on cards worthy of holding long-term.
In order to avoid any blind spots, I'm not eliminating any card categories from consideration.  You'll see business and personal cards on this list.  Also, you'll read about different cards with and without annual fees.  Let's go!
Amex Blue Business Plus
Commonly considered one of the best Amex cards out there, the Blue Business Plus provides 2x Membership Rewards everywhere up to $50k spend annually.  Since the card has no annual fee, cardholders have a great home for their points here.  Blue Business Plus cardholders have full access to Membership Rewards transfer partners or can choose other non-travel options for redemption.
Downside:  The Blue Business Plus welcome offer is generally low.  Sure, there are targeted opportunities for a huge welcome offer currently, but those are very infrequent.  Of course, those in two-player mode with a spouse or domestic partner can benefit from Amex's excellent referral program for even more points.  Amex rewards redemptions can be less user-friendly than with other banks.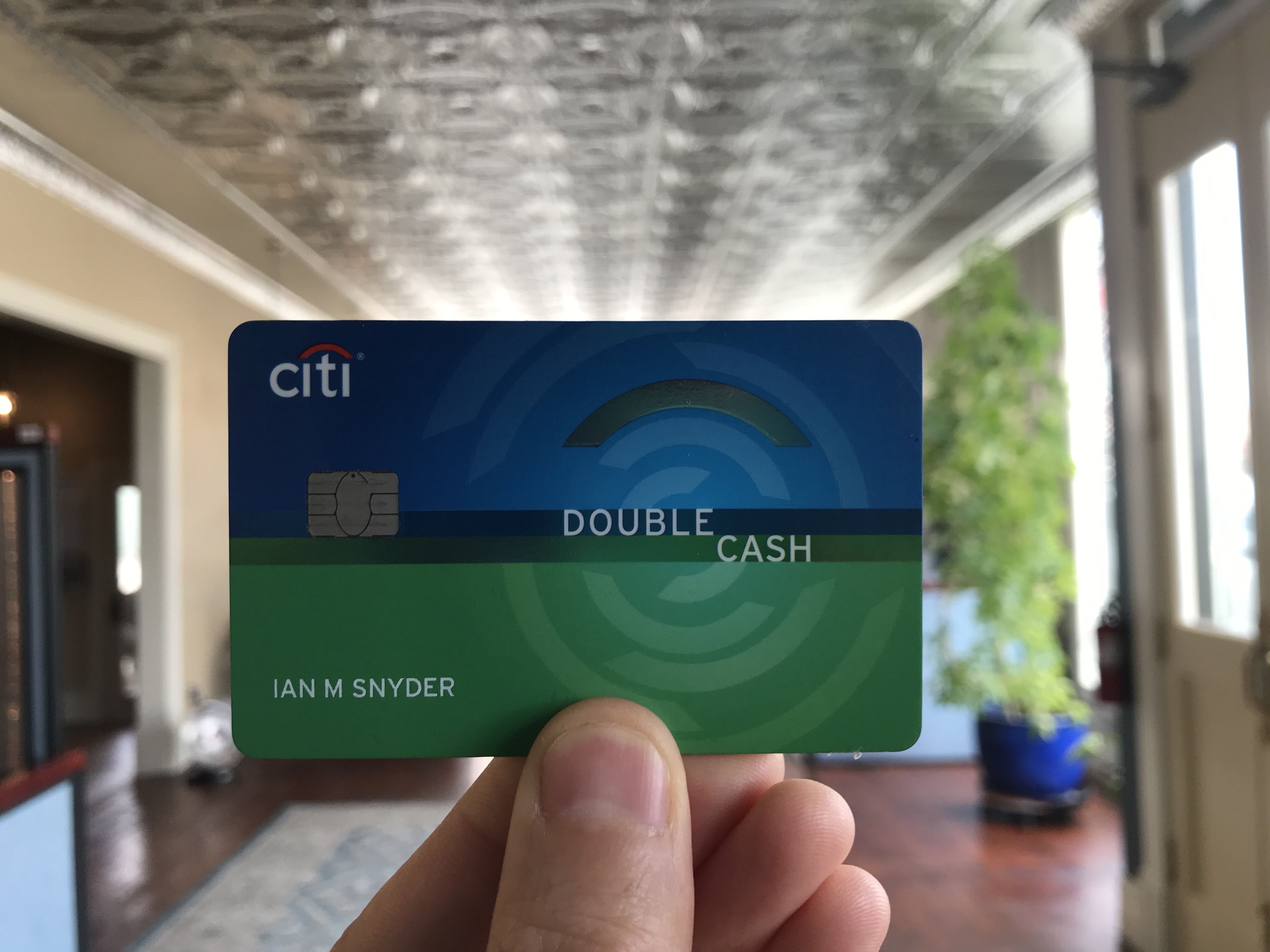 Citi Double Cash
Another great no annual fee, 2x everywhere card is the Citi Double Cash.  Unlike the Blue Business Plus, cardholders can easily cash out their rewards at a 2% back rate.  Also, these rewards can be easily transferred to Citi ThankYou points at a 1:1 rate.  Yes, we are focusing on one card wallets in this article, so we won't overstate this transfer ability.  That said, it's nice that Double Cash holders can consider this future flexibility if they ever decide to go after an additional card.
Downside:  Welcome offers on the Citi Double Cash have been virtually non-existent.  I can count on one hand how many times they've provided a $100 or so welcome offer.
Amex Gold
The Amex Gold probably my favorite card available today, whether it's for a single- or multi-card wallet.  Why?  The card earns 4x Membership Rewards points on all supermarket spend up to $25k annually.  Also, cardholders earn 4x points on all restaurant spend annually (uncapped).  Earning 3x on flights is a nice touch, even if not used often.  Cardholders are also treated to monthly $10 Uber/Uber Eats and $10 GrubHub/etc credits.  While welcome offers fluctuate, prospective applicants can expect a hearty bonus to always be available.  Again, those in two-player mode can further benefit with Amex's referral program.
Downside:  Cardholders absorb a $250 annual fee in return for the above.  Sure, the credits lessen the blow, but they can be annoying at times to consume.  Indeed, some may not even value the credits at all.  Again, Amex rewards redemption can be less user-friendly than with other banks.
Citi Premier
For a $95 annual fee, the Citi Premier unlocks some of the broadest bonus categories for cardholders in the industry.  Premier users enjoy 3x ThankYou points at supermarkets, gas stations, and restaurants.  Sure, the 3x travel category has been slimmed down a bit to now only include hotel and airfare purchases.  But those are still generally the two highest-cost travel aspects out there.  The card also provides holders with an annual $100 hotel savings benefit that's surprisingly easy to use.  The ThankYou program has an eclectic set of travel partners (plus Shop Your Way).
Downside:  Some may grimace at the $95 annual fee, but it's easily mitigated with the bonus categories of such a loaded mid-tier card.  Also, individuals may prefer other banks' travel partners.  The Premier's 25% bonus value for Citi Travel Portal bookings ends in April, as well.  Oh, yeah – Citi is also tremendously fraud alert-happy.  But hopefully that will be fixed soon.
Hilton Amex Surpass
Some may wince at me including a co-branded card in this list.  Why is it here?  The Hilton Surpass packs quite a punch for Hilton Honors enthusiasts for a $95 annual fee.  The welcome offer varies but consistently provides enough points for a free five night stay at appealing properties.  Here are the most valuable benefits:
Earns 12x Hilton Honors points at Hilton portfolio properties
Earns 6x points at US supermarkets, gas stations, and dining, 3x everywhere else
Free weekend night certificate with $15k annual spend
Gold Hilton Honors Status
Priority Pass Select Membership (10 Lounge Visits Annually)
Fans of various Hilton hotel lines easily come out ahead with the Surpass.  I consider Honors Gold the best mid-tier elite  status out there.  By simply holding the Gold status from this card, you unlock free breakfast at the vast majority of properties in the Hilton portfolio.  Some other chains' top tier status can't match this complimentary breakfast benefit.  I appreciate the generous 6x earning in the broad supermarket and gas station categories.  By pairing this with the same spend counting toward a free weekend night certificate at $15k, cardholders can obtain a great return without much effort.
Downside:  Return on spend outside of the bonus categories is mediocre.  Some may not obtain much value out of Hilton Honors points.  Of course, this card isn't a single wallet consideration for anyone who doesn't care for Hilton properties.
Editor's Bonus Edition – Everyday Preferred
Hello everyone, Mark here, I decided to jump in to toss another option into the ring.  Benjy compiled a great list of options but he left my favorite 1 card wallet option off 😥.  I think this is a great option for a lot of families because it hits their areas of big spend (gas & groceries) plus offers a decent every day return.
Now, people in the miles and points world complain about the 30 transactions required each month to unlock the highest levels of earning, 50% more points, but if it is your only card then that shouldn't be a problem.  Here are the earning rates after surpassing 30 transactions in a statement period:
4.5X at U.S. Supermarkets (capped at $6,000 per year)
3X at U.S. Gas Stations
1.5X on everything else
The earning is for fully transferable Membership Rewards points as well.  That opens up the most airline and hotel partners of any transferrable currency out there. The card's welcome offer is not usually all that great, currently at 10,000 points, but it can go up to 25,000 (highest rates are usually offered via referral).
Downside: The welcome offer is on the lower end which hurts a little up front. The high earning rate at U.S. Supermarkets being capped at $6,000 per calendar year may not be enough for some families too.
Single Wallet Best Credit Cards – Conclusion
Most, or maybe all, of you noticed a trend above with my five best credit cards for a single card wallet.  My top five single wallet cards are only from two banks – Amex and Citi.  Sure, I could've included cards from other banks to make the list seem more well-rounded, but that would've been disingenuous.  If anything, I believe my list highlights an overarching trend with these two banks – innovation.  Or, at least, their cards can be more engaging than their peers' offerings.  Quite simply, Amex and Citi have created multiple products that stand out completely on their own.  Again, many of you may consider a card outside of this list as your pick for a single card wallet.  Let me know which card you would choose and why in the comments!